Halloween is just around the corner, and that means it's time to get creative with your nail designs! The best part about Halloween nails is that you can go as scary or as silly as you want. You can take inspiration from popular horror movies, or do something more fun like a pumpkin design. No matter what style of design you choose, these 31 Halloween nail designs will have you ready for an awesome Halloween!
1 Paper cut  Halloween Nail Design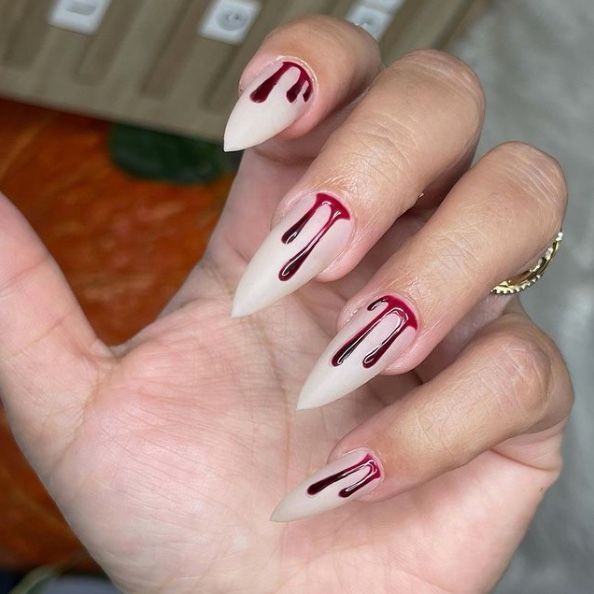 These spooky realistic blood drops nail design are perfect for any Halloween lover!
2. Spell Book nail design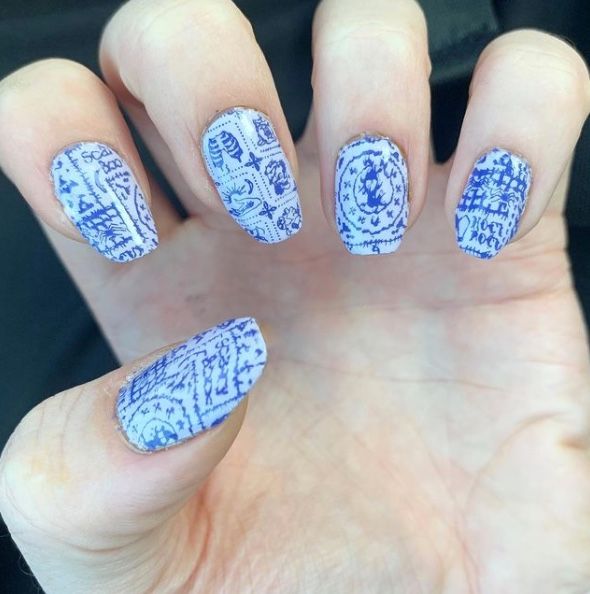 If you're looking for a way to spook up your Halloween costume this year, try wearing one nail with designs that look like they've come straight out of the pages in an old spell book. These nails are perfect!
3. The "summoner" nail design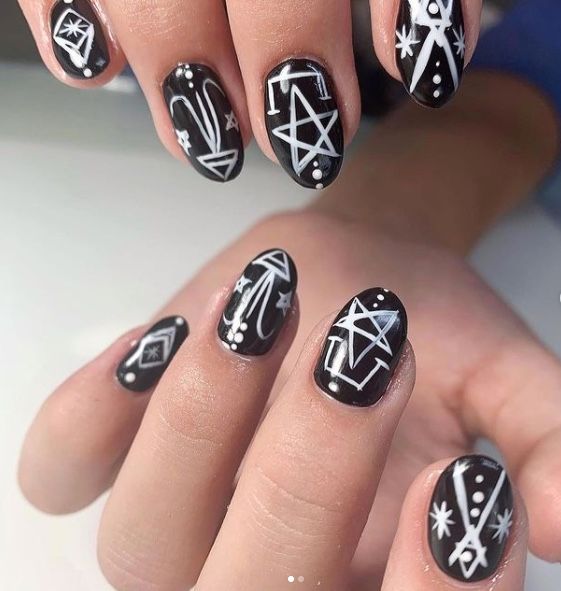 As the weather turns colder, create a spooky and magical vibe with these witchy nails! The design is perfect for everyone who loves getting creative in their Halloween costumes this year.
4. Mat Spider Webs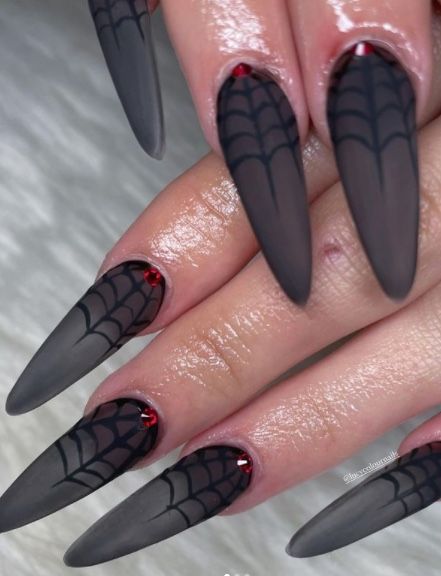 This is the perfect design for any Halloween occasion! These nails are chic, simple, yet sophisticated.
Bold in its minimalism edges down with an elegant touch of black to create this spider web effect that's so artsy you'll want them on all your fingers all year round.

5. The Day of the Dead nails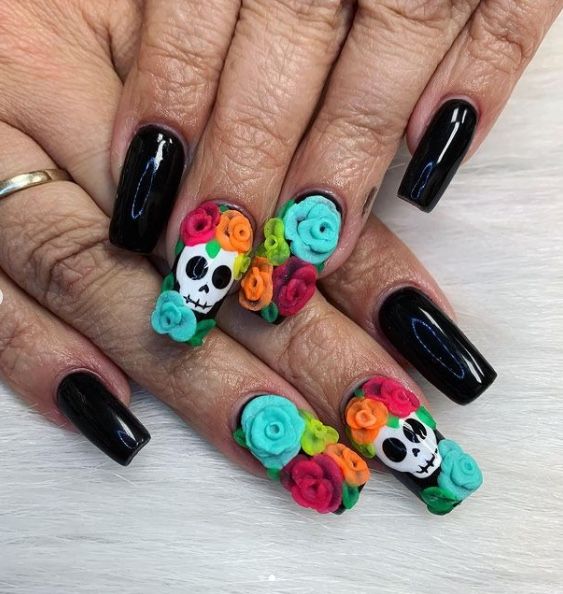 Don't be scared of the dead! This Día de Muertos (Day of the Dead) nail design is a very bright and creative look for your next Halloween party.
6. Bleeding edge nails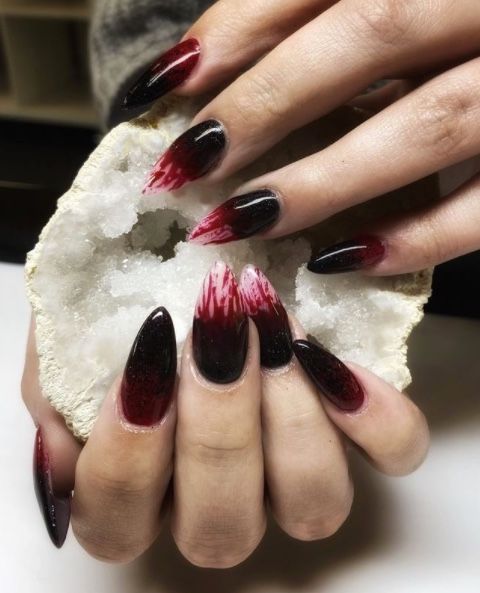 This nail design is perfect for a spooky Halloween party. The blood-red color will make your nails look super scary, and the droplets of blood are just icing on the cake!
7. Neon Halloween Nails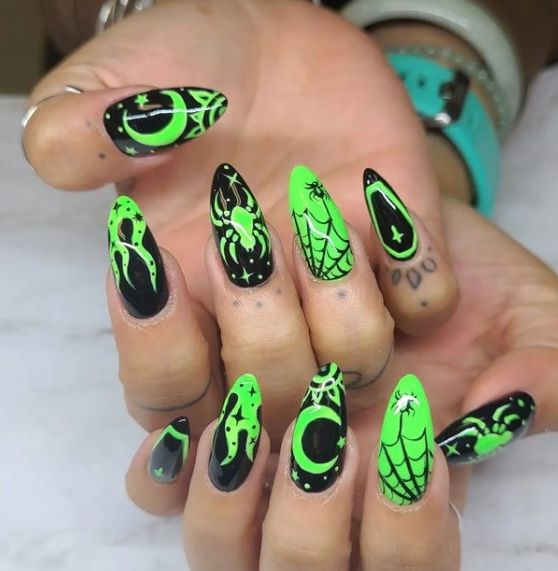 This eye-catching green neon nail design is the perfect way to spook out your Halloween outfit this year!
8. Tooth-ache nail design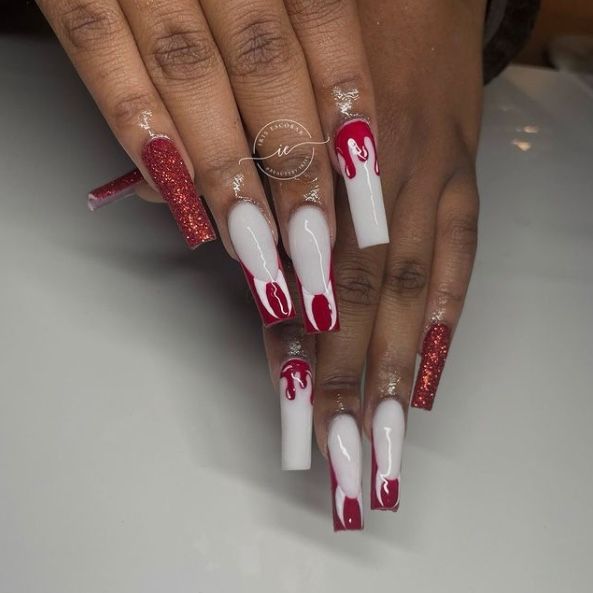 Hey, your dentist is going to freak out when he sees how cool you've got those nails!
9. Flesh Wound Halloween design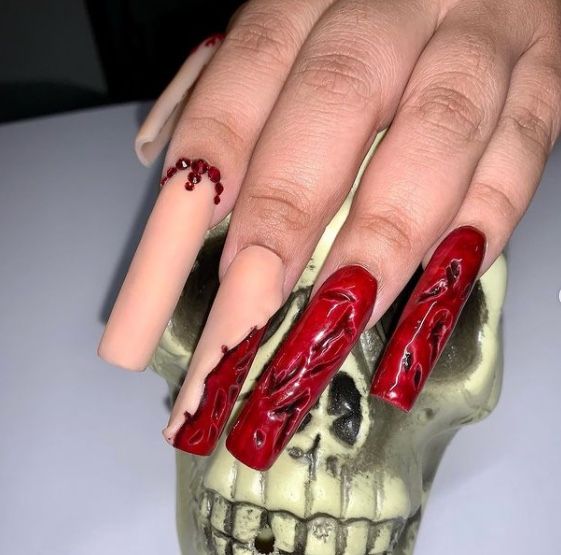 This cool technique comes out looking like real human tissue - not gross or icky at all in fact quite inviting--it's perfectly normal right?
10. Nude spider webs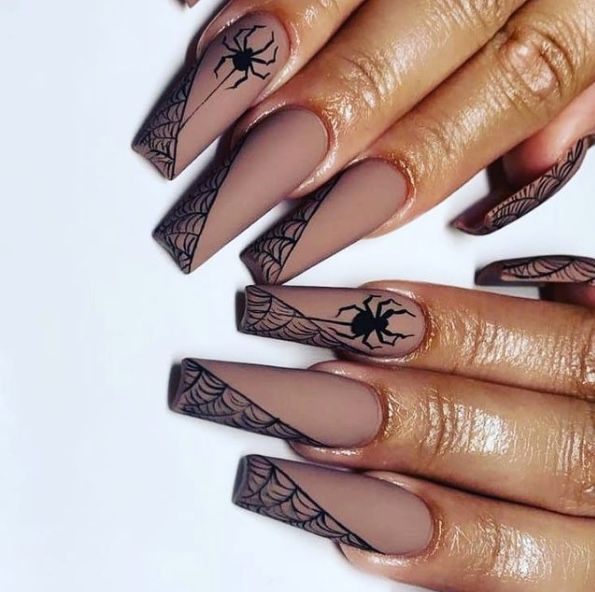 Nude color nail design with spiders and webs is the perfect choice for Halloween.
Nailed it! This look can be both elegant and scary at once - just like any good horror movie scene should be.
11. Spooky Cheetah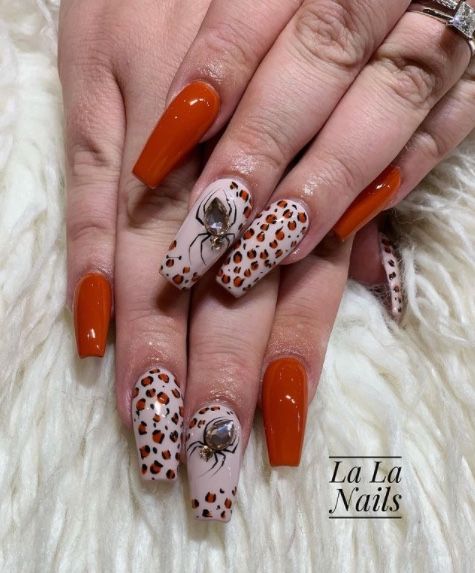 Imagine a world filled with beautiful, lush webs and crawling creatures. This is the perfect look for your next costume!
12. Scary Scary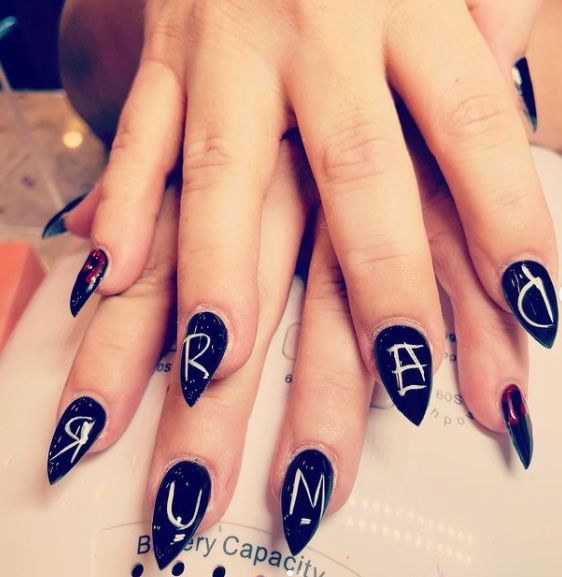 This black Halloween nail design is something you don't want to mess with!
This scary-looking set of nails will have your friends running for cover in no time.
12. Bloody Fangs Halloween Nails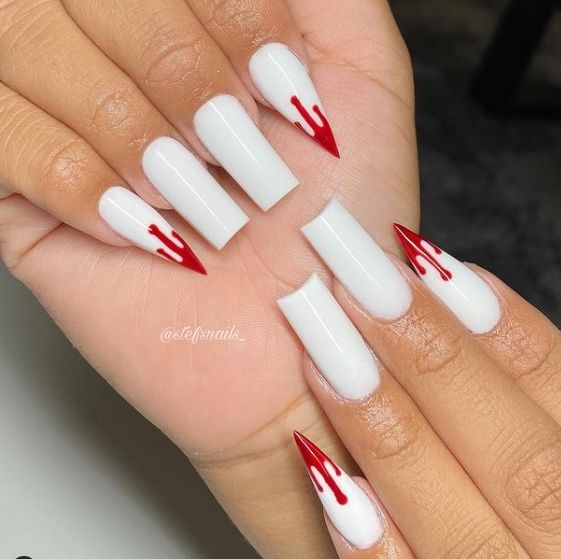 What will you be for Halloween? A blood-thirsty vampire, or an agile ghost. With these fun nail designs that prove vampires can indeed smile!
13. Black and White stripes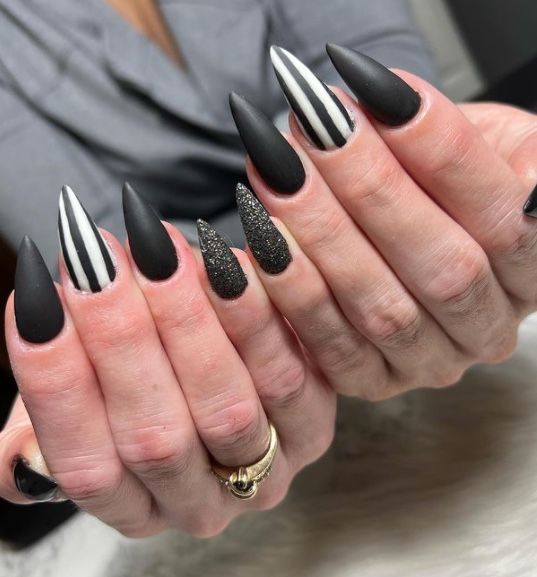 It's always a great idea to have some killer Halloween nails on hand. The black and white stripes will be perfect for spooky outfits this time around, so this black nail polish with white stripes is the perfect way to spruce up your Halloween look.
14. I am Creaming nail design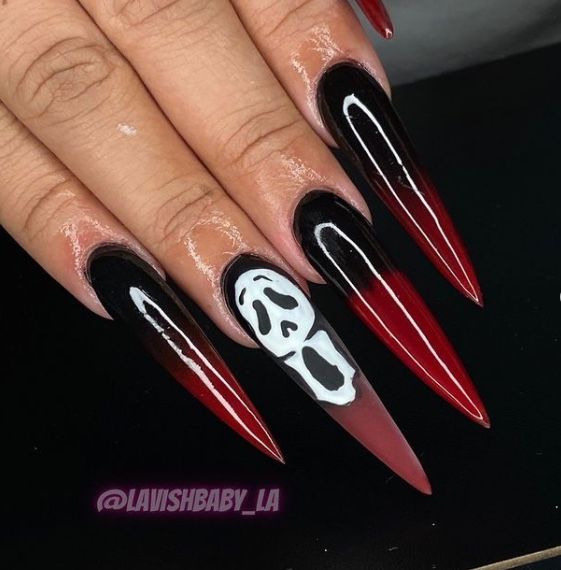 For those who love a little fright, you've got to try this nail design from the "Scream" movie. It's perfect for Halloween and will make your nails stand out!
15. Fun and Bright nails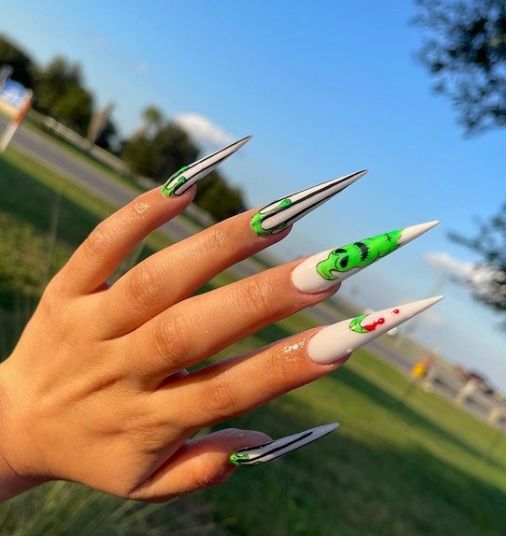 This Halloween nail design is so fun and vivid! You'll have a blast wearing these nails on your next costume party.
16. Bright and colorful Halloween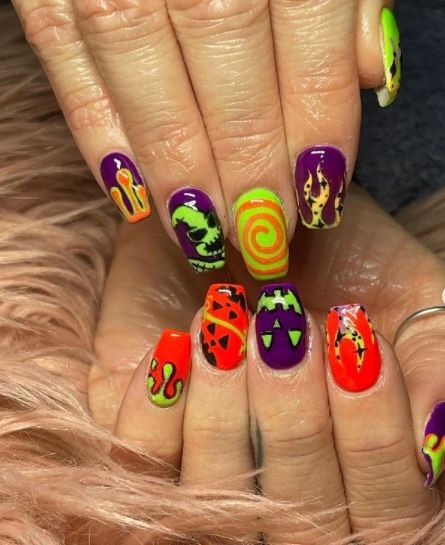 What's your favorite color? Well this Halloween, you can put it on all of your fingers! This nail design fits into any size and shape.
17. Sultry Vampire nail design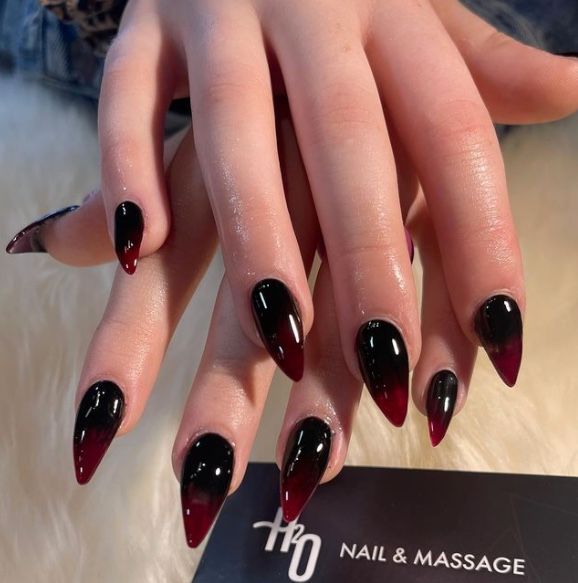 This sexy, sultry black and red ombre nail design will make anyone thirsty for Halloween. What sort of drink can be as beautiful and dangerous? A blood orange mimosa, perhaps?
18. A nail design With a Twist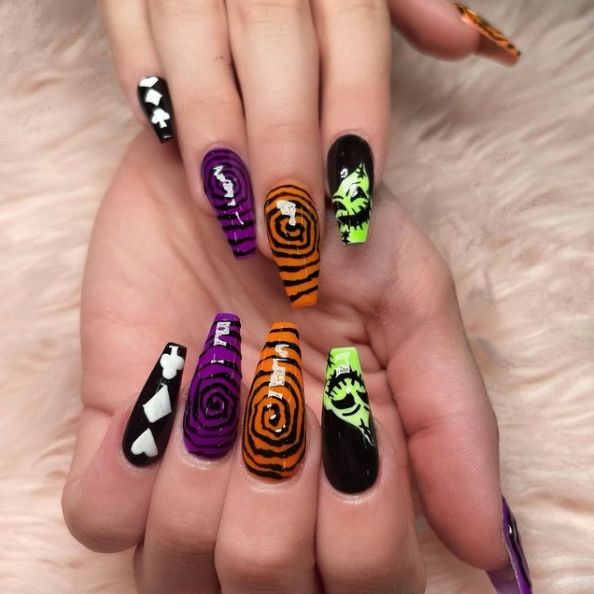 Trick or Treat? What's your poison?!  From intricate patterns and colors to longer cuticles for easier handling, this manicure has got everyone covered from beginner-level enthusiasts up to professionals who want something original yet still easy enough even beginners can handle.
19. The Wicked Whitch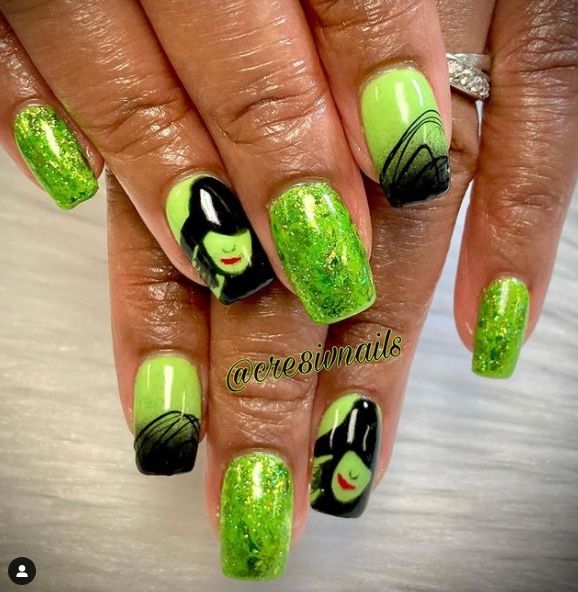 Straight from the "Wicked" musical nail design. You won't be able to go wrong with this classic neon green and black design!
20. The Rebel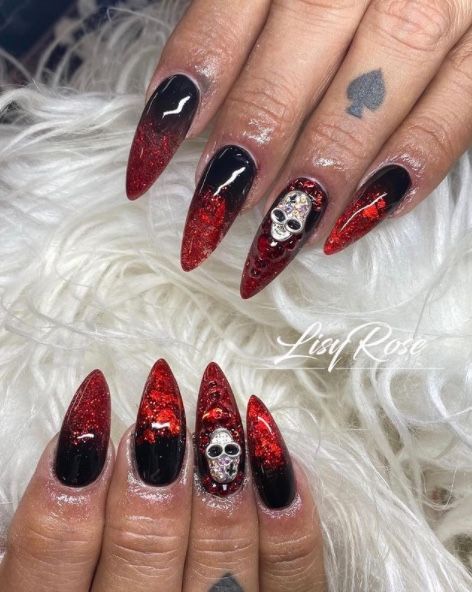 This is a nail design for all you classy and stylish ladies out there. It has major girl boss vibes that will show everyone how confident you can be with just one quick swipe of your hand!
22. Google monster eyes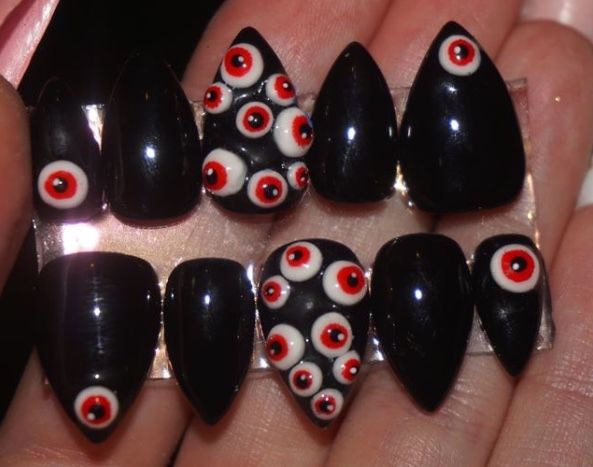 I'm totally obsessed with this nail design. The look is so intense and scary, just like a real-life monster!
23. Zombie Nails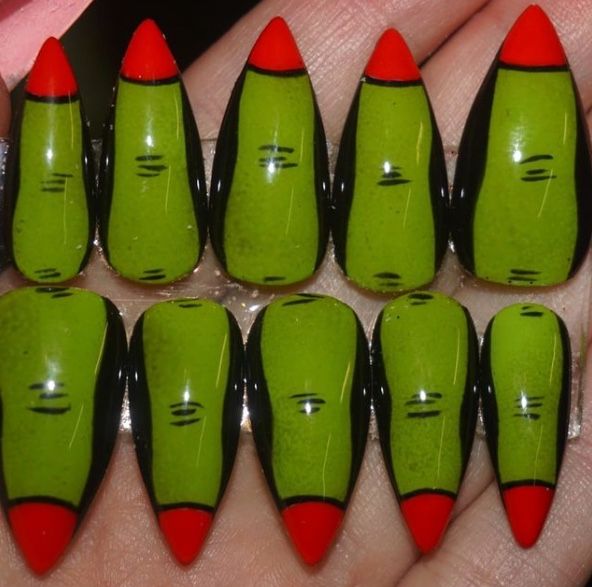 This design is so much fun! The zombies' fingers nails are just the thing to spice up your next party or event.
24. Bleeding French nails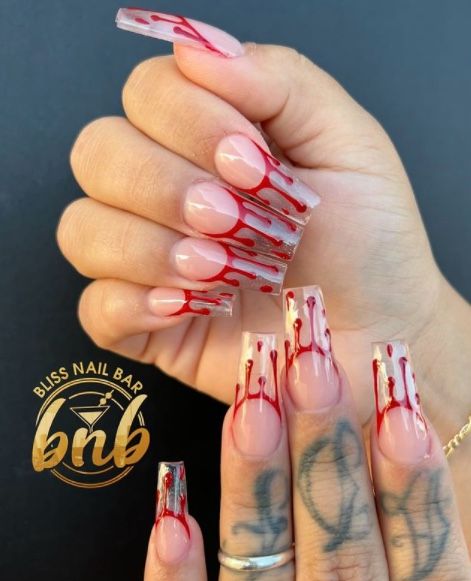 These nails are the ideal way to shake up your look for Halloween! They're fun and scary like any good thing should be.
25. The Perfect Orange Classic Nails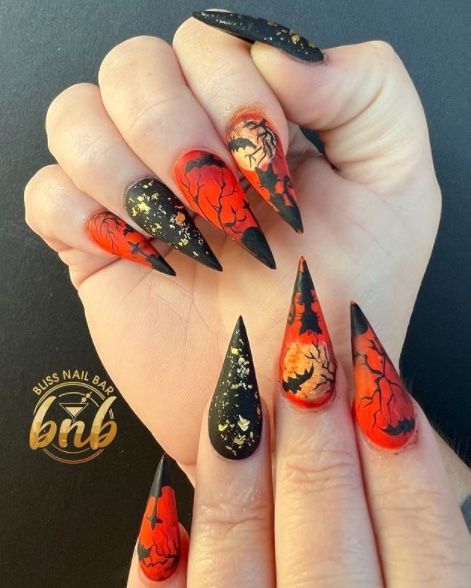 These nails will make you feel like a real witch! These orange and black Halloween nail designs are perfect for any occasion.
26. Vivid Green Spooky Green Nail design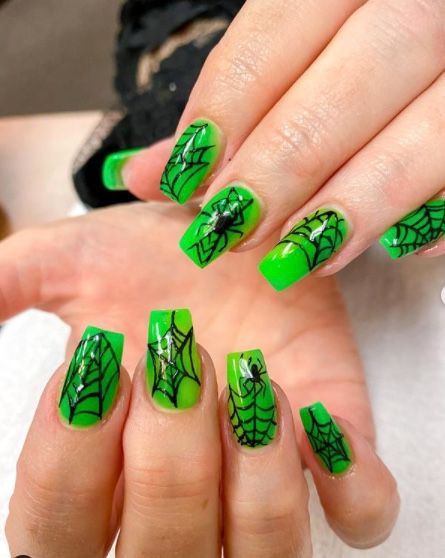 The bright green webs and spiders are a classic Halloween decoration. The scary, creepy look of this design is perfect for the spooky season!
27." BOO"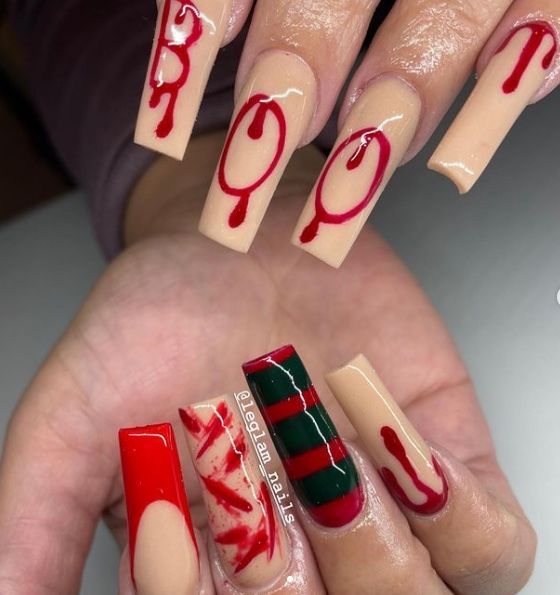 You are not going to want to miss this! Super creepy and blood-curdling designs are just what you need for your spooky costume.
28. Cute Halloween Nails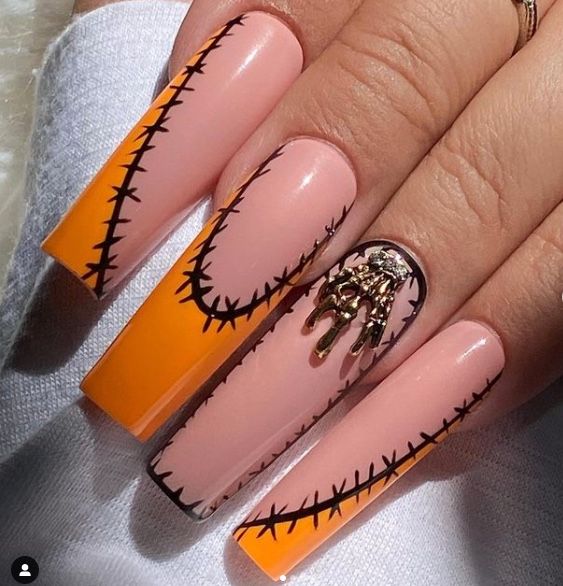 Who says that Halloween nails can't be cute and adorable?
29. Boody Murder Halloween Nails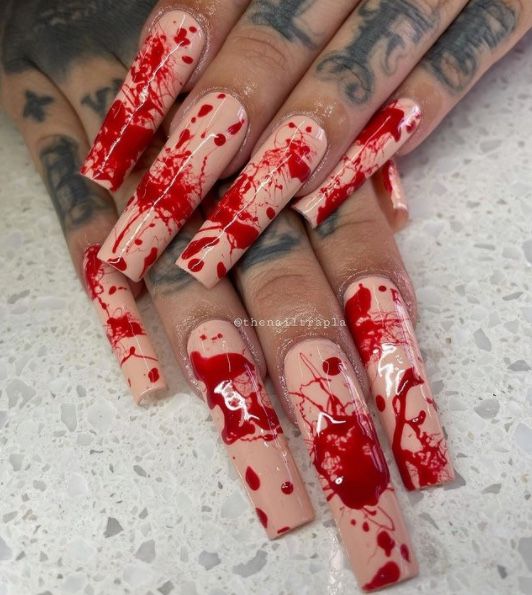 This nail design is like a murder scene in slow motion.
30. Cute Ghosts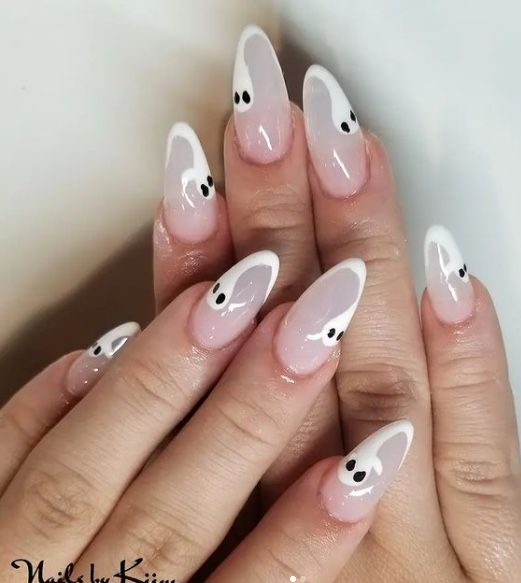 These nails are featuring some of the most adorable ghosts you've ever seen!