Valentine's Day is just around the corner, and that means it's time to start thinking about how to celebrate. This year, why not try something different with your nails? We've collected some of the best valentine's day nail designs to help get you inspired. From hearts and flowers to stripes and polka dots, there's something for everyone in this roundup. Whether you're looking for something simple or something more elaborate, these valentine's day nail ideas are sure to please. So grab your favorite polish and start planning your masterpiece!
Dried Flower with Gold Leaf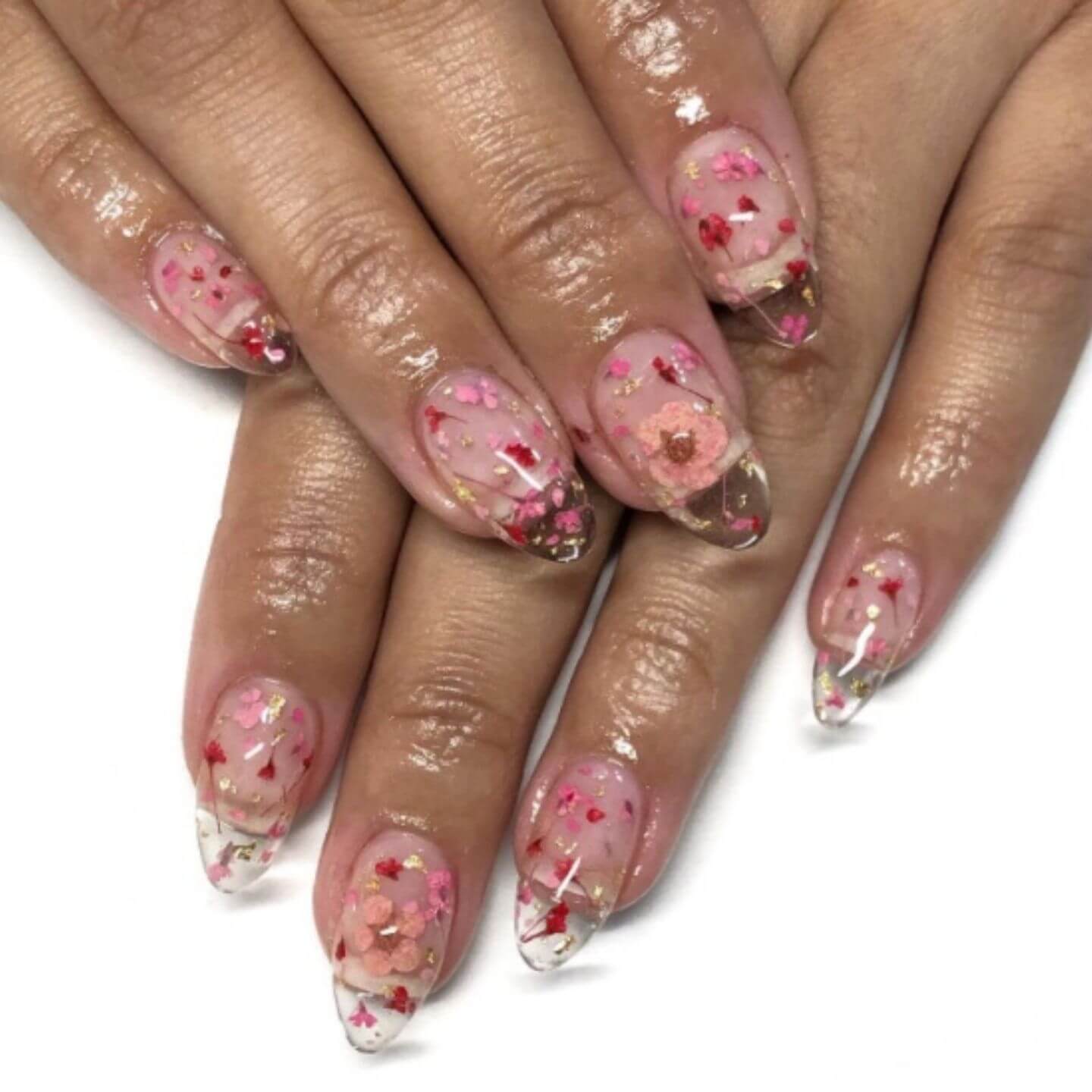 Looking for a valentine's day nail design that is both elegant and festive? Try this dried pink flowers and gold leaf design. It's perfect for anyone who wants a subtle but pretty look.
Love is in the air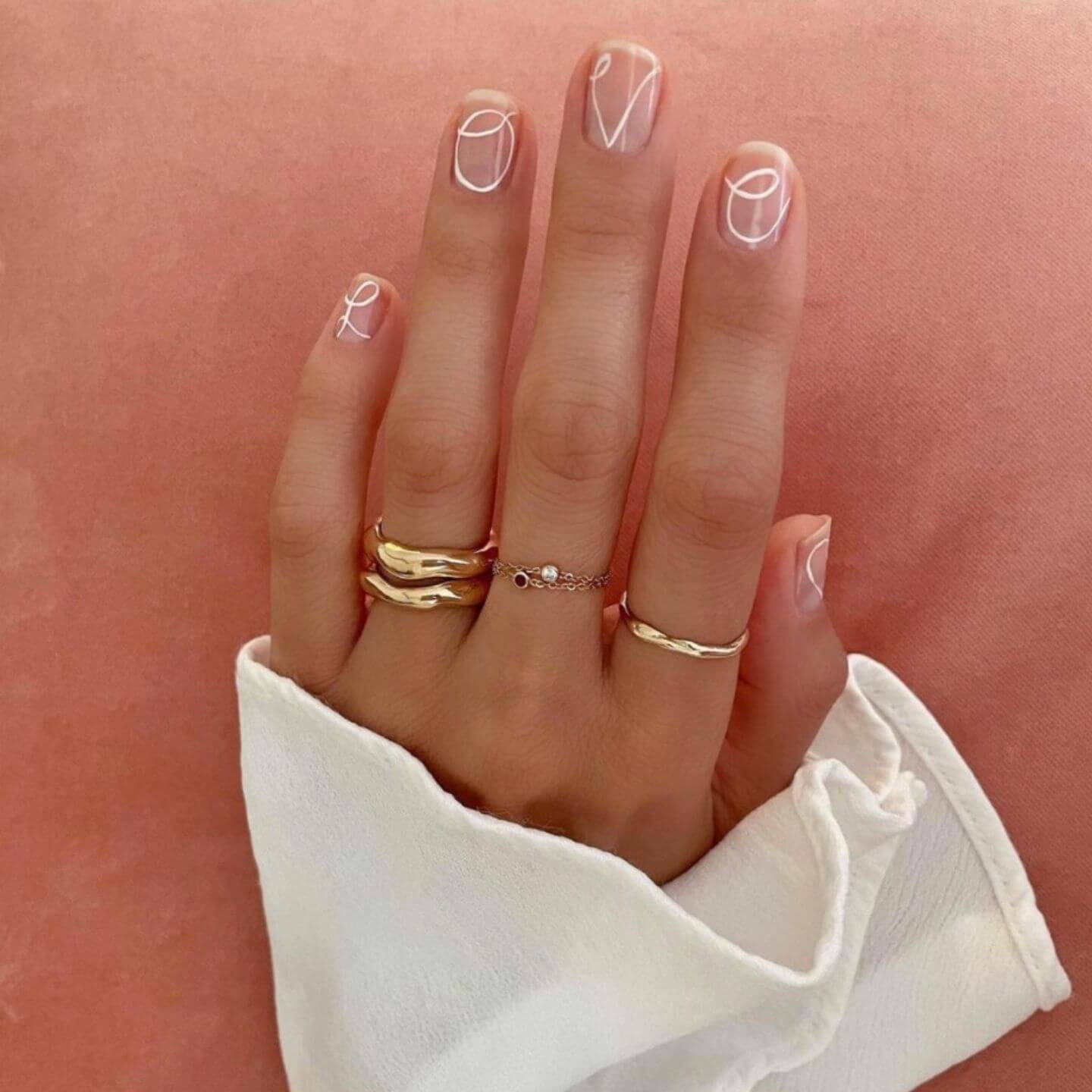 This Valentine's day nail design is perfect for anyone looking for a simple and easy way to show their love. This design was created by celebrity nail artist Betina Goldstein and nails are painted with a translucent polish and the word "love" is spelled out using a white polish. This design is easy to DIY and looks great on any color nail polish.
Chic Gold Leaf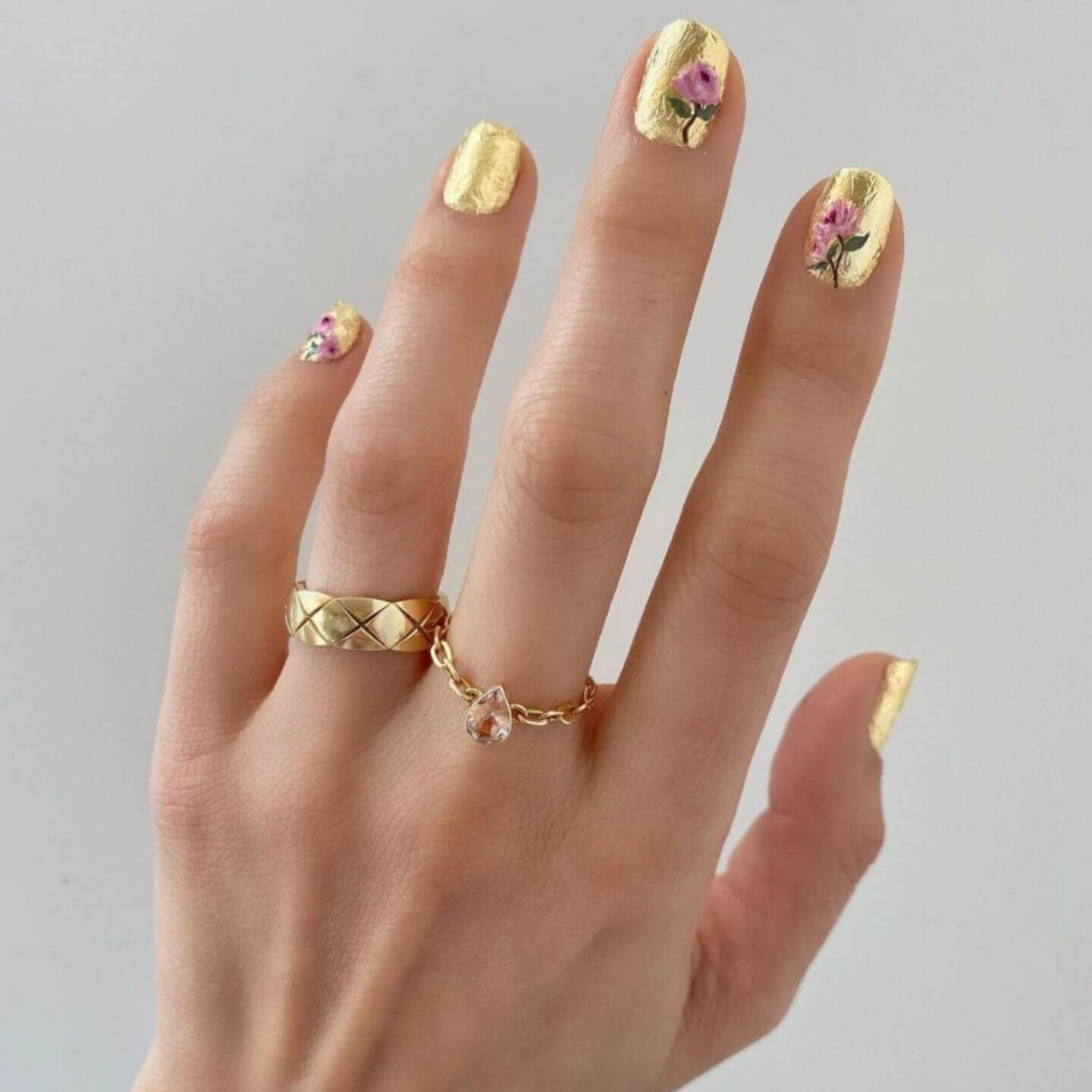 With another masterpiece by Betina R. Goldstein Nail for this valentine's day you try out a chic and elegant nail design. These nails are covered in gold leaf and decorated with a beautiful flower. The result is a timeless and classic look that will be sure to impress.
Pearl Dream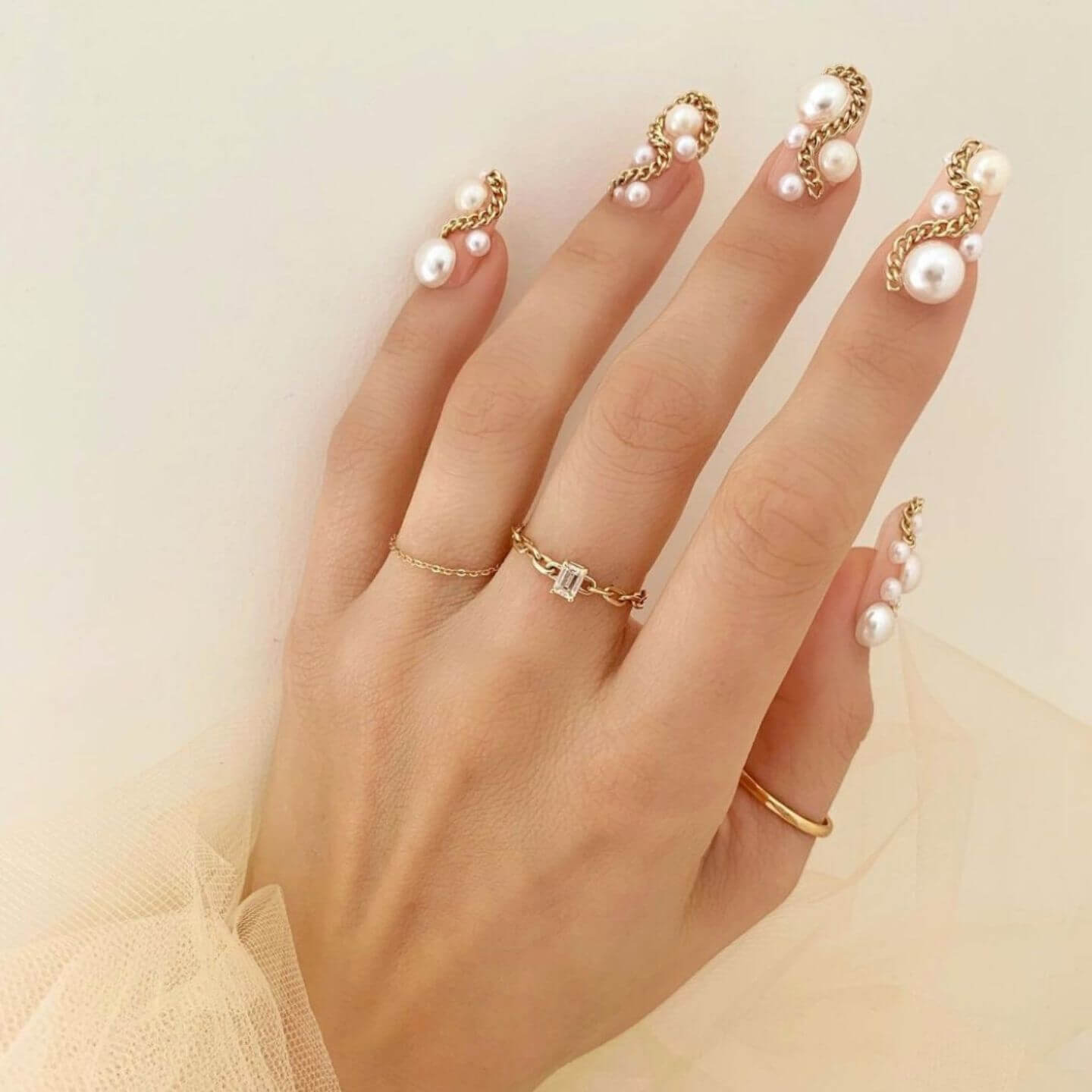 Looking at these nails, you might feel as though you're looking into a dreamy and beautiful world.  The nails have a light pink polish with pearl accents and a delicate gold chain on each nail, adding just the right amount of sparkle. This look is perfect for anyone who wants to show their romantic side.

Neon Pink Tortoise Shel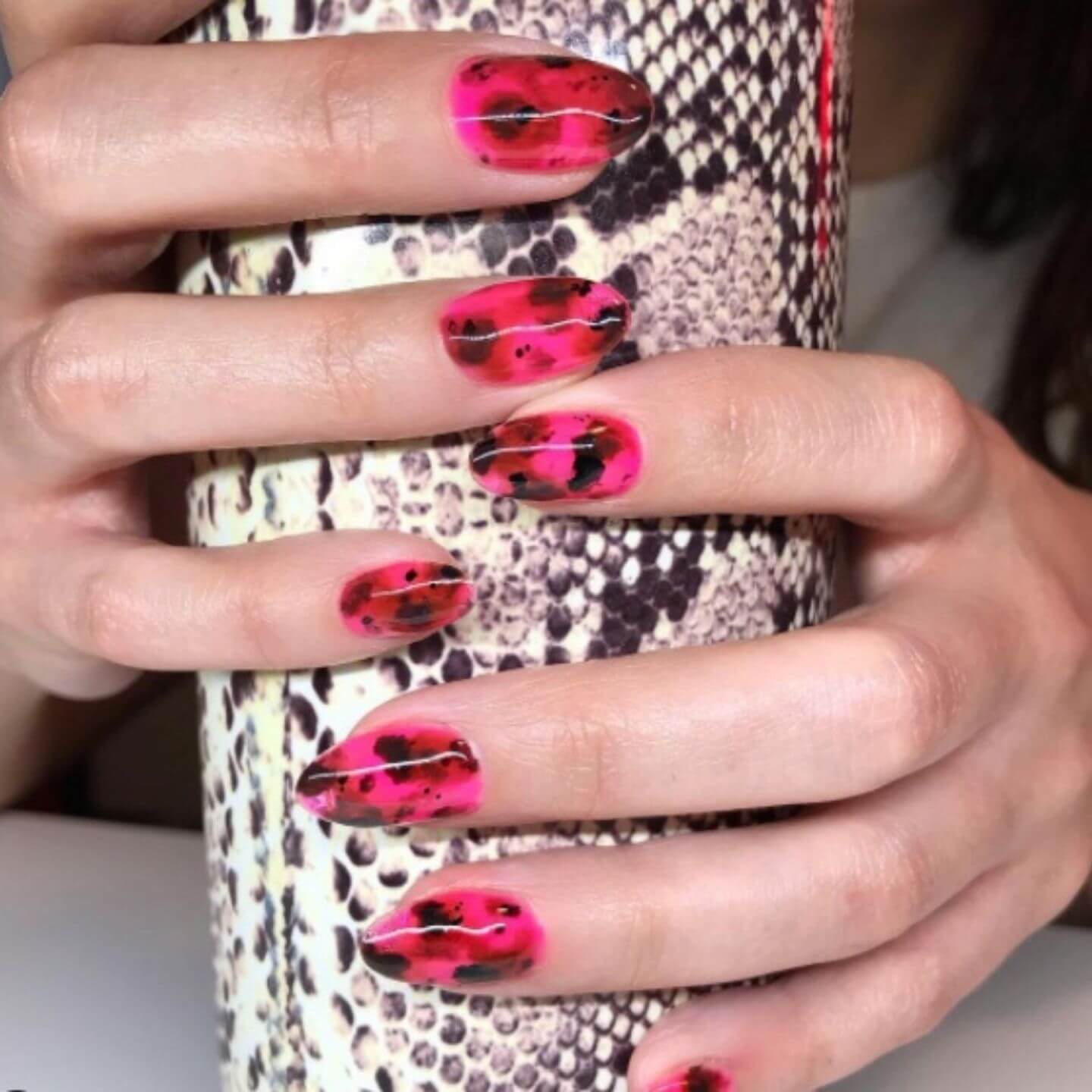 For a festive look that will steal hearts, consider trying out these vibrant neon pink tortoise shell nails. They are perfect for showing your love for all things girly and glamorous.
Fuchsia Swirls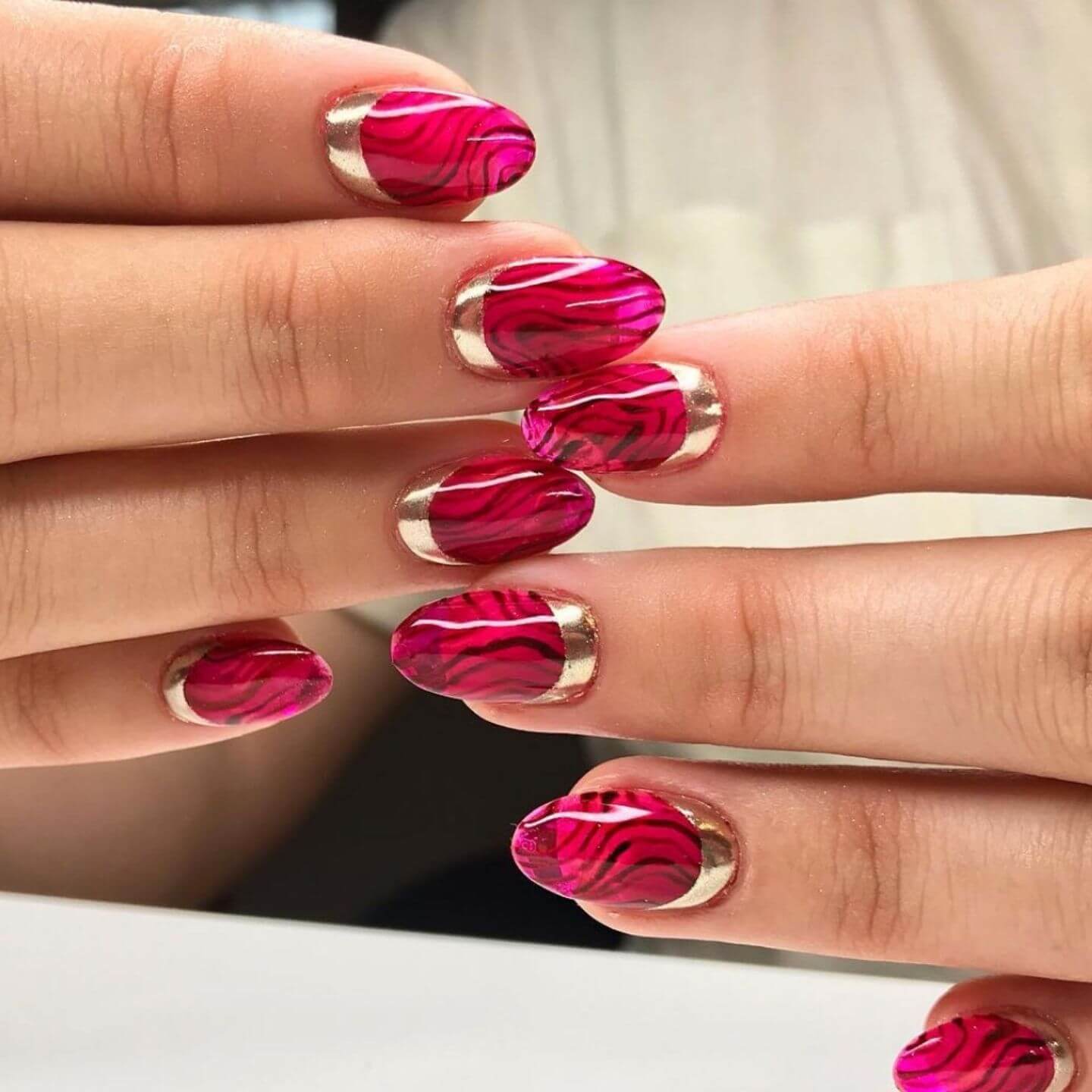 Nails with a valentine's day twist! These abstract nails features a vibrant bright pink fuchsia swirl on a gold base. It's the perfect way to add some fun and festivity to your look this February.
Red Hearts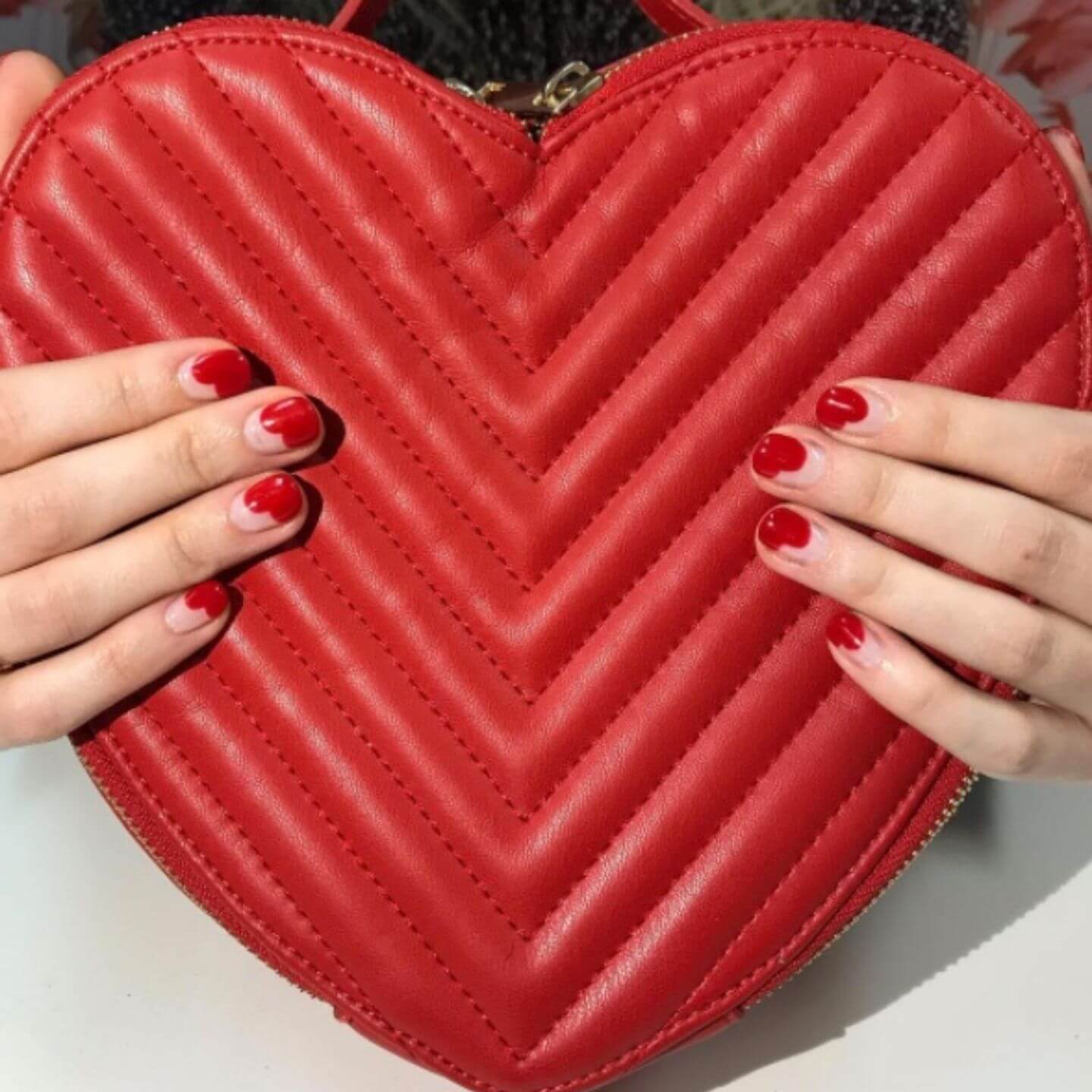 If you're looking for a subtle way to show your love on Valentine's Day, consider these negative-space heart nails. The bright red polish is glossy and eye-catching, while the heart design is understated and elegant. This look is perfect for any occasion, whether you're going out on a romantic date or just spending time with family and friends.
Gold Glitter Ombre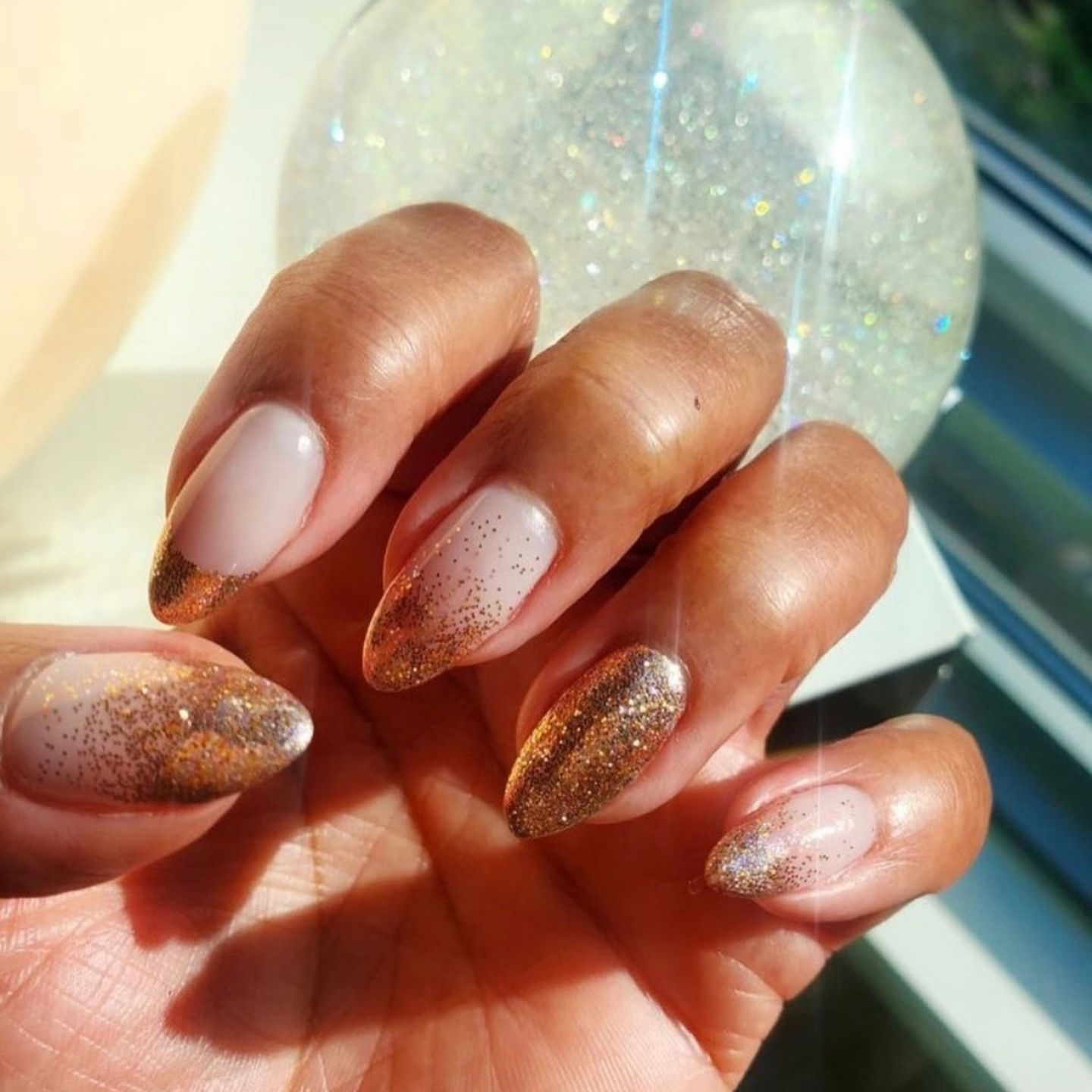 Your nails will look dazzling with this gold glitter polish ombre design. The gradient effect is very festive, adds extra shine and perfect for Valentine's Day. This look is easy to achieve and will definitely turn heads.
Geometric Hearts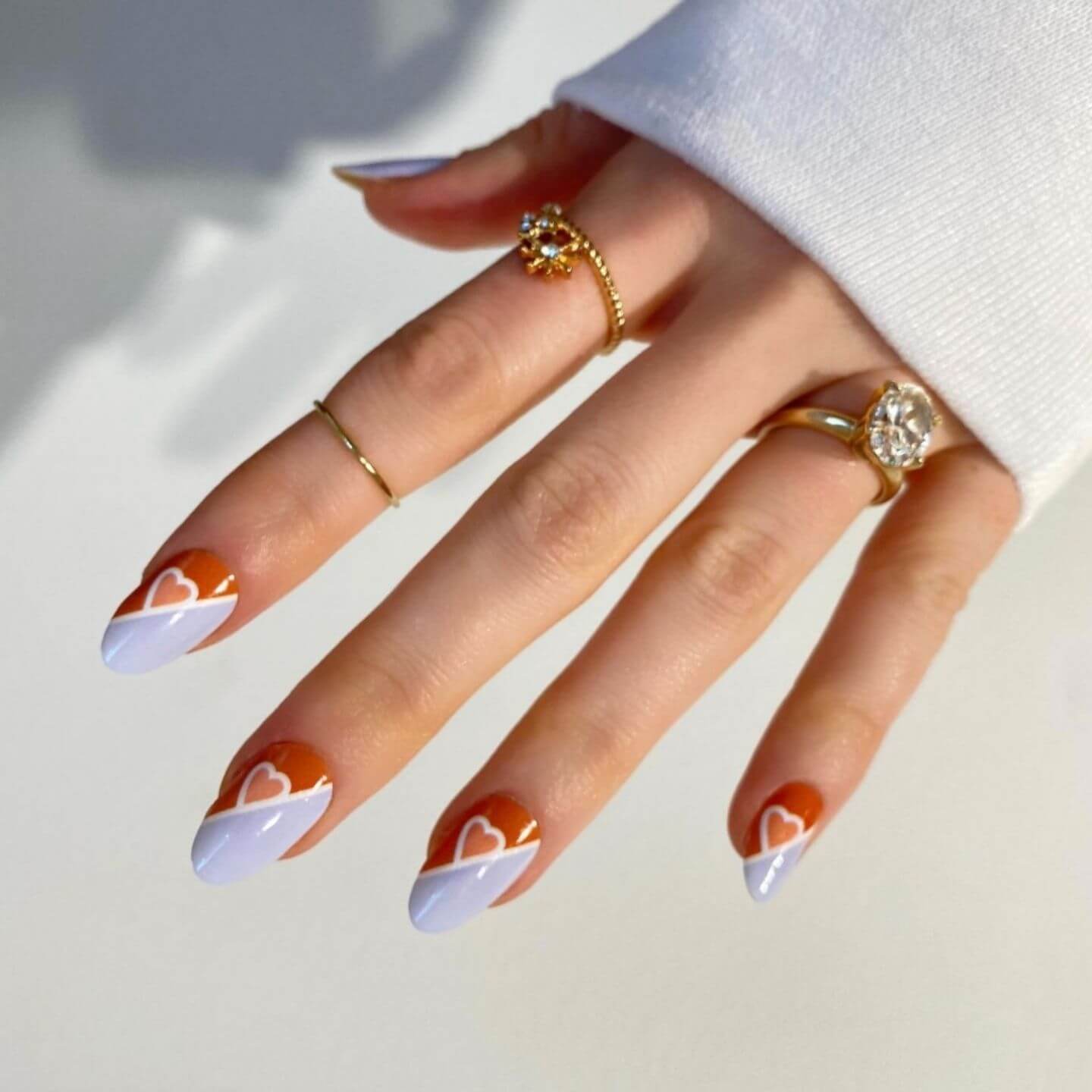 This valentines day, consider giving your nails a geometric makeover. This nail design features crisp lines, trendy rust and blue color palette, and the clean lines of the geometric shapes give it a subtle, beautiful look.
Black and Pink nail colors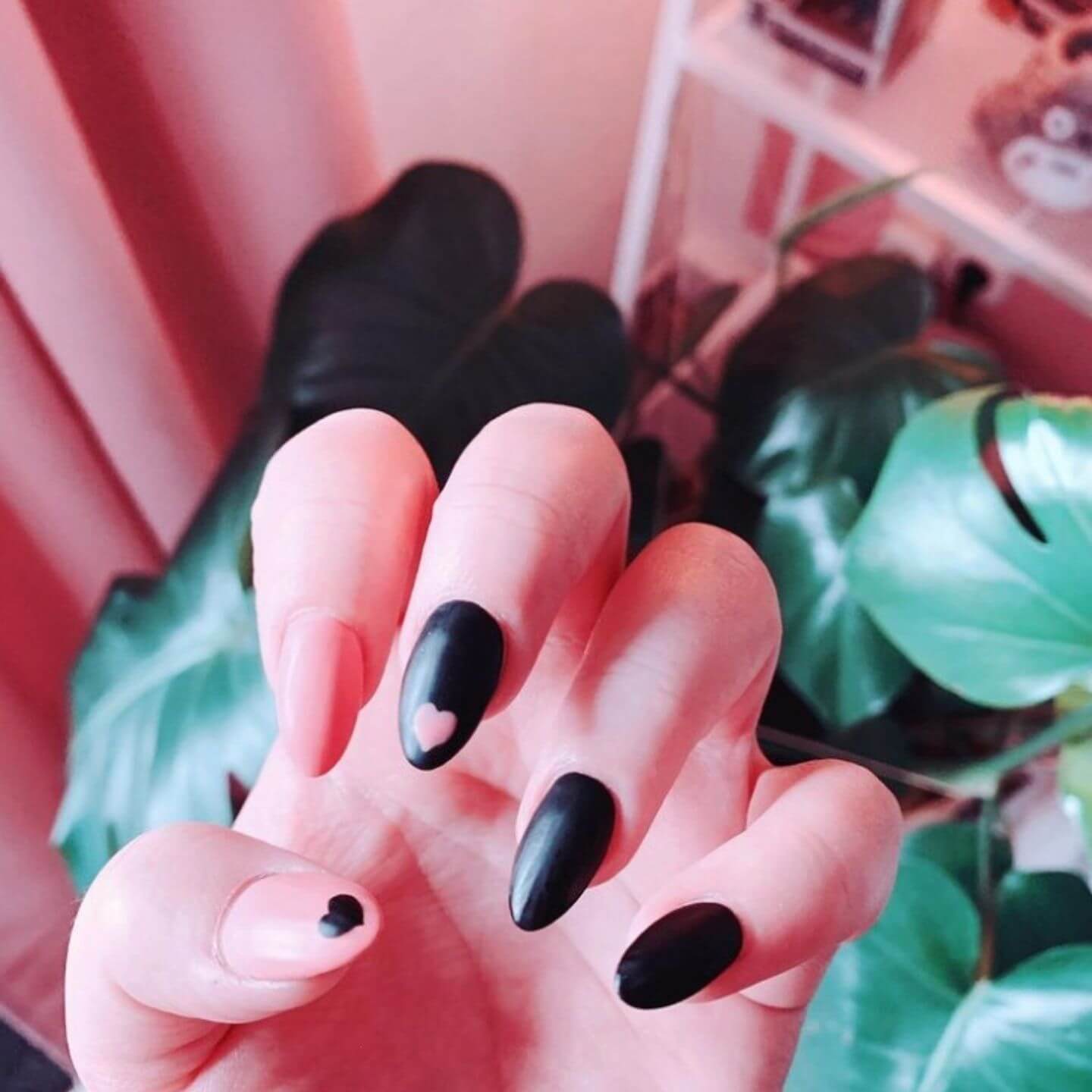 Nail art is always a fun way to show your love for valentine's day nails on this special holiday, and this year, valentines day nails are all the rage. This design features pink and black heart accent nails and  in an unexpected color combo, but these tiny hearts really pop against the contrasting backgrounds. If you're looking to add a little bit of festivity to your look, try out this nail art design for valentines day!
---
Classic Red Nail with a Twist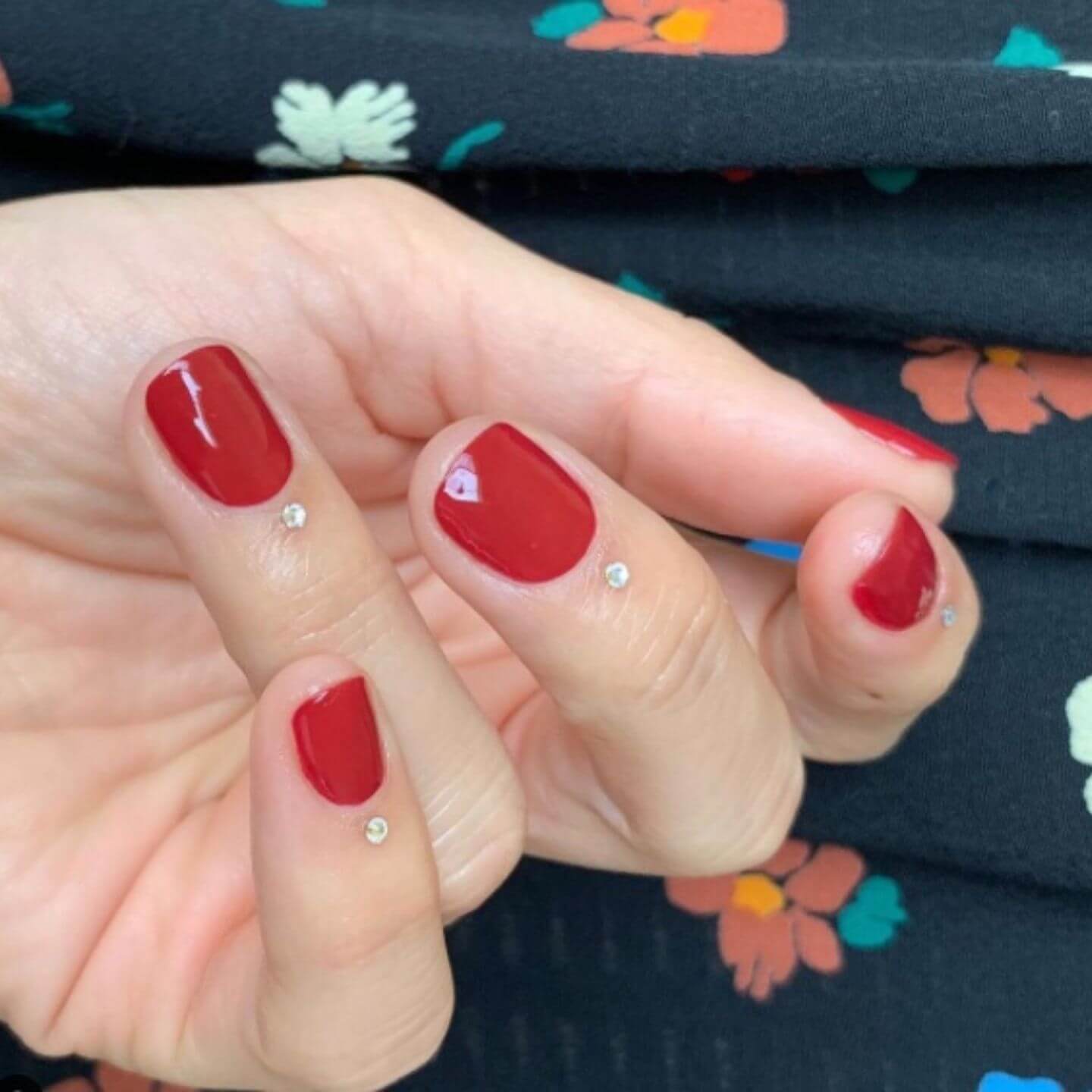 A classic red nail manicure with a rinestone accent is always a show-stopper. This look is perfect for a formal event or if you just want to add a touch of glamour to your day-to-day look. All you need is a red nail lacquer and a few rinestones of your choice.
This pink heart glitter manicure is a very cool nail look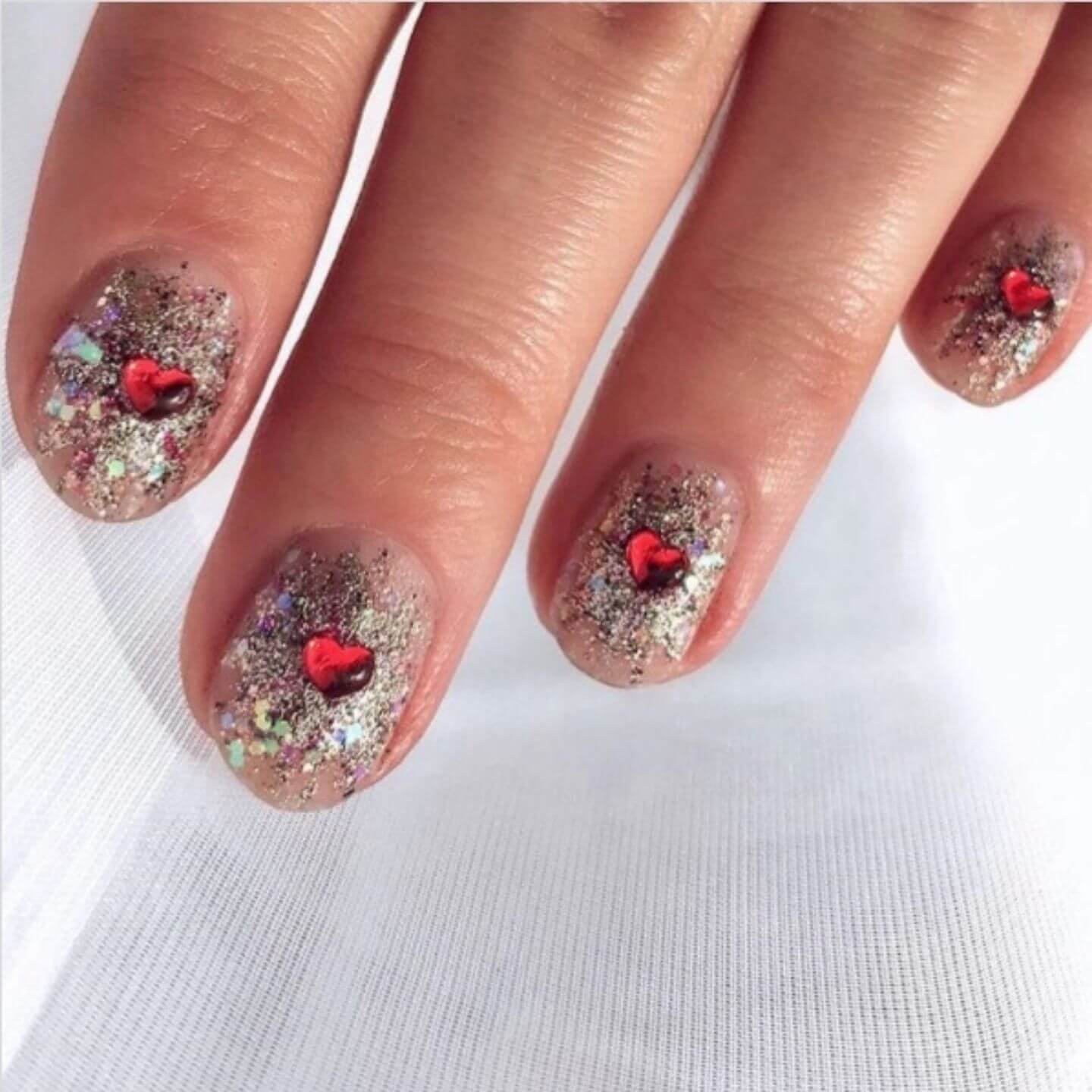 Looking for a nails look that will make you the queen of hearts this valentines day? Look no further than these nails with a glitter nail lacquer and red hearts on each nail. The sparkle will be sure to catch your loved ones eye, and the hearts will show that you're ready to celebrate in style.
Baby Pink Sky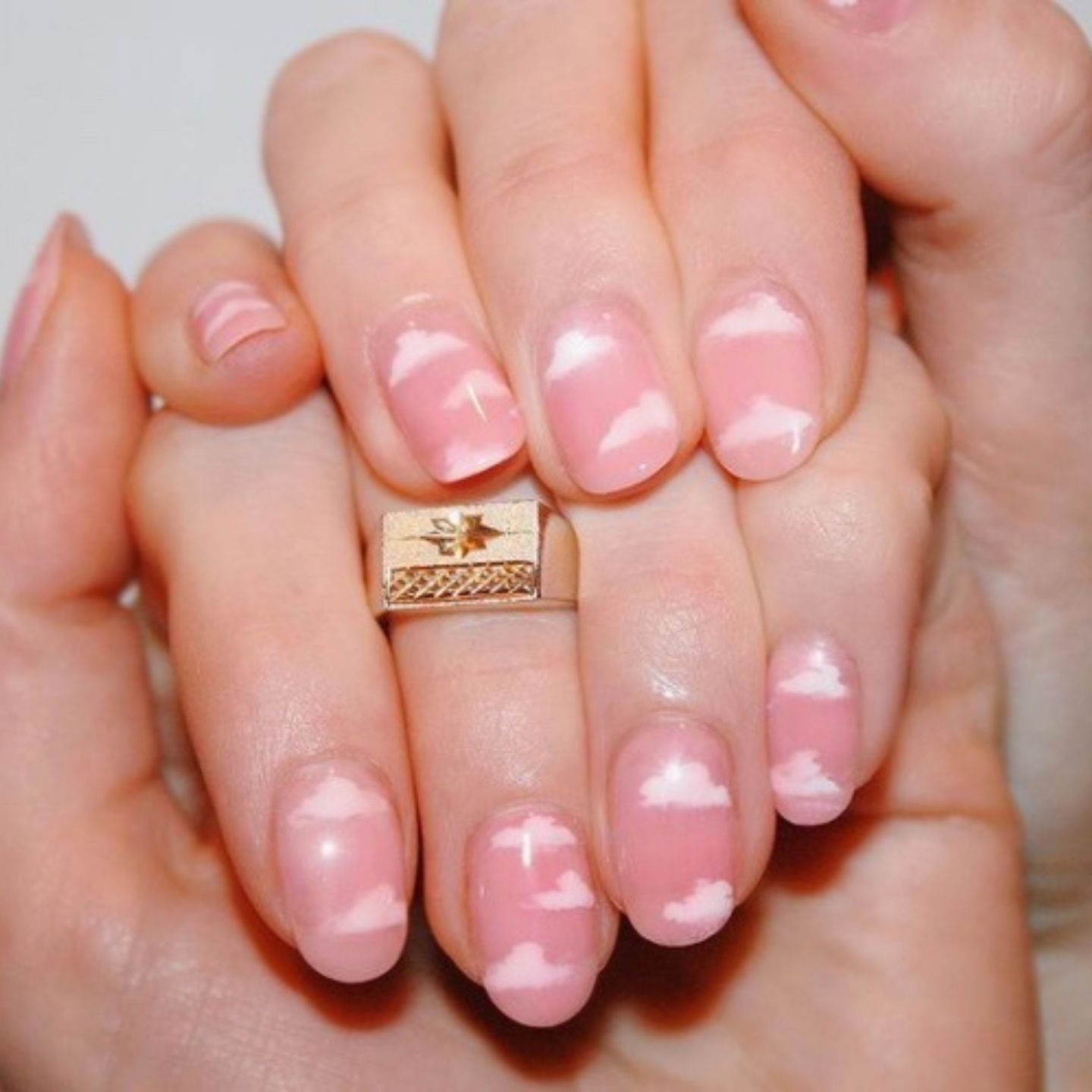 If you're looking for a sweet and festive nails look, valentines day nails with pale pink base color and adorable clouds on each nail is a great option. This type of manicure is perfect for anyone who wants to show their love for Valentine's Day in a subtle way.
Pastel chevrons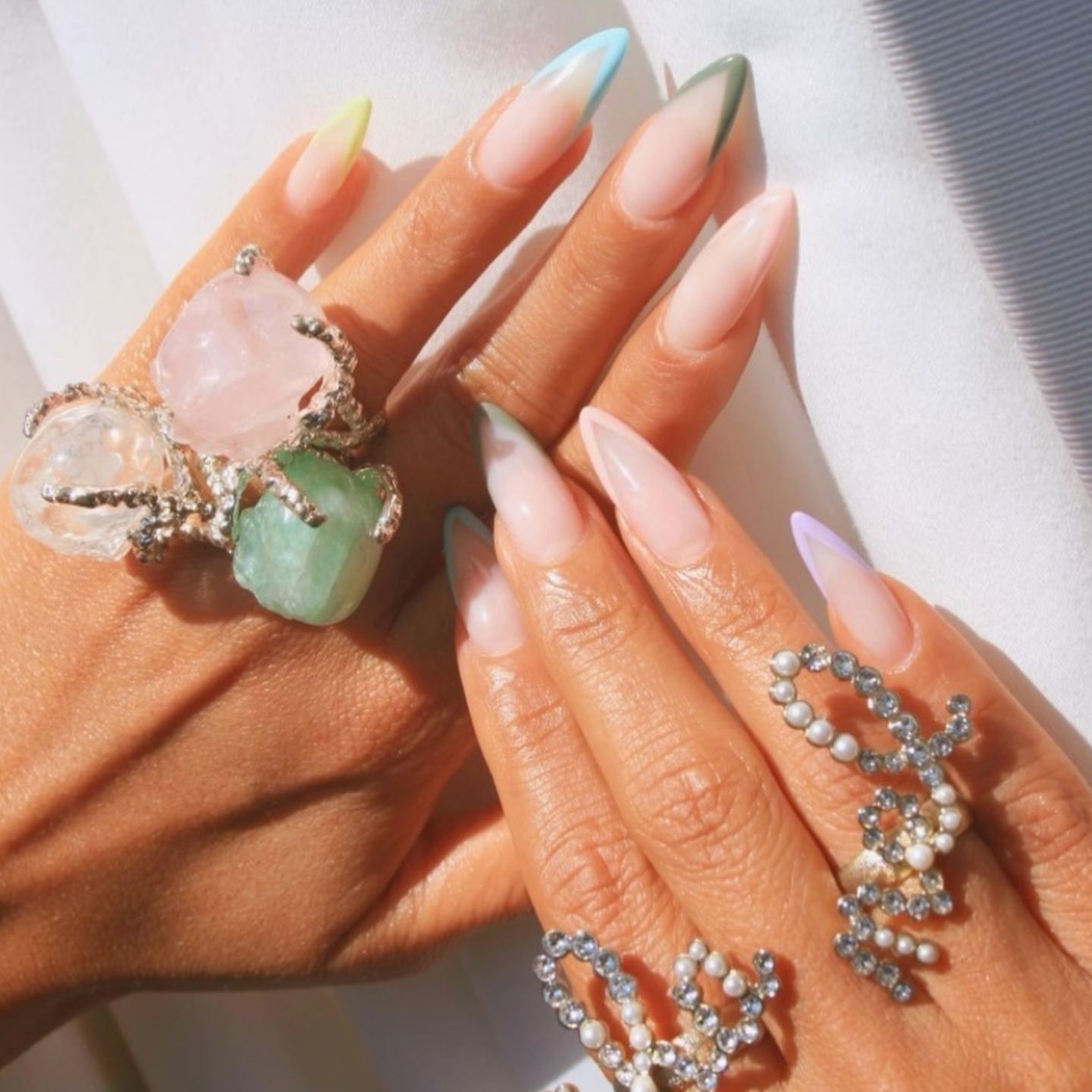 One of the coolest nail art looks for valentine's day is this twist on a French manicure with acrylic nails on a pastel pink base color. These french tips are perfect for a romantic evening out of any other event! The light shade of pink is soft and feminine, while the pointy nails give it a touch of glamour.
Red Glitter Manicure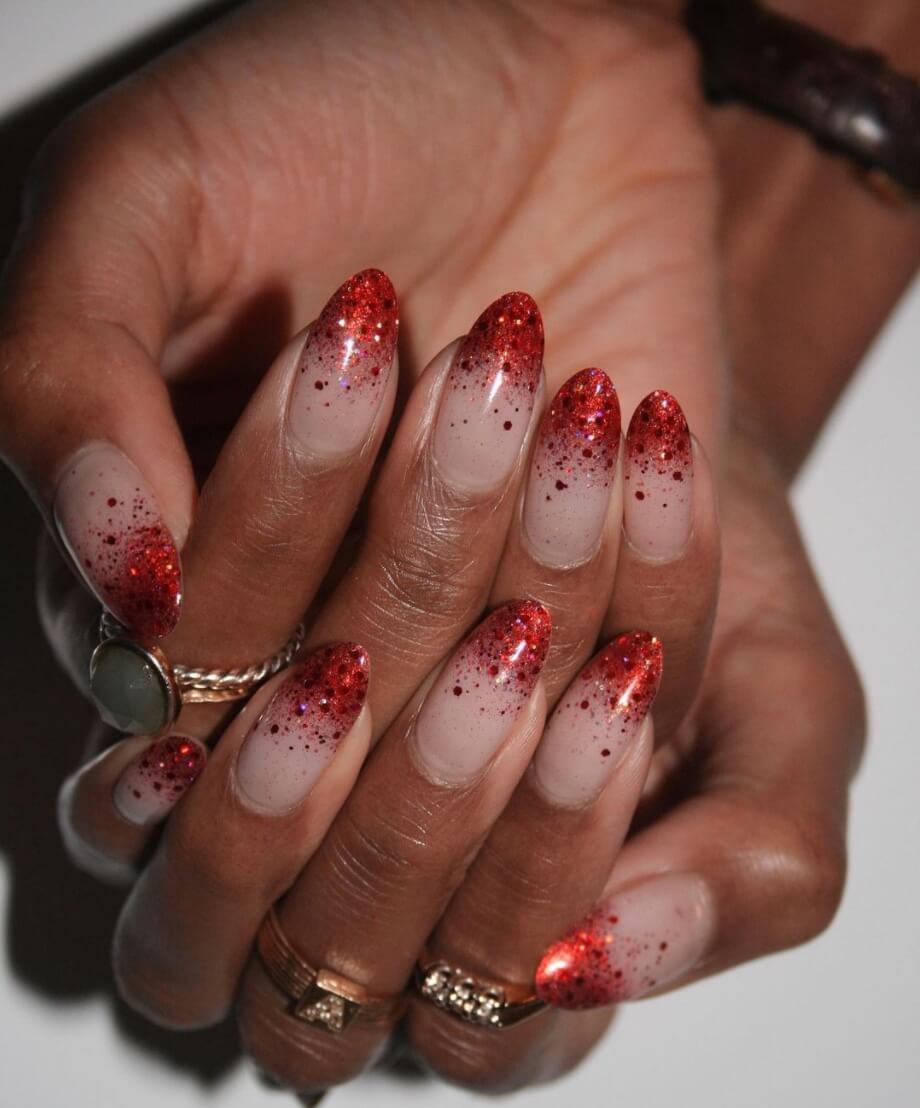 Valentines Day nails can be so much more than just hearts! This look features a bright red nail lacquer with loads of glitter for a festive feel. The almond-shaped nails are a great choice for nail art, and they add a touch of elegance to the look.
White Hearts Manicure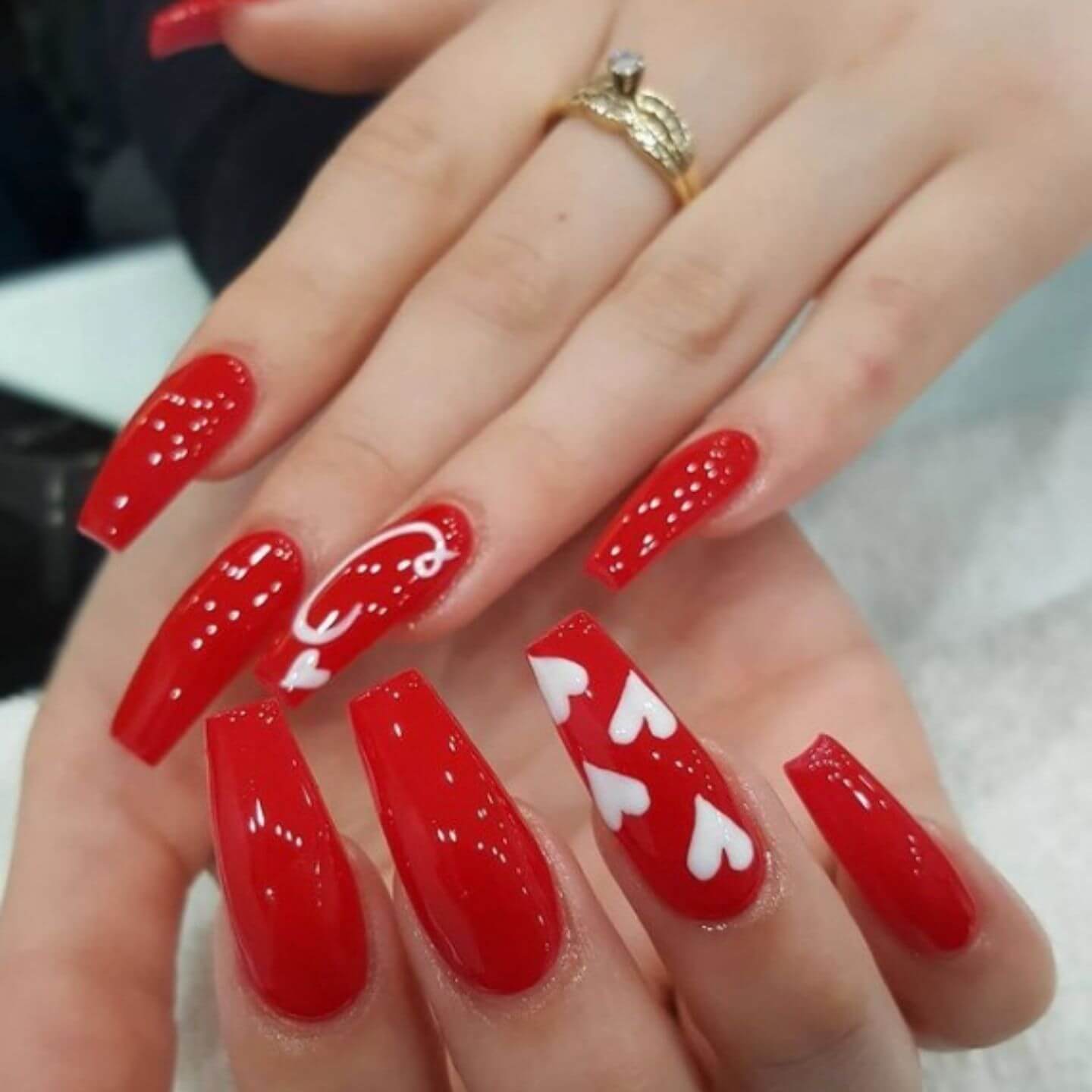 This manicure features coffin-shaped nails painted a bright red hue. The nails are accented with white hearts, giving the look a festive feel. This would be perfect for showing your love on Valentine's Day.
Pink Hearts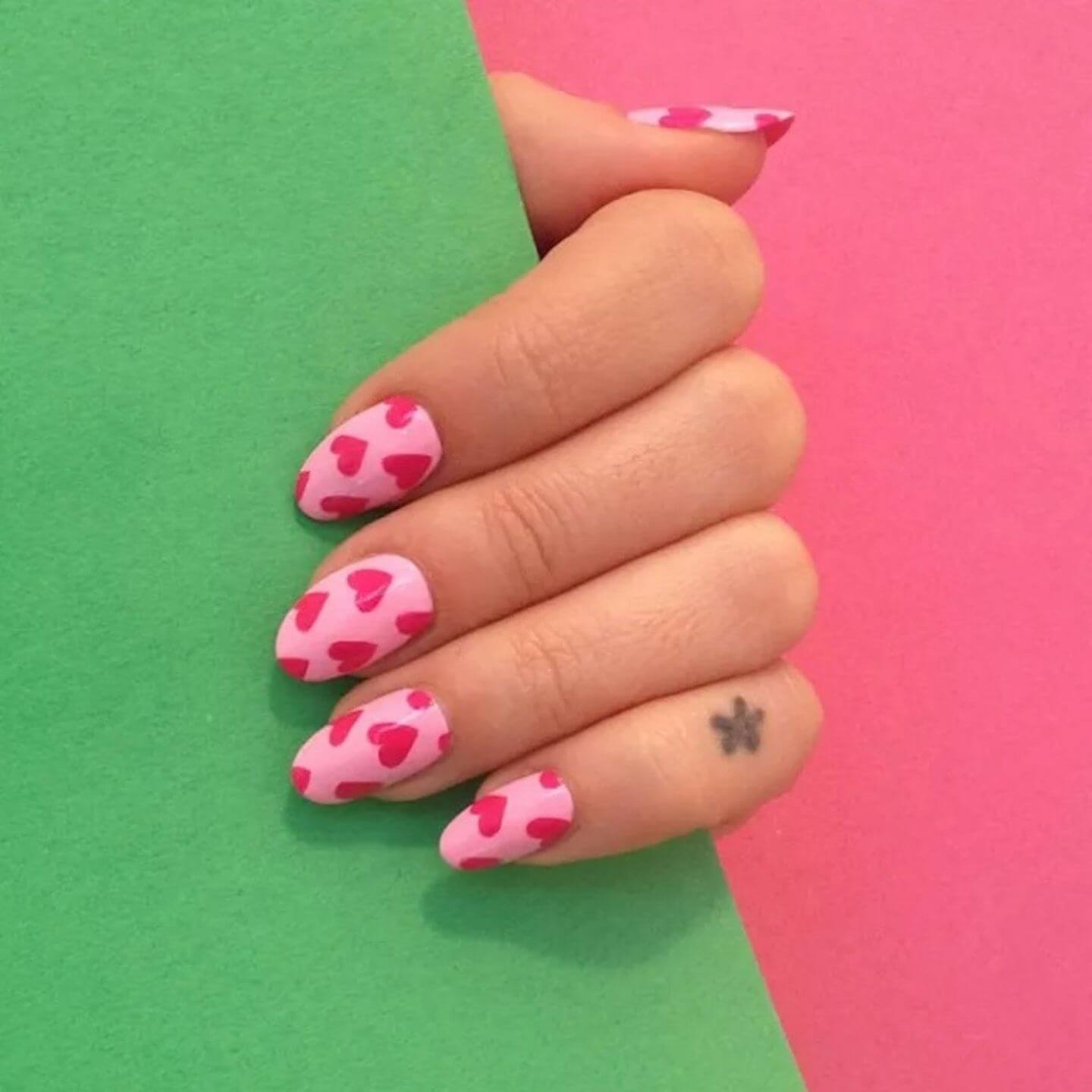 Valentine's Day is a special time where you can get creative with your nails and show off your love for the holiday. Whether you want to keep it classic with a heart-covered design or try something new, these nail ideas will help you stand out from the crowd. With two shades of pink nail polish, the nails feature contrast without adding more colors into the mix. So whether you're looking for a simple design or something more intricate, these nails are sure to please.
Negative space nails French Manicure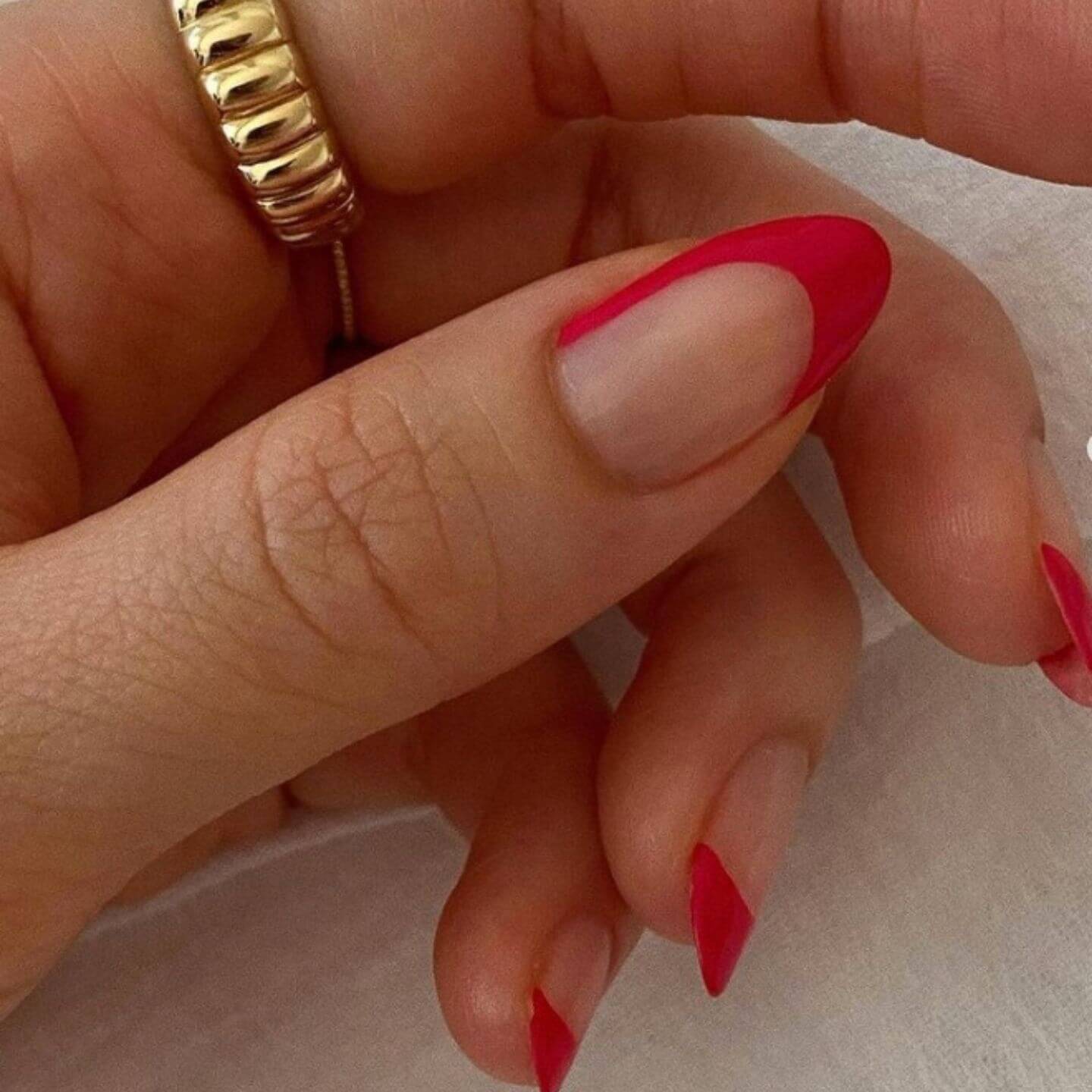 This valentine's day, consider going for a more subtle look with negative space nails. This design can be created using a tiny thin nail brush and a red nail polish. Start by painting your nails a light pink or nude color. Once the color is dry, use the thin nail brush to create a thin red line on the edge of your nails. Be sure to leave some empty space in the middle of your nails. Use a nail polish remover if there are any mistakes. Finally, top off the look with a clear topcoat to help seal in the design.
Trend Galore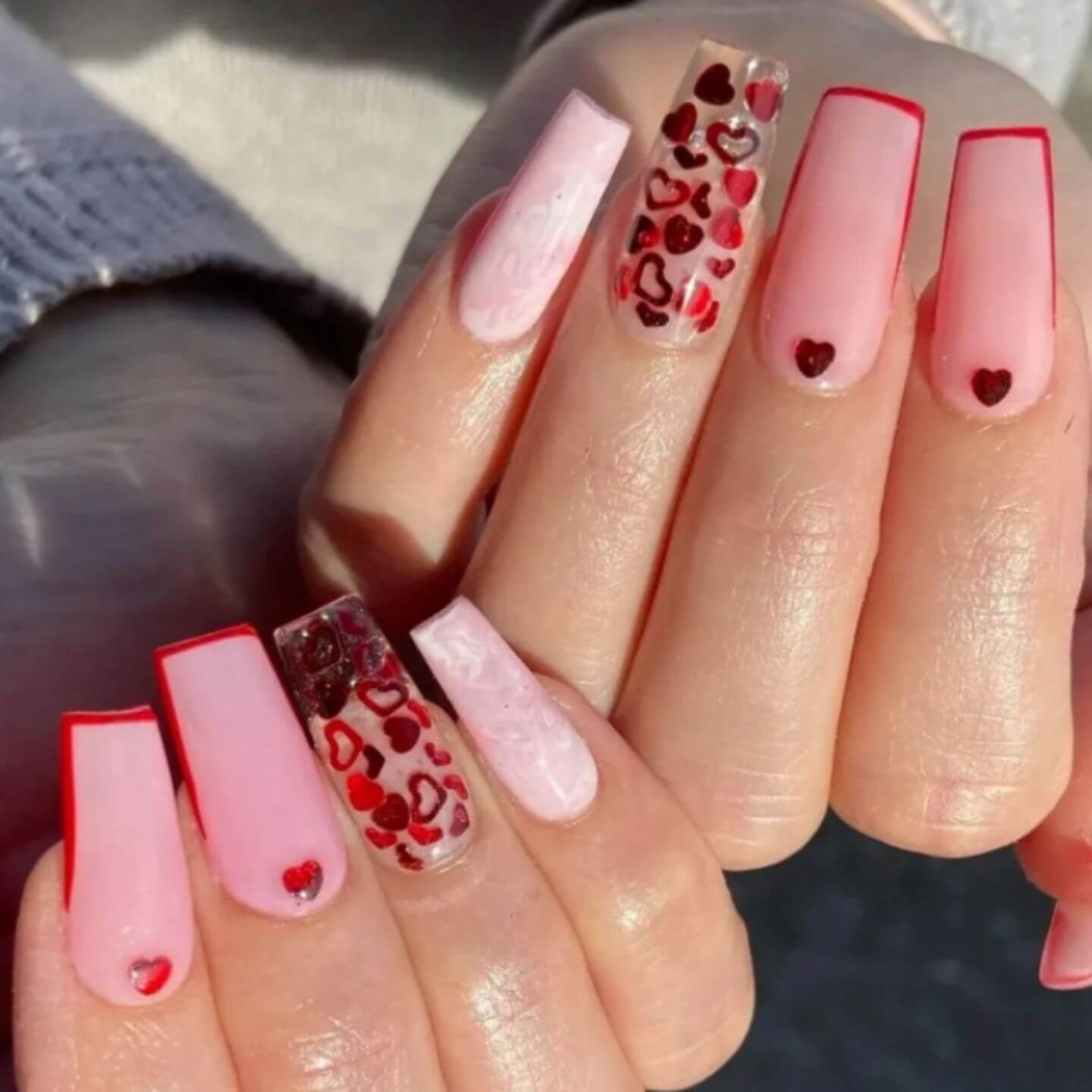 I mean...common! Rose quartz effect? Check! Clear acrylic with natural nails under? Check! Negative Space? Check! Hearts everywhere? Check! Pink manicure? Yeaas! I think we found the look that incorporates all my favorite nail trends in one! It's like in that TikTok trend: It will never be enough!
White hearts on black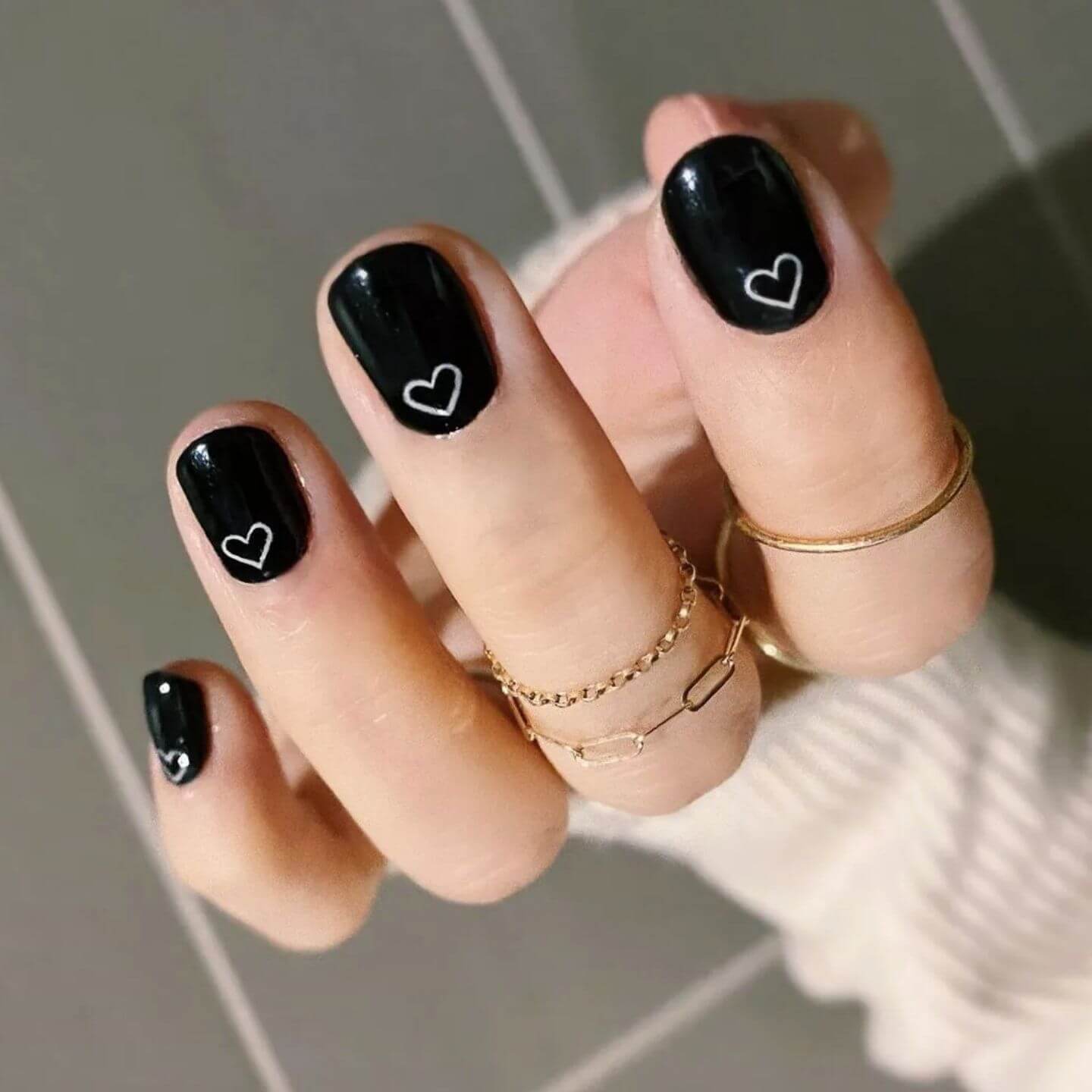 Looking for a valentine's day mani that is a little bit different? This design features black nails with white hearts drawn on each one. It's a simple, elegant look that is perfect for the occasion.
Classic nude manicure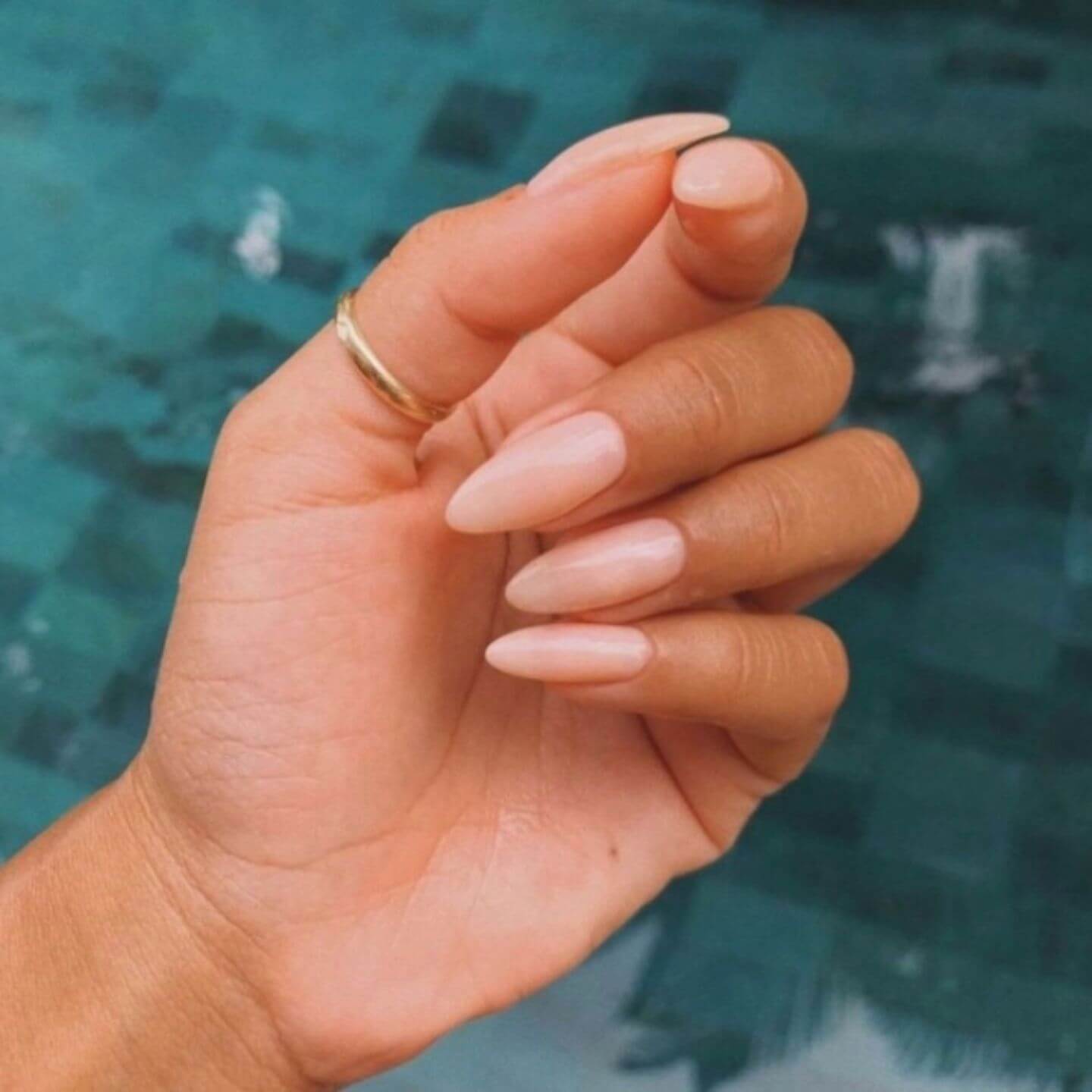 This Valentine's Day, why not keep your nails classic and elegant with a nude manicure? This look is simple yet very chic, and it will never go out of style. Plus, it will complement any outfit you wear. So if you're looking for a timeless nail design that will make you feel glamourous and special, go with a nude mani!