When you use our links and codes we earn a small commission. Thank you so much for all your support!
🌸🌸🌸HFN friends and readers get $10 USD off orders of $65 USD or more. Use code LX-HAIRFACENAILS🌸🌸🌸
---
We know you're a busy person with many demands on your time. That's why we made our guide to finding the best hair care products for you.
In this article we are going to discuss the hair extension brand Luxy Hair and if their products are worth the hype! So here is what you need to know about the brand, their top products, and looks.
Happy Hair Day!
Luxy Hair is a company that specializes in clip-in hair extensions, but they also offer some other products to help you get the look of your dreams. Luxy Hair brings their customers the very best, earning them the love of many celebrities and the title of #1 rated clip-in hair extensions brand in the world. Along with 100% Remy human hair extensions and a range of premium accessories, Luxy Hair offers tons of styling tutorials and hair care guides so you can get the hair of your dreams long after your purchase. Luxy Hairs' mission is to inspire confidence and empower you to look and feel your best - which means that Luxy's customers are always at the center of what they do.
Why choose Luxy Hair?
Luxy Hair extensions are easy to use, easy to apply, and easy to remove. The hair extensions are 100% real human hair that can be colored or styled just like your own natural locks!
The brand offers tons of color options including balayage, ombre, and more - giving you the freedom to rock your favorite hair colors without having to pay for a pricey salon appointment.
These hair extensions are very versatile allowing you to create many different styles and hair looks.
The company has an awesome customer support team that is always available to answer your questions.
Luxy Hair has free shipping for US and Canada customers as well as a very affordable price tag. What more could you ask for?
And lastly, the company offers tons of hair care guides on their website helping you to take good care of your Luxy Hair extensions! This way you can get the most bang for your buck and enjoy your hair extensions for months to come.
HFN's Top Product Pick
Luxy Hair Seamless Hair Extensions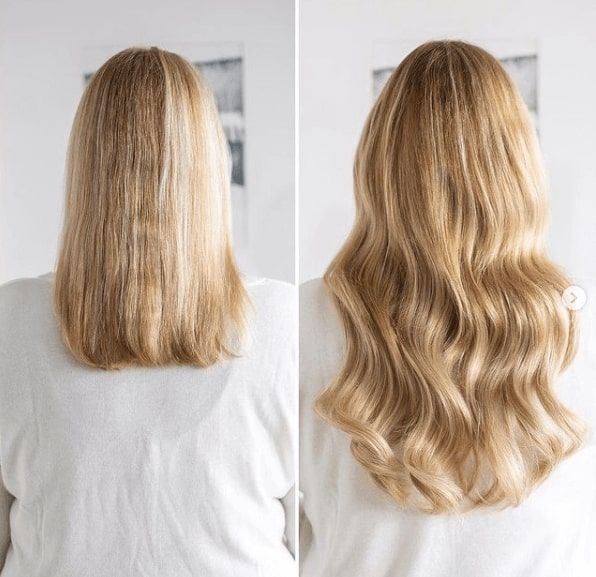 Finding the right hair extensions for your hair type that looks good is hard, they can be uncomfortable and difficult to apply.
Luxy Hair Seamless Hair Extensions are made from 100% Remy human hair which makes them very soft and tangle-free. They are available in 33 colors so you'll definitely find one to match your own shade. The seamless silicone weft makes these some of the most comfortable clip-in extensions on the market today. You can wear them all day or night without having to worry about discomfort or damage to your natural strands because these clips will never pull out your real hair!
Luxys seamless hair extension is made from 100% Remy human hair, which means it's soft and silky, just like your natural locks. And unlike other brands' silicone wefts, theirs are thin enough for you to barely feel them in your own strands! The clips also feature a special design that makes them easy to open and close without damaging your real hair. .They are so simple even a child could do it! Don't believe us? Watch our video tutorial on how to put in Luxys clip-ins yourself below!
---
🌸🌸🌸HFN friends and readers get $10 USD off orders of $65 USD or more. Use code LX-HAIRFACENAILS🌸🌸🌸
---