Thinking of changing up your look for the fall time? Trying to avoid going into the salon every month for touch-ups? Then Balayage might be for you! Read on to learn everything you need to know before sitting down in the chair for your Balayage appointment.
What is Balayage?
Balayage is a hair dyeing technique where the dye is actually hand painted onto the strands to give the hair a natural transition to avoid any harsh lines. Balayage literally means "to sweep" or "to paint" in French!
Balayage is achieved by using different tones and shades to create various dimensions of color on the hair. This is what leaves you with that natural, sunkissed look when you walk out of the salon. Since Balayage is done by hand painting the hair, everything is totally customizable! From the color to the placement, you can totally talk to your stylist about customizing your look to fit your needs.
What are the benefits of getting Balayage?
If you're unsure about making the commitment to getting Balayage, there are a few benefits that may change your mind.
1. It's a super easy way to grow out old highlights. This way of coloring your hair blends those highlights that are in the process of growing out without needing to re-dye them.
2. It is super low maintenance. Because of the way that Balayage is hand painted onto the hair, you won't see any harsh regrowth lines. This means that you don't need to go into the salon as often to get touch-ups!
3. Balayage is a less damaging hair dyeing technique. Since Balayage doesn't require an all over bleach, it minimizes the chances of leaving behind damaged, dry strands.
4. It can actually make your hair look fuller! It is all about strategically placed highlights in different shades to give dimension. This dimension instantly plumps up fine strands to make them appear thicker and fuller.
5. It looks very natural. If you're not ready to make the commitment to lightening your hair all over, Balayage is the perfect option! It lightens up your look without having to dye your full head of hair.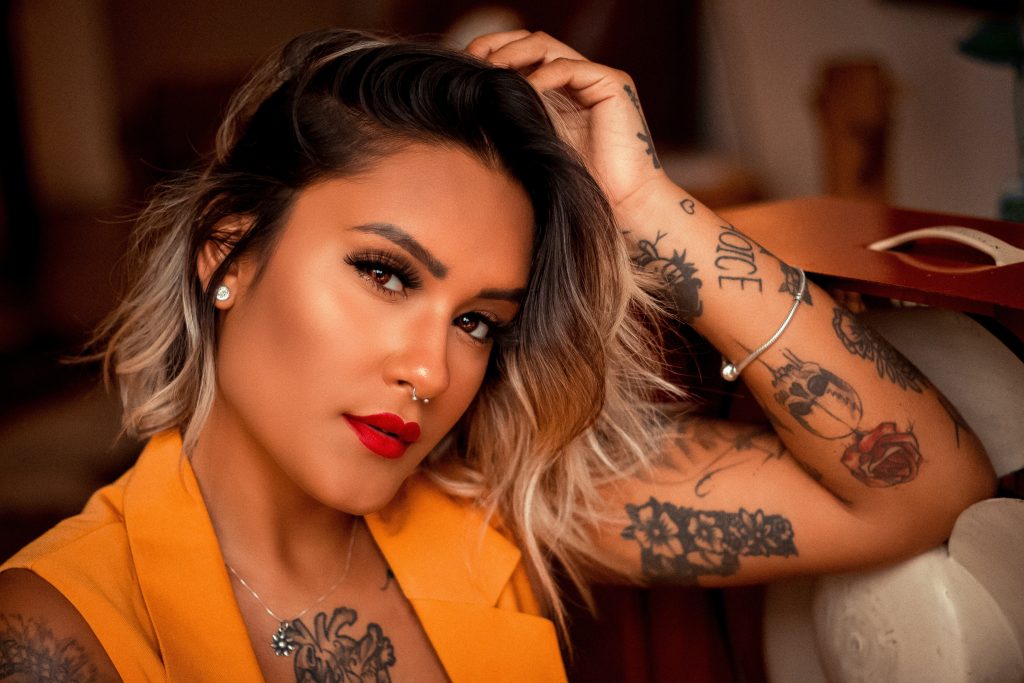 How much does Balayage cost?
The cost of Balayage all depends on your stylist and where you're located but the average Balayage appointment can run you around $70-250. Because this technique is literally an art (it is painting after all!), you'll want to go to someone experienced. And while this may cost you more, it's better than paying to get your hair color corrected after a bad Balayage experience!
Can it work on all hair types?
Balayage can work for pretty much any hair texture and color. The technique even works on curly and coily hair. The only time Balayage can be tricky is on super short hair (such as a pixie cut). This is because the hair isn't long enough to really create that seamless blend.
How to tell if this technique was done wrong
Balayage should only be done by a professional that has experience doing it. Balayage definitely isn't for beginners since it's painted freehand. Make sure to look at reviews and past work done by the stylist to ensure that you're in good hands.
With that being said, if the stylist doesn't use the right products or rinses them off too early, it can leave a brassy/orange tone on the hair. If the dye isn't applied or placed correctly, it can result in a patchy look.
What's the difference between Ombré and Balayage?
If you think that Ombré and Balayage are the same thing, you're partially right.
Ombré is another French word that means "shadow". It's a process that shades the hair in graduation from dark starting at the roots to light at the mid-lengths to ends. It basically looks like the hair was dip dyed. Ombré isn't a technique for beginner stylists either because if it's not done correctly, it could result in a super harsh and unblended look.
Balayage is different because the color is hand-painted on in small sections which result in a seamless blend with your natural hair color. Unlike the Ombré technique, Balayage doesn't result in a clear fade line between the lighter and darker shades. Balayage also requires less maintenance to keep the color looking fresh.
What's the difference between Balayage and regular highlights?
Unlike traditional highlights, Balayage has softer regrowth lines. This results in a more natural, sunkissed look whereas sometimes with foil highlights, you can get a piecey, stripey look. If it is also done totally freehand and no foiling is involved.
How to prepare for your Balayage appointment
If you're ready to book your Balayage appointment, here are some steps to take first:
Find an experienced stylist. We can't stress this enough—go to someone who knows what they're doing. Don't be afraid to stalk them on Instagram and read reviews first to make sure you like their work.
Find inspiration pictures. Since Balayage is totally customizable to you, you'll want to find a few pictures that are similar to the look you're going for.
Go in for a consultation. Booking a consultation with the stylist first can help them get a better feel of what you want. Plus, you'll be able to meet them and figure out if they're the right stylist for you before committing to the service.
How much upkeep does it need?
The great thing about getting Balayage is that there's very little maintenance needed to keep your strands looking fresh! Once you've achieved your perfect Balayage shade, you may only need to go into the salon for touch-up appointments every four months. You can also visit your stylist in between Balayage appointments for a toner refresh to knock out any yellow or brassy shades.
If you really want your color to last, make sure to cleanse with sulfate-free, color-safe shampoos. Sulfates are super drying and can actually strip the color from your hair. Also, incorporate a purple or blue shampoo into your routine once a week to minimize brassy tones.