Now that it's more common and much easier than ever before to care for curly hair, many people are left wondering where to even begin. The natural hair type world is very vast and at times can be hard to understand! Lucky for you, we've compiled a curly hair type chart where you can find all the information you need to figure out your curl type!
Hair type chart: Why is Your Curl Type Important?
Figuring out your natural hair type is super important, especially when trying to properly care for your hair and buying products: including shampoo and conditioner, cleanser, masks, deep-conditioner, and co-washing products. Because of the thousands of curly hair products out there, finding one that will work for your hair type can be tricky. There are so many broad categories of products, including mousses, gels, creams, and leave-ins. If you don't know your curl type, you can make the mistake of getting the wrong product for your hair!
Your curl pattern or curly type is determined by the way your hair curls, waves, or kinks when it naturally grows from your scalp. If you're a natural-haired gal, chances are you have a few different curl patterns in your hair. So if your hair doesn't exactly match the types described in our curly hair type chart, that's ok! Just try and find the one that sounds most like your curls.
How are Curl Types Classified?
Curly hair types are classified into three categories, type 2 - wavy hair, type 3 curly hair, and type 4 kinky/coily hair, and type 1 is straight hair!. Within those three types, there's A, B, & C, with A being the loosest and C being the tightest. For example, you could have type 2C hair, which means you have tight waves that are almost curls, but not quite. So type 2A hair is the loosest curl type, and type 4C is the tightest.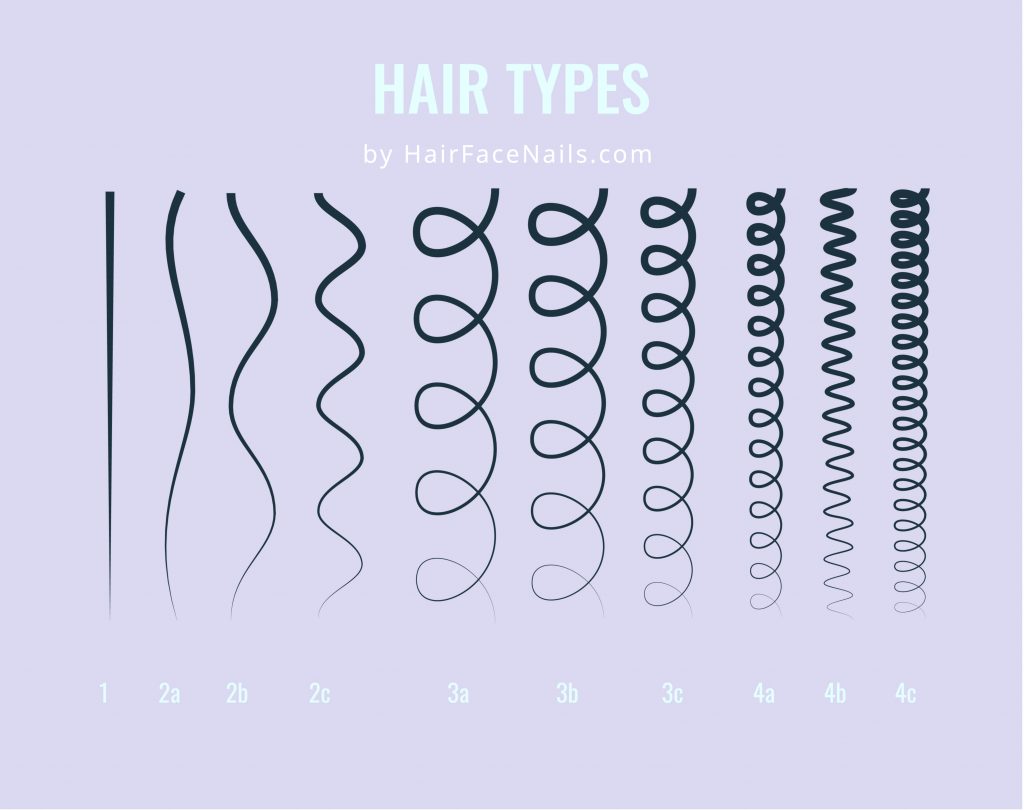 Products & Porosity
In addition to your Curl Type, you will also need to take a hard look at your hair porosity to determine how much moisture your hair can hold and what hair care products will be a good fit! Greasy hair? Use less moisture! Frizzy-hair? More moisture. Experiment to get the right fit with the right conditioners and shampoos and leave-in products.
When it comes to your curls, the proper balance between moisture with Cleanser, Conditioner, and Styler selection is key to your frizz-free day and your second-day hair. In addition, it's important to always use a Microfiber towel when drying your curls, only scrunch and finger-rake your curls and avoid hurting your curls and ringlets with brushes, combs, and heat.
For any product selection, remember to focus cleaners on your soaking wet scalp to remove buildup by finger-massaging, but avoid harsh cleansers that are alcohol, fragrances, parabens, non-water soluble silicones, and sulfate free on your precious curls. You'll thank us later!
Type 1 | Straight Hair
Straight hair type is classified by hair texture that typically lies flat against the scalp and might have a slight bend at the ends. Straight hair tends to dry out and frizzes easily. To maintain this hair type (and keep your hair healthy!), it's best to use lighter products like lightweight moisturizers, or hair creams. Use Cleansers and Conditioners for straight hair textures sparingly - they can weigh hair down and slow down hair growth.
Wavy Hair Textures
Type 2A
As we mentioned before, 2A is the loosest curly type there is. 2A hair is loose, wavy, and generally very fine and silky. It is also usually pretty easy to manage due to its resistance to frizz. 2A wavy hair forms a slight wave in "S" shape hair strand and sticks close to the head, even when its layered.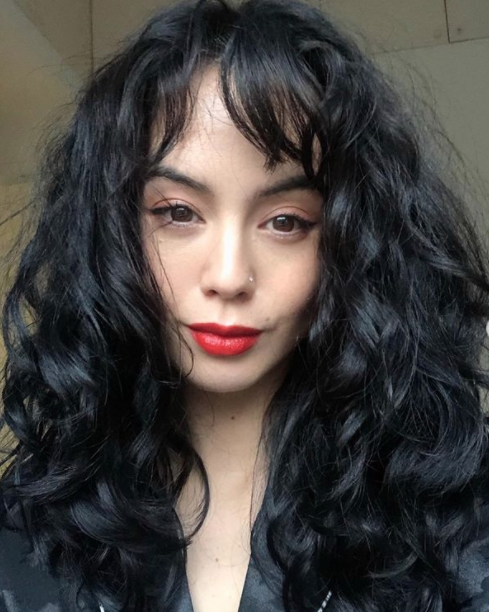 Products
If you have 2A hair, it's best to stick with very lightweight products so that your hair is not weighed down.
DevaCurl Power Duo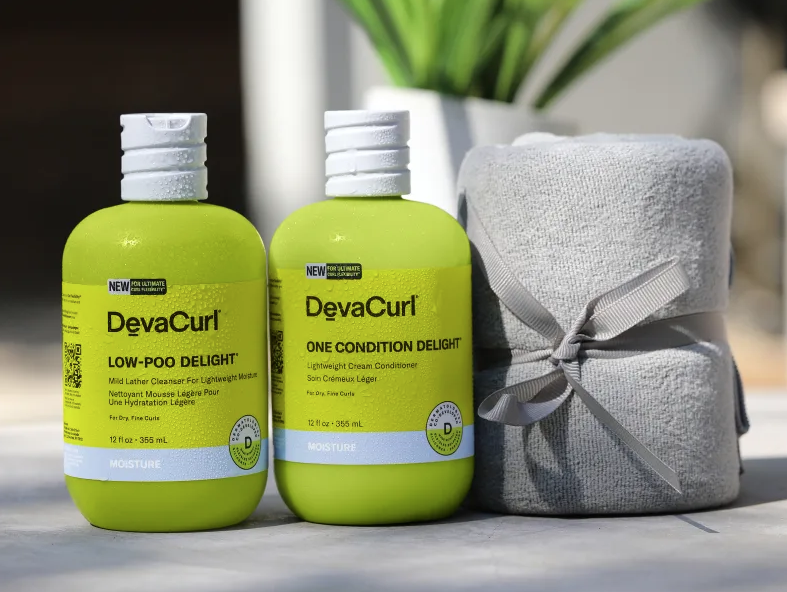 DevaCurl Low-Poo Delight is a lightweight cleanser designed for wavy hair that leaves your hair soft, defined, and bouncy without weighing it down or making it greasy.
DevaCurl One Condition Delight was created specifically for delicate curls like yours! It's made with an exclusive blend of ingredients so you get the right amount of hydration without weighing down every curl. With every use, this lightweight cream conditioner strengthens each strand while helping to eliminate tangles, leaving your locks looking soft, shiny, and frizz-free.


Type 2B | Wavy
2B curls are slightly more wavy than the 2A hair type. Type 2B hair still forms an "S" shape hair strand, but these gorgeous waves are a little tighter and a bit shinier than 2A curl pattern. It is also slightly more frizzy than 2A, so you'll have to put in a little more work to keep it tame.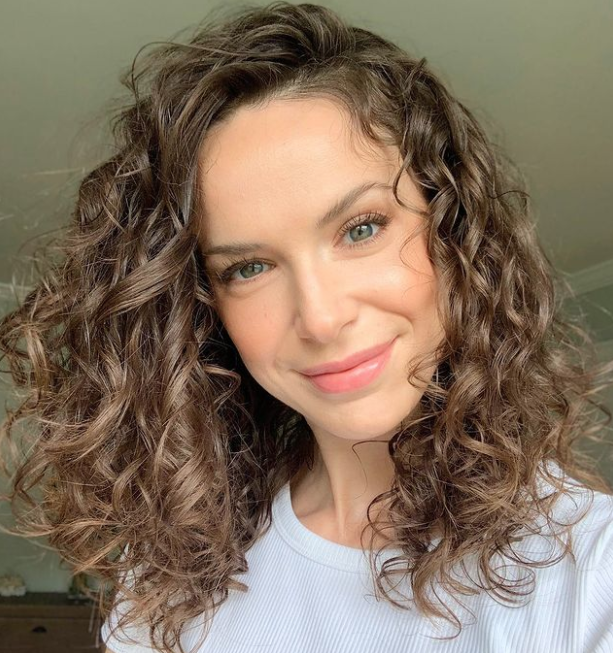 Products
It's still important to use lightweight products so you can still maintain volume! A few that we recommend are:
Design Essentials Coconut and Monoi Curl Refresher Spray.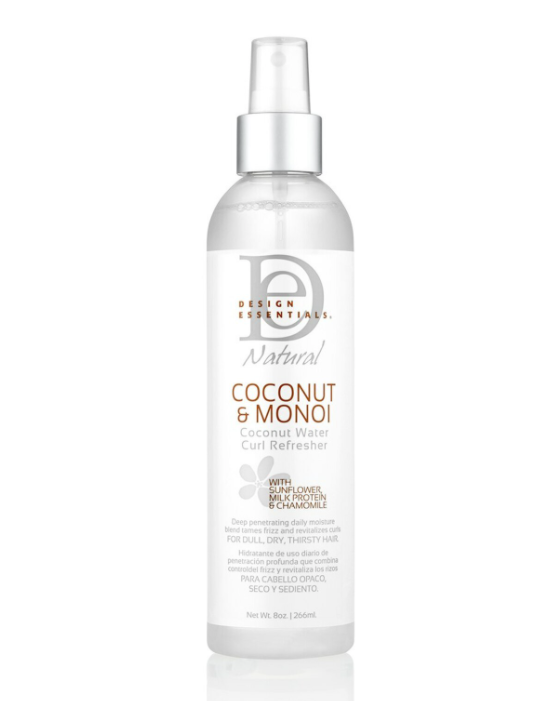 Coconut Water Curl Refresher Spray is specifically formulated to hydrate wavy hair with zero effort! Just spray it on damp or dry hair and let your natural curl pattern do its thing! This lightweight blend instantly revitalizes waves with our triple hydrating monoi moisture blend while restoring elasticity and shine. With daily use, thirsty curls are deeply penetrated and frizz is easily tamed. Our coconut water curl refresher is ideal for wavy, kinky-coily, tight coils or looser textures that benefit from definition without leaving behind residue or weighing down their natural bounce.
Curl Type: 2C | Super Wavy
Type 2C hair curl pattern is the coarsest and thickest wavy type. Sometimes, there are even actual curls mixed into the waves. Type 2C hair strands can be very resistant to heat styling and prone to frizz. If you have this curl type, we recommend using a good amount of gel and scrunching with a microfiber towel!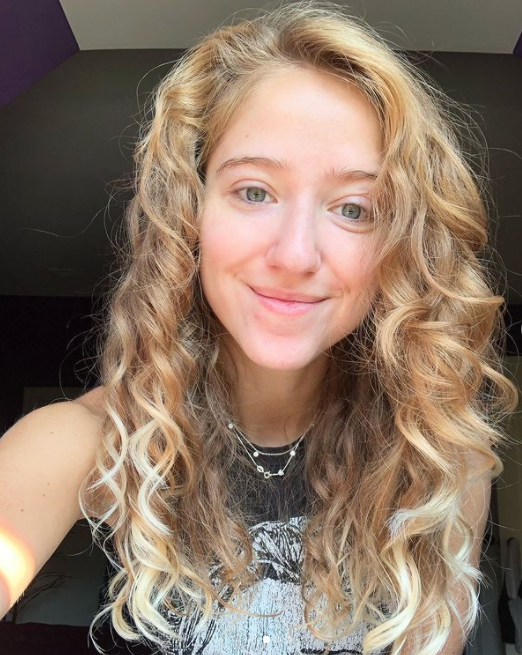 Products
Type 2C hair can withstand products that are slightly heavier than what type 2A and 2B can handle.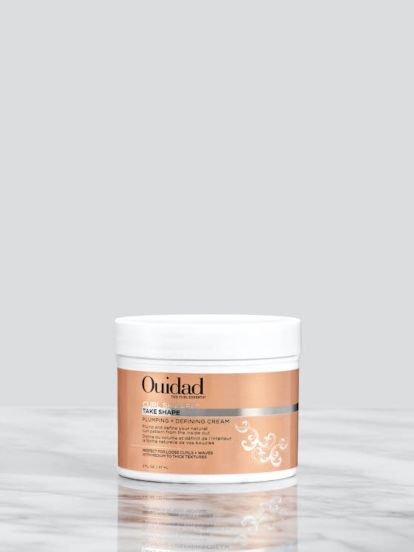 Curl Shaper™ Take Shape Plumping + Defining Cream
The Curl Shaper™ Take Shape Plumping + Defining Cream by Ouidad was designed specifically for medium to thicker textures of natural waves, so if your hair falls into this category then this product is for you! This leave in product builds more volume and definition from the inside out while plumping each individual curl as it dries – no frizz here!
Curly Hair Textures
Curly hair textures come in many different varieties and forms.
Curly hair has different porosity levels depending on the hair type. Some hair types are naturally dry, while others are more oily. When it comes to curly hair, they can range from Curly, Coily to Kinky. Keep in mind that everyone's hair changes with climate/environment, products used,  hair color, hair tools used, hair patterns, hair thickness/density etc.
Curly hair is just as beautiful as any other hair type because everyone's hair has its own special qualities. It takes time to find what works best for your texture but it is possible and worth it!
Here is a quick curly hair type chart to reference to see what curl type you have!
Curl Type: 3A | Curly
The 3A curl type is the loose curls type of curly hair. Typically, 3A hair strands have pretty defined "S" curls that are naturally big, loose, and very shiny. This hair type generally isn't very resistant to heat styling but is very prone to frizz and going flat if the climate is humid.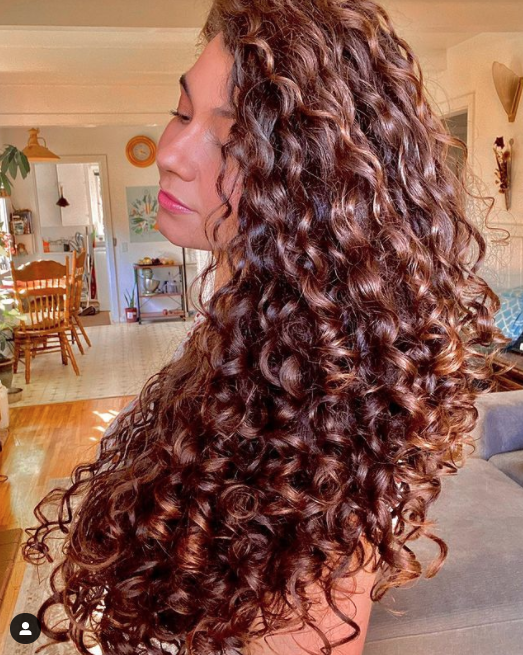 Products
3A curls do great when you use milks or smoothies to style. You can also use light creams and gels for optimal curl definition and longevity. We recommend: Rizos Curls Curl Defining Cream, As I Am Curling Jelly, and JessiCurl Hair Cleansing Cream.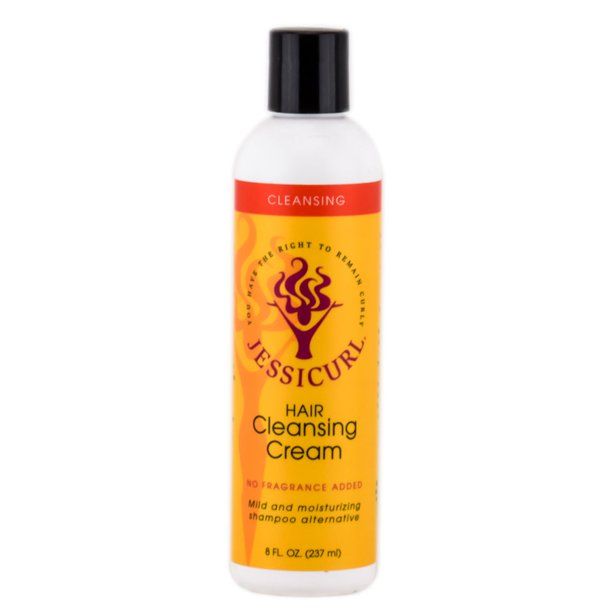 Jessicurl Hair Cleansing Cream
Jessicurl Hair Cleansing Cream is an amazing product that lets you wash your curls and have them look great on the same day. You don't need to wait for your natural oils to come through or use any other products because it will not strip away any of your natural oils as most shampoos do. This cleanser is safe for color-treated hair, which makes it perfect for anyone who wears their locks colored or highlighted! The best part? You only need a little bit per wash (which means this bottle will last you forever)!
Curl Type: 3B | Curly & Spiral
The 3B hair type can range from springy ringlets to tighter corkscrew curls. People with 3B curl pattern can usually expect their hair to be pretty well defined and not so easy to straighten. These curls can be pretty coarse and at times, and may take some extra effort to remain shiny and lustrous.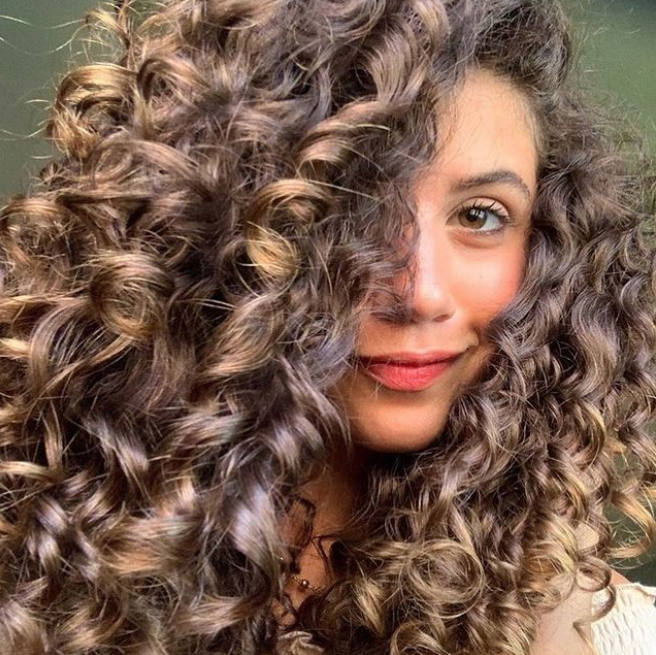 Products
It's best to use very moisturizing curl creams, gels, and conditioners to control the frizz of 3B curls. We recommend: DevaCurl's Melt Into Moisture Deep Conditioning Mask, Twisted Sista Intensive Leave-In Conditioner, and RenPure Coconut Styling Gel.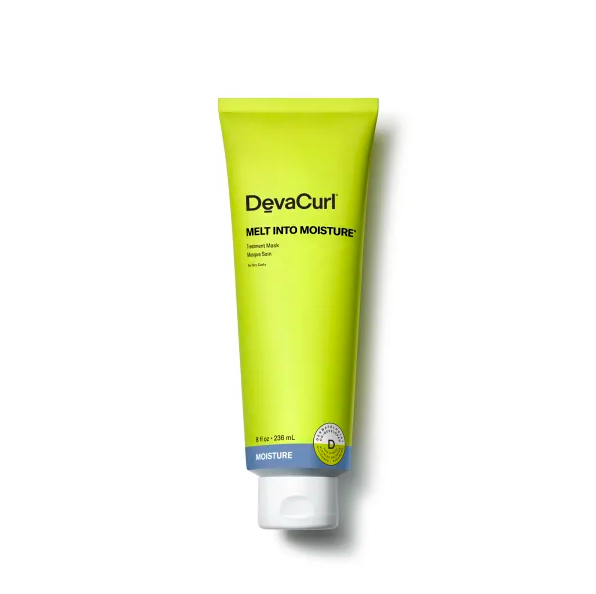 DevaCurl  Melt Into Moisture
Melt Into Moisture Mask is a treatment that moisturizes and detangles your curls without weighing them down. It's the perfect solution for all of us with curly hair! This treatment mask will leave your hair feeling soft and shiny while also reducing frizziness. You'll be able to run your fingers through each strand of your beautiful curls after using this product.
This treatment mask will leave your hair feeling soft and shiny while also reducing frizziness. You'll be able to run your fingers through each strand of your beautiful curls after using this product!
Curl Type: 3C | Curly & Tight Coils
Type 3C hair usually has tight corkscrews hair that can be very voluminous. 3C hair strands can either be kinky or just very tightly curled, typically densely packed together to create a beautiful abundance of texture. This type of hair is usually very fine.
Products
Type 3C hair requires lots of moisture! Butters, oils, and heavier creams help maintain moisture for their finer texture and to fight frizz. Try these products to ensure your hair doesn't dry out: Kinder Curls Super Curls Styler, Taliah Waajid Green Apple & Aloe Nutrition Hold Me Down Gel, DevaCurl's One Condition Decadence, and Carol's Daughter Sacred Tiare Restoring Hair Mask.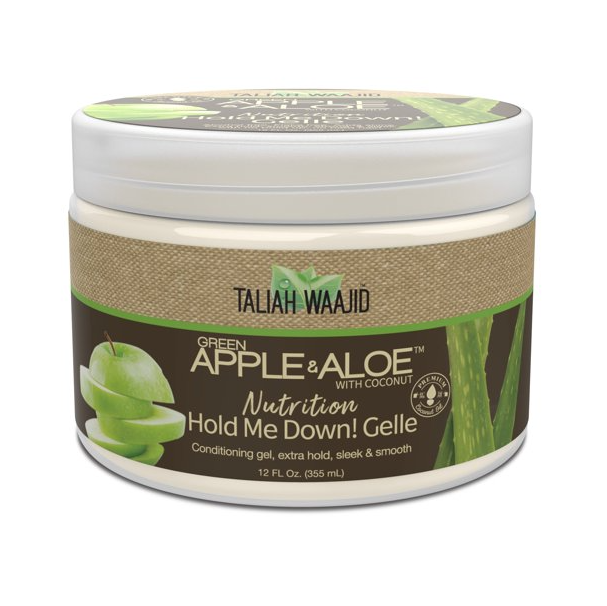 Taliah Waajid Green Apple & Aloe Nutrition Hold Me Down Gel
Taliah Waajid/Green Apple & Aloe Nutrition Hold Me Down Gel is all-natural and free of harsh chemicals like alcohols (which strip our hair), silicones (which make our hair look dull), or mineral oils (which coat our strands). It doesn't contain any parabens or sulfates either! The gel gives you a strong hold without leaving residue behind.
4 Hair Types
Curl Type: 4A | Super Curly
4A curls are very tightly coiled that have a very defined "S" curl pattern and can be wiry or fine in texture. Type 4A hair texture can usually hold more moisture than the other 4 types, but can also be very fragile because of the lower amount of cuticle layers.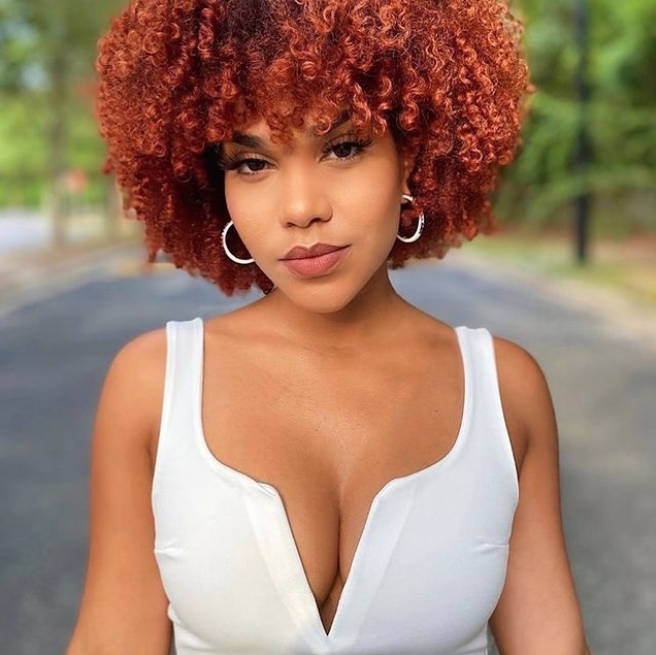 Products
Creams, butters, leave in conditioner, and oils are the best stylers for 4A  tight curls. This is because these products protect the hair from outside environmental factors and make sure the hair stays moisturized. We recommend: Uncle Funky's Daughter Extra Butter Curl Forming Cream, Creme of Nature Argan Oil Pudding Perfection, and Mielle Organics Mint Almond Oil.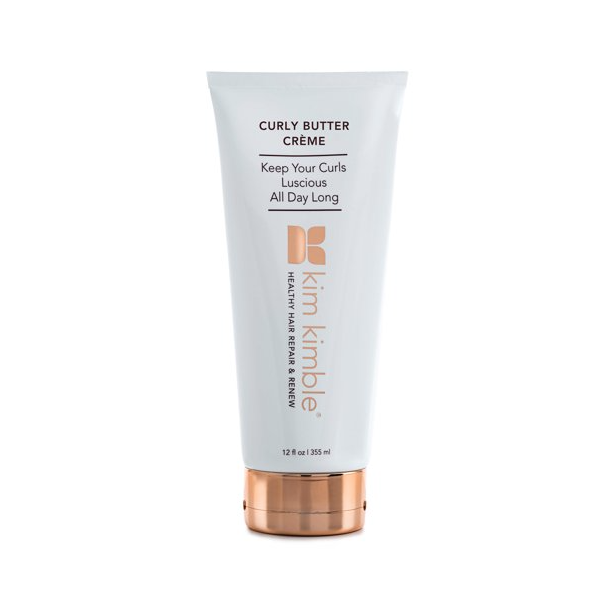 Kim Kimble's RepHair Conditioner
Kim Kimble's RepHair Conditioner is here to save the day! It helps reduce breakage and protects against heat damage. This specialized formula moisturizes, detangles, and adds beautiful shine naturally without any harsh chemicals or sulfates that can strip your hair of its natural oils. Our product will help you achieve manageable curls with softness and bounce while protecting your hair from dryness. With Black Honey, Pure Jojoba Oil & proteins to nourish and revitalize thinning or damaged hair prevents hair from feeling dry and brittle. A great solution for all hair types but made especially for everyday use for curly or kinky/coily hairstyles. Color Safe Parabens Free, Sulfate Free Phthalate Free, and Cruelty-Free
Curl Type: 4B | Super Curly & Coily Hair
4B coily hair texture tends to have less definition and a more cotton-like feel when styling. It's important to be careful with this fragile curl type and keep in mind you'll most likely be experiencing more shrinkage.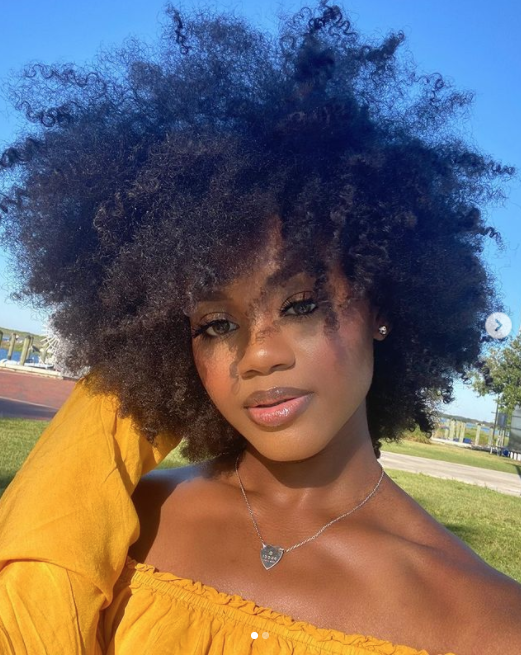 Products
The most important aspect of caring for type 4B coily hair is detangling with lots of conditioners and to use a detangling brush. Using products like the Design Essentials Coconut & Monoi Deep Moisture Masque, As I Am Hydration Elation Intensive Conditioner, and Soultanicals Can't Believe It's Knot Butta can aid in the detangling and styling process.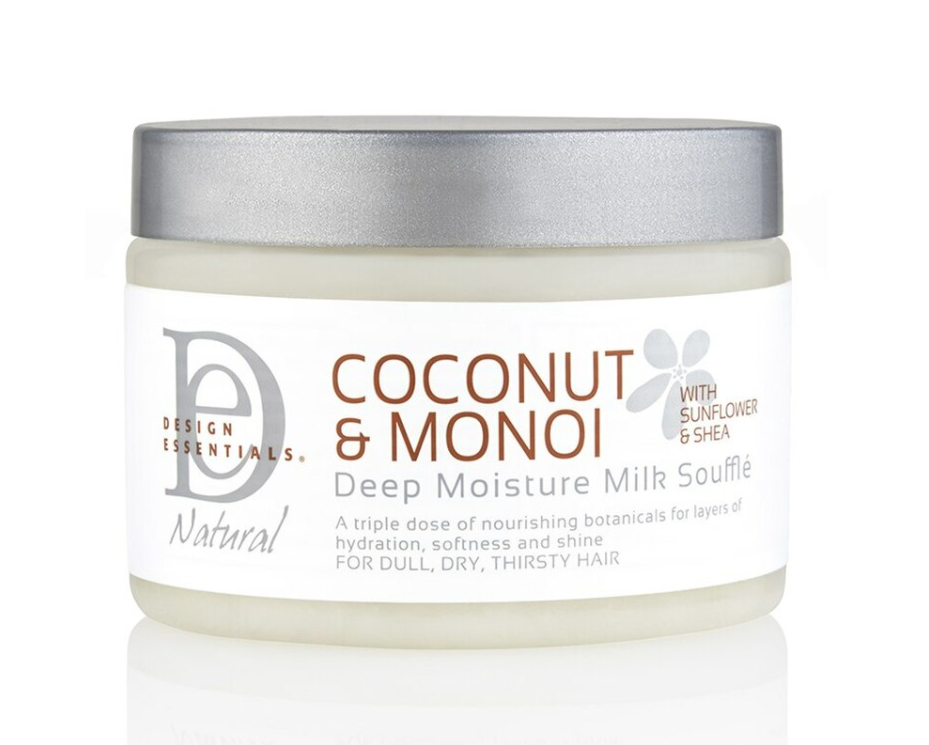 Design Essentials/Deep Moisture Milk Soufflé
Design Essentials/Deep Moisture Milk Soufflé is the perfect solution for all tightly coiled hair types because it contains ingredients that moisturize, strengthen and protect every strand from root to tip without weighing down curls or making them frizzy. It doesn't matter whether you have coily curls, tight ringlets or loose waves - this milk soufflé provides deep moisture and nourishment that helps each curl thrive! This lightweight formula contains shea butter which seals in moisture while also providing anti-breakage benefits as well as coconut oil which works as a heat protectant against heat styling damage by sealing in moisture and providing essential nutrients needed to help keep strands strong and healthy.

Curl Type: 4C | Super Curly & Tight Coils
4C hair is like 4B's tighter, kinkier older sister. This kinky hair type is very densely packed and the curls clump together without much need for styling. It can range from fine and thin to thick and coarse.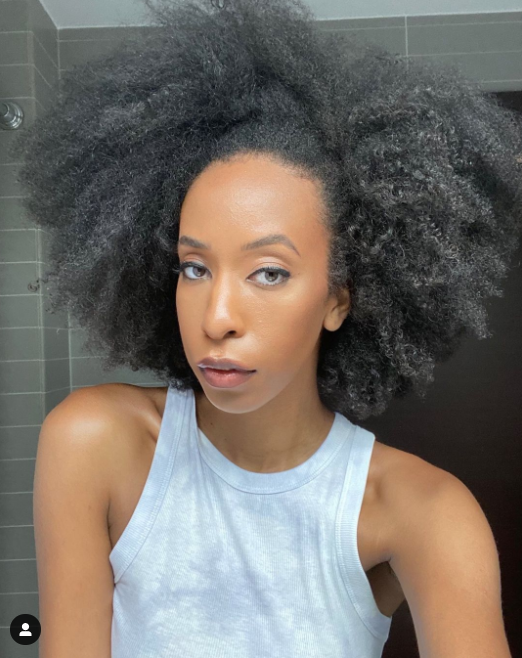 Products:
It's important to keep 4C kinky hair well moisturized, just like 4B. If you don't 4C coily hair can easily dry out and become hard to manage. Also, it is very important, if you are styling your hair to always use a heat protectant. The Oyin Whipped Pudding, Aphogee Curlrific Texture Treatment, and Alikay Naturals Avocado Moisture Mask are all great options for keeping healthy, moisturized 4C curls.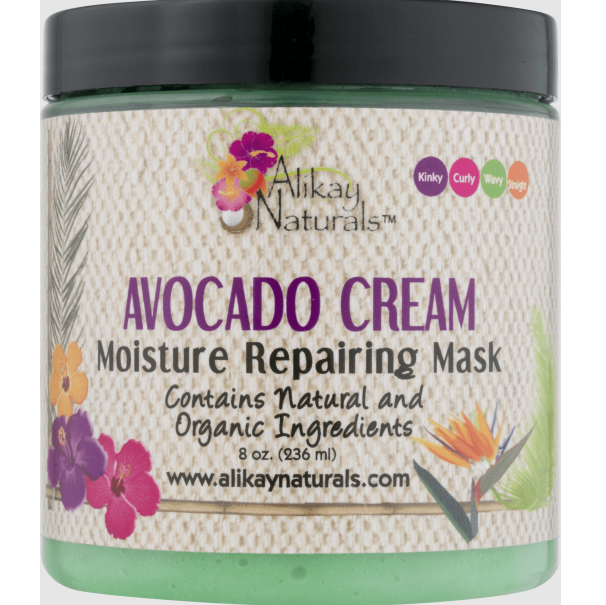 Avocado Cream Moisture Repairing Hair Mask
Alikay Naturals Avocado Cream Moisture Repairing Hair Mask is a natural hair mask designed specifically for those with kinky hair texture  (4c) in mind. Our avocado cream moisturizes your scalp without stripping it like most other conditioners on the market today do. It also offers deep nourishment as well as protection from environmental factors such as color fading, sun exposure and works as a heat protectant. The result is stronger, shinier, and more manageable curls that bounce back into place after styling! You won't believe how soft this mask leaves your tresses.
*This article contains affiliate links