If you have naturally wavy, curly, or coily hair, chances are you've heard of the curly girl method. You may even use some curly girl method approved products without even realizing it! Whether you're just starting to embrace your natural texture or are looking for methods and techniques to boost those curls, the curly girl method may be for you!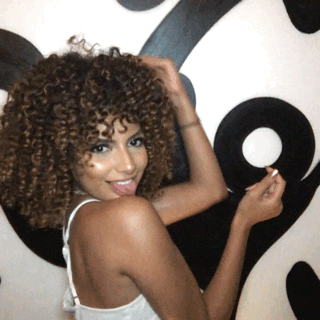 What is the curly girl method?
The curly girl method was created by stylist and co-founder of curl brand, DevaCurl, Lorraine Massey. It's essentially a guide of dos and don'ts to follow that help enhance your natural texture and leave behind the damaging habits. Mostly, the curly girl method focuses on ingredients and tools to avoid so that your curls can flourish. It also has helped countless people all over the world discover their natural texture they never knew they had!
Who does the curly girl method work for?
Contrary to the name, the curly girl method can work for anyone that has wavy, curly, and coily hair (guys, that even includes you).
It's important to keep in mind that you should use the curly girl method as a guide and not a curly bible. Everyone's hair and scalp are different which means they may not react the same to certain products or techniques. Don't be afraid to experiment and try out different things to find what works best for you and your hair!
The Dos & Don'ts of the curly girl method
If you're just starting on your curly journey, here are some basic dos and don'ts outlined in the curly girl method:
Don't use any products that are formulated with sulfates, silicones, or drying alcohols. Sulfates and some alcohols can dry out the hair and because curly hair needs more moisture than straight hair, drying ingredients are the last thing you want in your products. Silicones are actually plastic (yuck) and while they may make your hair feel silky smooth in the moment, they actually block moisture from being absorbed into your strands.
Do switch out your traditional shampoo for a low lather alternative. Traditional shampoos contain sulfates to make them super bubbly and will lead to dehydration of the hair. Low lathering or conditioning cleansers are a great option to cleanse the hair and scalp instead.
Don't use heat styling tools. Extreme heat can dry out and damage your curls even leading to permanent curl damage (AKA relaxing your curls) if you use heat too often. If you do want to use a flat or curling iron every once in a while, make sure to put it on the lowest heat possible and always use a heat protectant.
Do use your fingers to detangle your hair instead of a brush. Brushes will literally stretch out your curls and make them look stringy. Instead, try to finger detangle in the shower with conditioner. If you have to use a detangling tool, opt for a wide tooth comb that won't pull out your curl's pattern.
Don't use traditional terry cloth towels to dry your hair. Terry cloth roughs up your curls and can cause major frizz. Use a microfiber towel or cotton t-shirt instead for a gentler approach to drying your curls.
Do use products that contain hydrating ingredients such as shea butter, coconut oil, aloe vera, etc. Due to the naturally coiled shape, it's harder for your scalps natural oils to reach your mid-lengths to ends. This means that your curls may need a bit more help in the moisture department.
Cleansing and styling tips for wavy, curly, and coily hair
Everyone's locks are different, but there are some universal cleansing and styling tips that will keep your waves, curls, or coils looking their best!
Deep condition often. Frizz usually occurs because your hair is actually trying to pull moisture from the air around you. Doing a deep conditioning mask one to two times a month can make all the difference. Plus, it gives you an excuse to have a little self-care day.
Apply your styling products to soaking wet hair. This will help really lock in the moisture and knock out frizz. Some people even like applying their styling products while they're still in the shower!
Sleep on a silk or satin pillowcase. Traditional cotton pillowcases can tug at your curls ultimately causing breakage and frizz. Switch your cotton out for satin or silk to help you wake up with frizz-free curls!
Don't wash your hair every day. Washing your hair too often can cause curls to lose their natural oils and dry out. A good rule of thumb to follow is to cleanse 1-2 times a week but that's totally up to your hair type.
Hands off! When your curls are drying, try not to touch them at all. Touching drying curls can lead to frizz and loss of definition.
It's all in the product application. The way your waves or curls come out all depend on how you apply your styling products. If you have wavy hair and are looking to boost definition, scrunch in your products. For the coils you want to achieve elongation, rake products through your hair. If you have curly hair, do both!
Yes, there is a right way to blow dry your curls. If you want to blow dry your curls instead of air-drying, always use a diffuser and keep the blow dryer on a low heat and speed. Diffusers will not only help keep frizz at bay and boost volume, they also speed up your drying time by reaching the roots (which take the longest to dry) easier! You can also avoid any potential heat damage by keeping your dryer at the lowest heat setting possible.
Curly girl method approved products
Usually brands that cater to naturally textured hair formulate most or all of their products to be curly girl method friendly. Here are some brands to check out along with their most popular products.