Skincare fanatics, have you ever gotten a HydraFacial? If you are the average consumer, you may not have even heard of a HydraFacial. But if you pride yourself in knowing all things skincare, you've probably heard of the term.
For those of you who aren't familiar with HydraFacials (and why you should get one!) this article is perfect for you. We're going to break down what exactly they are, who they're designed for, how much they cost, and more! Keep reading to educate yourself on all things HydraFacials.
What is a HydraFacial?
To put it simply, a HydraFacial is a hydra-dermabrasion technique that uses patented technology to cleanse, extract, and hydrate. Estheticians use a blend of glycolic, salicylic, and lactic acids to achieve the desired result for your skin. Because of the patented technology, spas and offices have to be licensed and registered to legally person HydraFacials. Seems pretty elite, right?
The process of getting a HydraFacial is actually quite basic. The first step is the cleanse + peel portion of the procedure. This is when the dead skin cells are removed to reveal healthy, glowing, younger-looking skin. This exfoliation is ultra gentle and non-irritating to the skin. Because there is no harsh manual exfoliation (only chemical!), you won't have to worry about damaging the surface of your skin.
Your esthetician will decide which strength of acid is right for you and your skin. This will depend on multiple factors, including your skin's sensitivity, your skin type, and how often you use acids on your skin.
The second step is extract + hydrate. The "extract" part is when painless suction is used to extract unwanted debris from your pores. The "hydrate" aspect is when intense moisturizers are applied to the skin to replenish nourishment and quench the skin.
The third and final step is fuse + protect. This step really saturates the skin with antioxidants and peptides to keep the glowy and healthy appearance. If you have specific skin concerns, your esthetician will customize this step to address your needs. Typically a Daily Essentials kit will be sent home with you so that you can maintain the same results. This kit usually includes the same ingredients that were used in this step.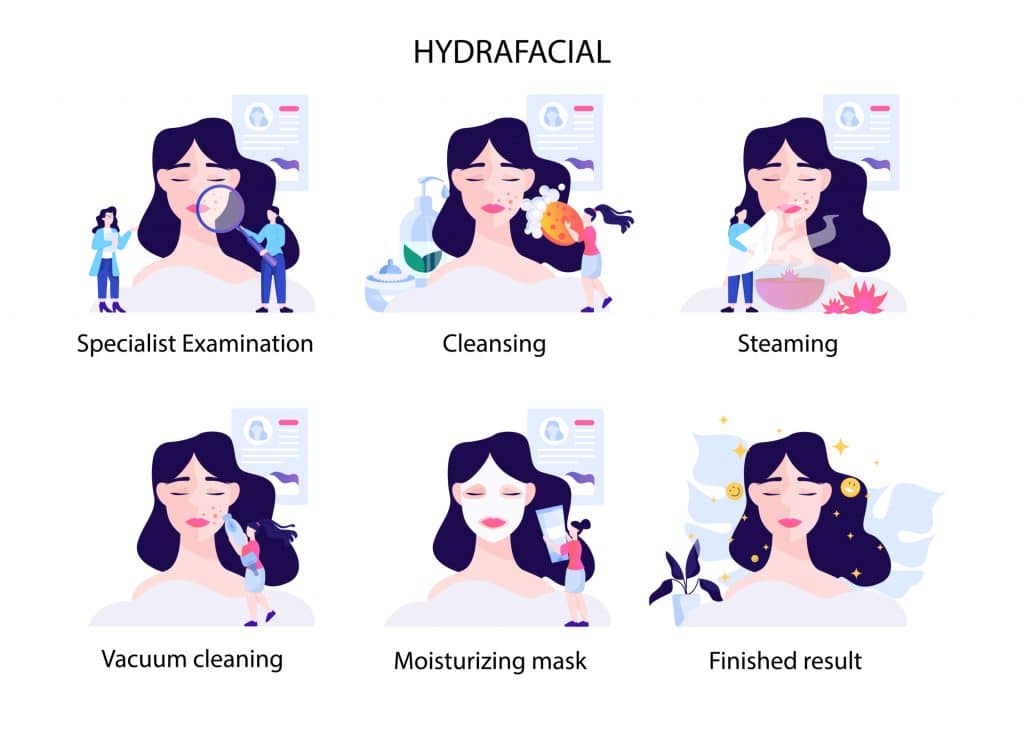 What are the benefits?
Where do we even begin? After the treatment, you can expect a brighter, clearer, more radiant complexion. If you have acne, you bet your blemishes will be noticeably reduced and your skin will look and feel less irritated. If you're concerned about scarring or dark spots, HydraFacials can lighten these after just the first treatment. The benefits are endless!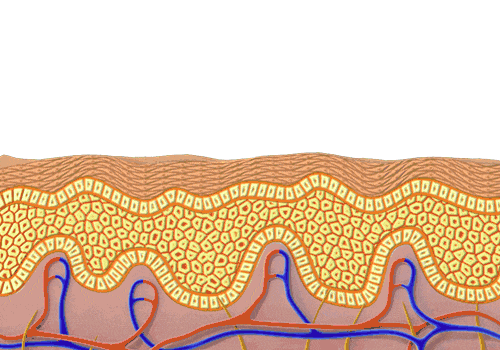 It can be for everyone!
No matter what your age is, chances are you have some sort of skin concerns. The amazing things about HydraFacials is that there's something that can be done for everyone. If you're a teenager, you may be dealing with acne, clogged pores, or unbalanced skin. If you're older, you may be thinking about anti-aging, restoring hydration, or brightening the skin. Even if you've already had sun damage or something as serious as pre-cancerous spots, HydraFacials can be beneficial to you too!
Of course, there are certain groups that should abstain or at least consult a professional before getting this treatment done. These groups include those with rosacea, have active rashes, or are pregnant. Keep in mind that ingredients such as salicylic acid have not been proven safe to use during pregnancy.
The procedure has been tested time and time again
A HydraFacial is a procedure that is super reliable because of the consistent experience patients have. Many offices offer procedures that could result in irritation, inflammation, or even scarring. HydraFacials have consistent results that lower the risk of any skin damage.
You can pair it with other procedures
Because of its gentle nature, there's no need to worry about a grace period before getting other procedures done. If you're looking to get something like botox, might as well kill two birds with one stone and book them back to back! There's no downtime needed with HydraFacials, so you don't have to skip a beat.
How much does it cost?
HydraFacials can cost anywhere between $150-$300, depending on the office you go to. Compared with other treatments, HydraFacials are considered to be on the more affordable side.
Although you do get instant results, they only last for 5-7 days after the treatment is done. This is perfect if you're getting the procedure done for your wedding or other special occasion. But if you're looking for something more long term, experts recommend you continue the treatment every 2-4 weeks.
How different is it from microdermabrasion or chemical peels?
Unlike HydraFacials, microdermabrasion uses manual extraction to unclog the pores. Like we mentioned earlier, the HydraFacial treatment uses a vacuum suction to achieve the same effect. This makes HydraFacials much less irritating and painful than microdermabrasion, which is a huge plus!
Also, microdermabrasion pretty much only covers the "extract" portion of HydraFacials. Unfortunately, you don't get the hydration, nourishment, and antioxidants that you can expect with the HydraFacial. So although microdermabrasion is slightly less expensive, you aren't getting all the benefits if you got the more expensive treatment.
With chemical peels, you always run the risk of your skin reacting poorly. Although that's true of most facial treatments and procedures, the risk with HydraFacials is much lower. Also, with chemical peels (because of their strength) you can expect a significant amount of redness. This makes them not so ideal for right before a special event!
Are HydraFacials right for you?
If your wedding or special event is coming up, a one-time treatment would definitely be worth it for you. On the other hand, if you have more complicated conditions (such as acne, sun damage, or wrinkles) that you're trying to improve, you'll have to view it as an investment. If you're trying to make major changes to your skin, multiple treatments will most likely be necessary. But if you're ready to invest and get that glowy, clear, radiant skin, go for it!