If you're not familiar with dermaplaning, it's a skin care procedure that involves using a scalpel to gently scrape the dead skin cells and peach fuzz from your face. Sounds like an easy way to get perfect makeup-free glowing skin, right? Well, before you book your appointment and start shaving off all of your hair in anticipation for the best makeup day ever, read this article first! We will cover dermaplaning pros and cons as well as common dermaplaning side effects.
So…What is dermaplaning treatment and how is it done?
Dermaplaning removes the top layers of the skin, the stratum corneum, the unwanted facial aka vellus hair (also called peach fuzz), and dead skin cells. The first step into the procedure is to properly cleanse and prep the skin.  The next is the main step itself which makes use of a medical-grade scalpel across the face, under the chin, and on the sides of the neck. Afterward, the dermatologist or aesthetician will also add salicylic, lactic, or glycolic acid peel to further highlight the immediate results and enhance exfoliation. Afterward, they will put skincare products like aloe vera to soothe the skin. The last step is to applying sunscreen to protect your face.
It is a quick and painless procedure and the dermaplaning cost ranges from $100 to $250.
Take note that shaving your face with a typical razor is not advised at any rate. But if you are looking just for quick hair removal, you can purchase a similar tool used for dermaplaning treatment and do the procedure yourself but you probably won't achieve the same results as those done by trained professionals.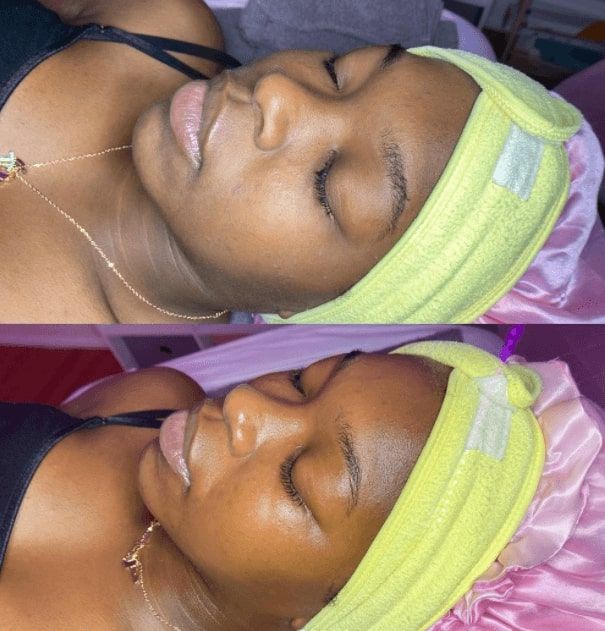 The Pros and Cons of Dermaplaning
Dermaplaning is quick, easy to do, and usually completely safe.
The procedure is non-invasive so dermaplaning side effects are very minimal. The skin will have a brighter appearance after dermaplening due to the removal of dead skin cells on top of the epidermis.
Pros:
You get an exfoliated smooth face;
Your foundation will apply like butter and look amazing
You will have a better skincare product penetration.
Cons:
Skin becomes more sensitive to the sun after the treatment and it is advised that you wear sunscreen with at least SPF 30 daily.
Dermaplaning may cause skin irritation, redness, and dryness for some people so it is recommended to get dermaplaning done a few days prior to an important event if you have anything planned because your face might look like a tomato!
Excessive removal of facial hair or over-exfoliation could lead to ingrown hairs and breakouts.
Will dermaplaning treatments cause breakouts?
Dermaplaning should not cause any breakouts if done correctly in a clean sterile environment. But! Keep in mind that dermaplaning could make acne and other conditions worse if you have active breakouts or an inflammatory condition like rosacea. Your board certified dermatologist or licensed tech should advise you on whether or not you should get the procedure done.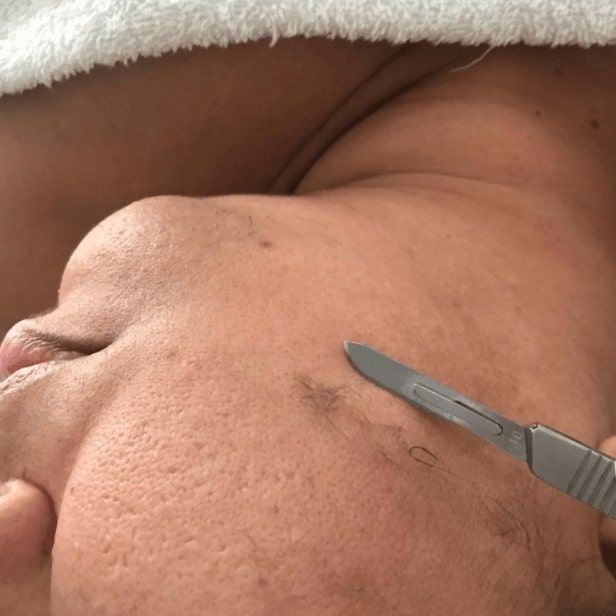 How long do the results last?
Results after dermaplaning are immediate but they will diminish gradually until your next session which can range from six to eight weeks depending on how fast your skin cells turnover and vellus hairs (peach fuzz) grows back naturally.
Is dermaplaning treatment the same as shaving?
Technically, dermaplaning is a type of shaving. But since the process involves the use of a medical-grade scalpel that literally removes a layer of your skin it must be performed by a licensed specialist. Otherwise, just one wrong move and you could end up in the ER with the risk of having a scar on your face for the rest of your life! If you want to just have unwanted hair (vellus hair) removed and you don't have active acne then you could try shaving your face at home. Just make sure you are using clean, new, sterile razors in order to avoid breakouts.
Preparation for the Appointment
Preparation is very low-key and doesn't require much. Just try not to bake in the sun for too much in order to avoid any sun damage after the treatment, stay away from tanning products, chemical peels, exfoliants, and other strong skin care products. I wouldn't wear any makeup to the appointment, but it is a personal preference since your aesthetician will have to clean and prep your skin anyway.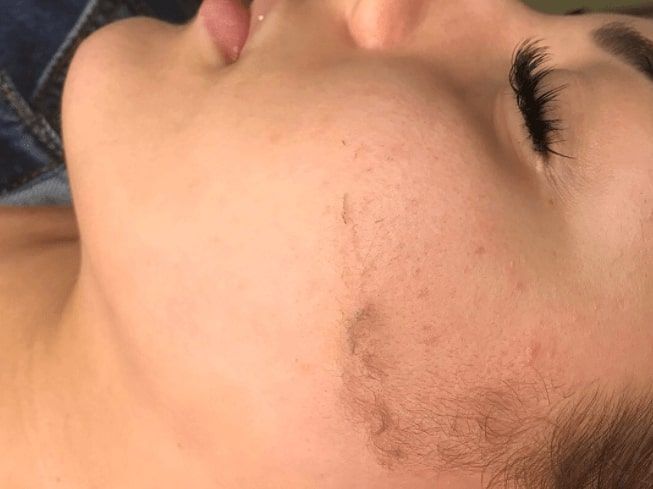 Dermaplaning Technique
Your tech will use a surgical scalpel at a 45 degree angle, which is a sterile blade, to remove dead cells. Patients usually do not experience any pain when undergoing treatment, at max a tingling sensation. Following the treatment, the cream or serum is applied. The typical process would take about 30 minutes.
How often do I need dermaplaning?
Since this is a deeply exfoliating treatment, dermatologists recommend waiting approximately 1 month between visits. Some people with sensitive skin may even limit their treatments once per year and approach it very carefully.
Now that you've undergone the procedure, what should you expect?
You may probably experience some redness in your skin and perhaps a feeling like your skin is scraped after a few days following the procedure. But, that's about it. Other than this, you can expect that your dull skin caused by constant exposure to pollution and stress becomes brighter, smoother, and suppler. It will help reduce the appearance of acne scars as well. In other words, you can expect the trendy glass skin you've been wanting for so long!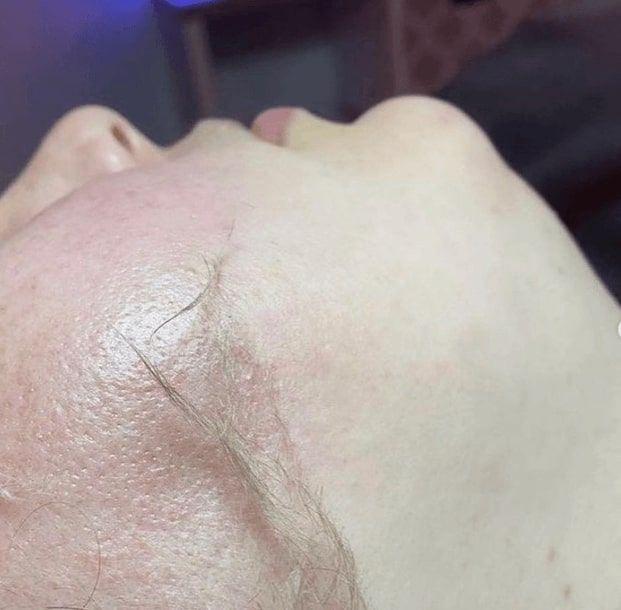 Just make sure to be extra careful about exposing your skin to the sun after the procedure because it could reverse the effects of dermaplaning and could also create unwanted pigmentation on your skin. To make it short, always wear your sunscreen!
But, please note, the results of dermaplaning are not permanent. The effect of dermaplaning can only last for about three to four weeks and is recommended every three to four weeks. If it is in your budget, then this procedure can be a good skinvestment!
Overall, this procedure is low-risk but it may not be good for all skin conditions.
Myth: Hair grows back thicker after Dermaplaning
Dermaplaning does not alter your hair structure and it won't boost hair growth. How fast your hair grows, quantity and quality are depending upon your genetics or hormonal conditions such as PCOS.
Patients with active acne should NOT Dermaplane
Patients with active breakouts or cystic acne on the surface of their skin should avoid dermaplaning procedure because it could spread bacteria to the skin. It is best to wait until your breakouts are healed before booking the treatment or use a different method of exfoliation, such as chemical peels instead.
You need to consult with your dermatologist before going through this beauty trend if you have acne-prone skin.
Signing up for dermaplaning if you have acne might do more harm than good. Dermaplning might cause more irritation to your skin. Also, make sure to notify your dermatologist if you have a history of cold sores.
Skincare is a necessity nowadays and we must be very selective when it comes to finding the right products and procedures for us. Most importantly, please make sure to always ask your dermatologist or reputable licensed skincare professional before undergoing the dermaplaning if this procedure is right for you!
Dermaplaning is a brilliant exfoliating procedure, but make sure you do your research before getting dermaplaning procedures done in order to avoid dermaplaining side effects like skin irritation or ingrown body hair!
---
FAQ
Is Dermaplaning good for skin type?
Yes, This dermaplaning procedure can improve skin tone, help with acne scars, and make the skin brighter.
Is Dermaplaning just shaving?
Not really,  dermaplaning is a more advanced version of shaving. It exfoliates the top layer of skin and will remove dead skin cells.
Does Dermaplaning ruin your face?
Dermaplaning is safe in general if performed by an experienced professional, either a board certified dermatologist or a licensed aesthetician. It should be avoided if you have any inflammatory skin conditions.
What does Dermaplaning facial do?
Dermaplaning is a dermal exfoliation procedure to remove the top layer of dead skin cells along with facial hair and peach fuzz. It can help with fine lines, wrinkles, and scars. It can also help with skin tone problems and unwanted hair growth.