First-time spray tan? Here's what you need to know
If it's your first time getting a spray tan and you are likely to get some questions before coming to the appointment.
September is here which means that it's almost time to trade in our bikinis and sundresses for sweaters and coats. It also means that we won't be able to soak up all of those glorious rays anymore. But before you mourn the loss of your sun-kissed glow, look into getting a spray tan!
What is a spray tan?
A spray tan is a kind of sunless tanning where a fine mist of tanning solution is sprayed all over your body to reveal that perfect bronzed look. Spray tan mists are formulated with an ingredient called Dihydroxyacetone or DHA which mixes with your skin's amino acids to make your skin cells turn darker. The darker the solution, the more DHA it contains.
Before you start worrying, fake tan and DHA are safer to use on the skin than getting a real sun tan. Just make sure you're not inhaling it or applying it to your lips, nose, or eyes.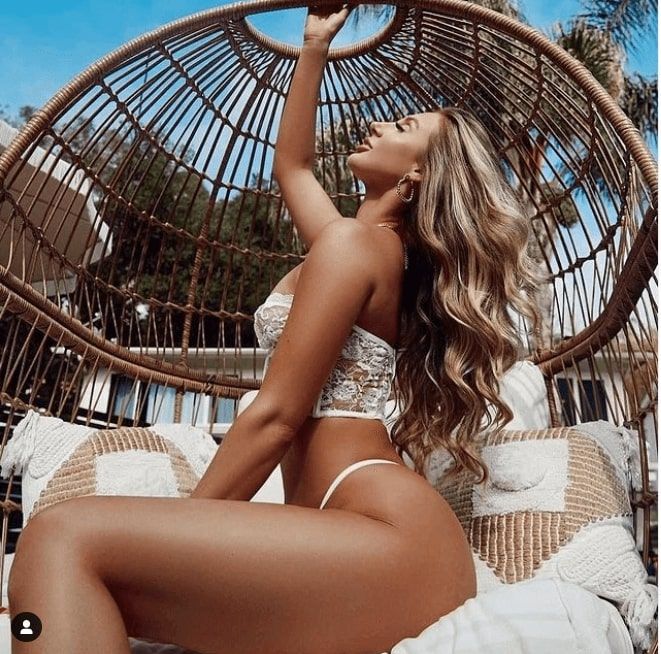 How long do spray tans last?
While the average effect lasts up to 10 days, the longevity of your tan all depends on how dark your shade is. Light shades usually last up to 5 days, medium shades can last up to eight days, and darker shades can make it to 10 days.
What should I wear for a spray tan?
It's important to wear loose, comfortable clothing because spray tanning can get a little messy. Garments should be dark and made out of cotton so that the spray tan doesn't stain or cling to any fabrics. If you don't have spray-tan friendly dark clothing, you can always opt for a disposable swimsuit during your session!
Different types of spray tans
There are two different methods for getting a professional spray tan:
Spray tanning booths: Most salons offer spray tanning booths. Booths are quick, private, and you can achieve the perfect tan in just one session. Because you're by yourself in the spray tanning booth, the first time getting a spray time can prove to be difficult. Before getting into a booth, make sure to talk to the tanning specialists at the salon to ensure you're using the booth correctly.
Airbrush tans: An airbrush tan is when a trained technician physically airbrushes the mist evenly onto your body. While an airbrush tan can take longer, it's much easier and doesn't involve much thought. Your spray tanning technician will do all of the positionings for you to ensure an even tan.
Before choosing your method of spray tan, think about what's most important to you. Are you uncomfortable standing naked in front of a stranger? Then you may want to opt for a booth. Are you a beginner? An airbrush tan may be the way to go.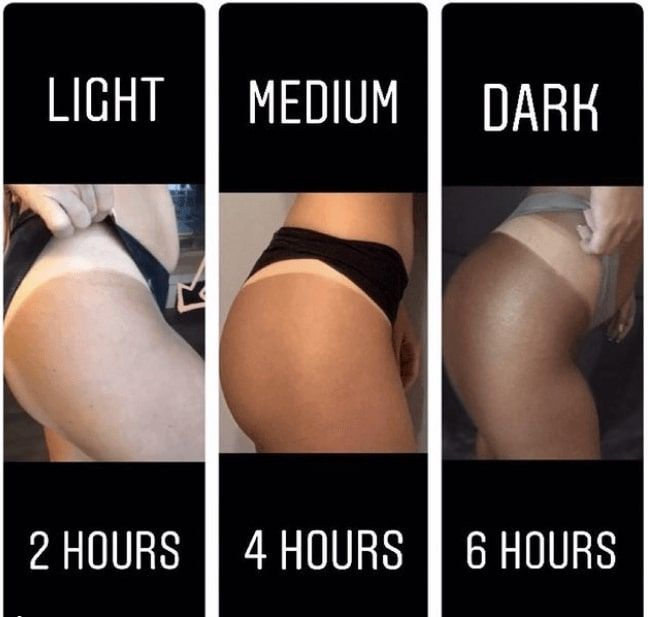 Preparing for your appointment
Before going to get a spray tan (whether it be in a booth or by a technician), there are some ways you should prepare to ensure an even application.
Exfoliate your body before going for your spray tan. Use a body scrub or dry brush to remove any dead skin cells that could cause streaking. You should also shave and moisturize to help the tan really stick.
Don't wax within 24 hours of getting a spray tan. Waxing too close to your spray tan can leave you with an uneven color due to your pores being open.
Wear loose-fitting clothes when going to get a spray tan. This will help to avoid any tan lines that may be caused by putting on your clothing too soon.
Remove your makeup and deodorant before your appointment starts as they can act like a barrier for the spray tan.
What to expect during your spray tan appointment
If it's your first time getting a spray tan, here's what to expect:
Its best to be naked. Whether you're tanning in a tanning tent or with a spray tan expert, you have to be fully undressed. You can keep your underwear on if you'd like, but opt for a pair that won't give you obvious tan lines like a thong.
Always make sure you speak to the technician about how dark you want to go. The most important thing is that you're happy with the outcome so be very clear on what shade you're looking for.
Listen to instructions! Your tan technician should tell you how to position yourself and which way to stand. This ensures your glow will be even all around the entire body.
Don't get dressed until you feel completely dry. Doing so can rub off the tan.
You may smell a bit…well, funky. But it's really not bad and will wash away once you are able to shower.
You probably won't want to make plans for the rest of the day. This is because you can't shower until 8 hours after the spray tan is applied. Being active or being outside can cause some trouble such as rain or sweat which can remove the tan before it's set.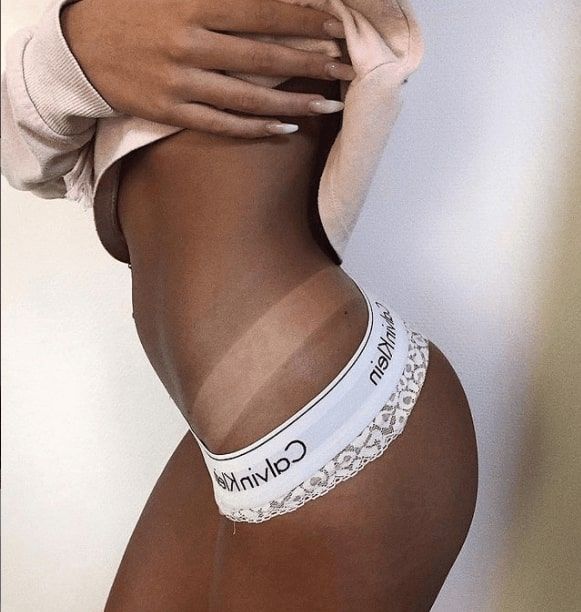 Will it make me look orange?
Do you know that episode of Friends where Ross gets a silly, poorly done spray tan? No one should look like an orange! But with the right tech and formula, you will not. Research your options before choosing a salon or having someone do something they're unqualified for so make sure to go see positive reviews about them online.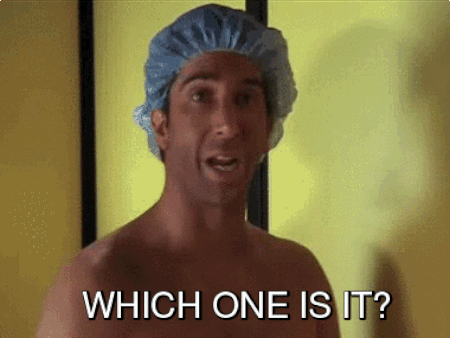 Spray tan Tips to make your tan last longer
Now that you're looking like a bronzed goddess, you're probably wondering how to make this gorgeous glow last even longer!
After a spray tan, it's important to use body wash and lotion recommended for post-spray tans. Keeping your skin moisturized is key! However certain oils will actually strip the color from your new tan; be careful with what you put on yourself right after spray tanning--mineral oil, grapeseed oil, and coconut oil come immediately into mind as being one of those ingredients we don't want anywhere near our freshly bronzed bodies.
Show up to your appointment with no oils on your skin. This includes no body lotion or perfumes. Spray tan mists are water-based which means having oils on your skin could block it from getting fully absorbed. This can lead to a quicker fade time.
Make sure to moisturize regularly and keep your skin hydrated. If your skin is dry, your tan could fade off in patches which is less than ideal. Apply your lotion on damp skin right after a shower to really lock in the moisture.
Apply a tan enhancer for long lasting results. Tan enhancers usually contain a small amount of DHA to keep your spray tan looking fresh in between appointments. A great tan enhancing lotion is the St. Tropez Enhancing Body Moisturizer which extends your tan up to 3 days!
Use a self fake tan to cover up any faded areas or mistakes. Once your tan starts to fade, you may notice patches where it faded quicker. Use a self-tanning foam to cover up those pesky spots in between tanning sessions. Loving Tan has a variety of self-tanning mousses and foams to keep you looking bronzed!
Avoid exfoliators and scrubbing until it's time to remove your tan. Exfoliating and using loofas can cause your tan to fade and get patchy. This is because your spray tan is only on the top layer of your skin. Wait to exfoliate until you're ready to remove your tan.
---
FAQ
How long does a spray tan last?
A spray tan should last up to 10 days.
How do spray tans work?
Spray tans use a color guide (DHA) to help absorb the spray and create an even, golden glow. As the DHA reacts with your skin, it creates a darkening effect that lasts up to 10 days. The spray will wash off once you shower so make sure you don't exfoliate until after your appointment!
Does getting a spray tan hurt?
You shouldn't feel any pain during or after your spray tan application unless you're extremely sensitive to certain ingredients.
Why spray tans are bad for you?
Although spray tans are natural, it is possible to have an adverse reaction to spray tanning products.  Because tanning solution contains DHA which produces estrogen-like effects, it's not recommended for women who are pregnant or breastfeeding!
Is spray tanning worth it?
Spray tanning can produce immediate results and maintain a gorgeous golden glow for up to 10 days! Both spray tans and self-tans have their benefits so it's really up to you which one you prefer.
Are spray tans safe?
Although spray tans are considered safe, there is still a risk of having an adverse reaction or allergy to spray tan ingredients. If you notice any swelling, itchiness or pain after your spray appointment, seek medical attention immediately!
What do you do when you get a spray tan?
Before your spray tan, make sure to exfoliate and shave all of the places you plan on getting spray tanned. You'll also need to wear old clothing in case it gets stained by spray tanning solution.