With so much conflicting information out there regarding color treatment products and brands, it can be hard to find the best hair products for colored hair the right product and routine for you! Don't worry, we've got you covered.
We have experimented with the top beauty brands in the industry to find out exactly what the best in breed products are in their line-ups. Keep reading on to find out exactly who the winners are and what the best product experiences you can achieve for your precious locks.
Keep-in-mind, choosing the best color-treatment products and routines comes with a lot of challenges. Unlike virgin hair, colored-treated hair requires time, patience, and a willingness to experiment with new techniques and product combinations. Let's be real, because of this complexity, no one wants poor results or to see their new look (and money) wash down the drain!
So why not just go to a Salon to avoid the hassle? While recommended, for many, during COVID, this simply is not possible. We're here to help you get the best products and results for your at-home dye job, with additional tips for maintaining your freshly colored hair to avoid dull locks and touch-ups.
Choosing the product
So, why are the hair products we choose so important for maintaining our color-treated hair? Well, the main reason is the ingredients that certain products are formulated with. Take shampoos and cleansers for example—we all know that they lather up to remove oils, dirt, buildup, and debris but they can also strip the hair of color as well. Most shampoos are packed with sulfates which create that lather we all love, but are also responsible for drying out our hair. Unfortunately, dry hair leads to color fading so we must maintain our moisture.
Shampoos aren't the only important product when it comes to color-treated hair. Once you dye your hair, you need to rethink your entire routine to include products that are going to protect your strands from high heat and give it that hydration it's craving. If you're stuck on what brands to turn to (which is understandable since there are SO many options on the market nowadays), let get started!
1. Color Wow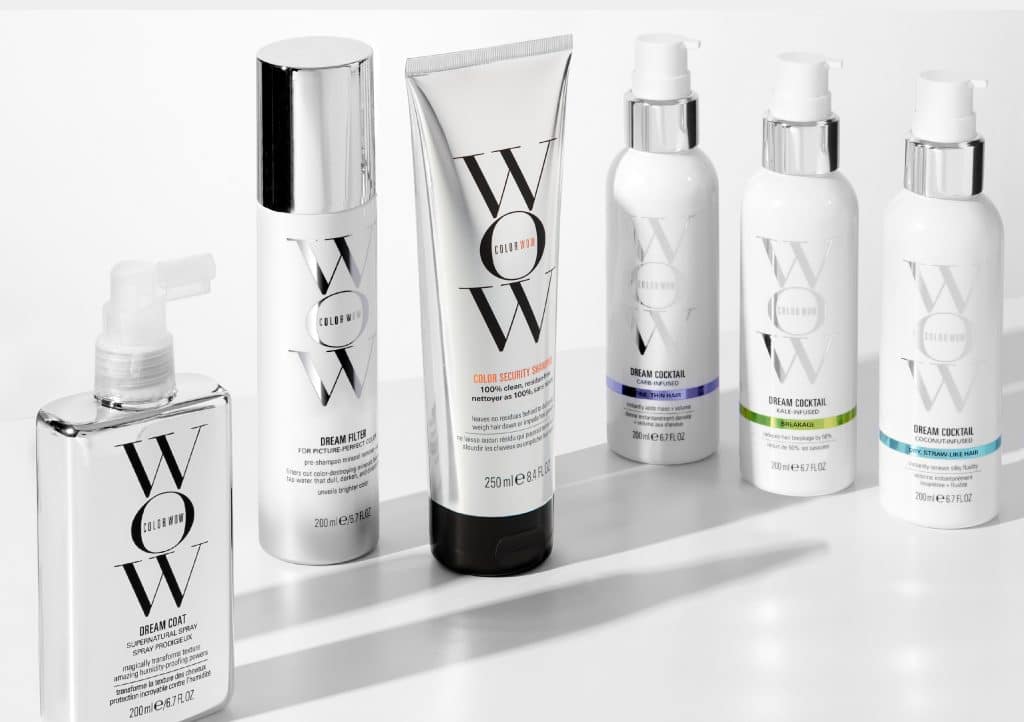 The name basically says it all–Color Wow is our top pick for the best brand to use on colored hair. The brand is dedicated to all things color, so it's safe to say they know what they're talking about. Color Wow's mission is to solve every issue that comes with having color-treated hair by creating innovative products that are formulated with great ingredients. They've been around for over 9 years and work with some of the top industry experts such as Chris Appleton and Gail Federici. Not convinced? The brand has won over 70 awards for their products and once you try them out, it's not hard to see why!
Like we mentioned, Color Wow is an amazing option for colored hair because that is their focused expertise! Their founder and CEO started the line to combat common issues that people who dye their hair typically deal with: such as frizz, brassy blonde, dehydration, and more! And what makes them so unique is that they actually work with an in-house chemist to create products that are effective and safe. As with many prestige brands, Color Wow notes that their line is approved by professionals and used in salons around the world. Their products are great for colored hair because they are clean, sulfate-free, residue-free, and non-drying. This means that your locks will feel moisturized, glossy, and luscious after using their products.
Best Sellers
While Color Wow has a range of nearly twenty products, there are some stand-out products that have become household names within the industry. Color Wow's top-selling product is their Dream Coat. On their website, Dream Coat boasts 4.9 stars with over 6,000 reviews! It's an amazing product because it's made to cut down on frizz to reveal silky, shiny, frizz-free locks. It essentially acts as a mini keratin treatment. They even have a version for curly hair!
Color Wow also offers a shampoo perfect for color-treated hair called the Color Security Shampoo. It leaves your hair and scalp feeling super clean without any nasty residue or buildup. It helps prevent color from fading out of the hair and it's great for all hair types and textures! If you have color-treated hair, there are no bad options when it comes to Color Wow products. This is exactly the reason why they are our number one pick!
2. Oribe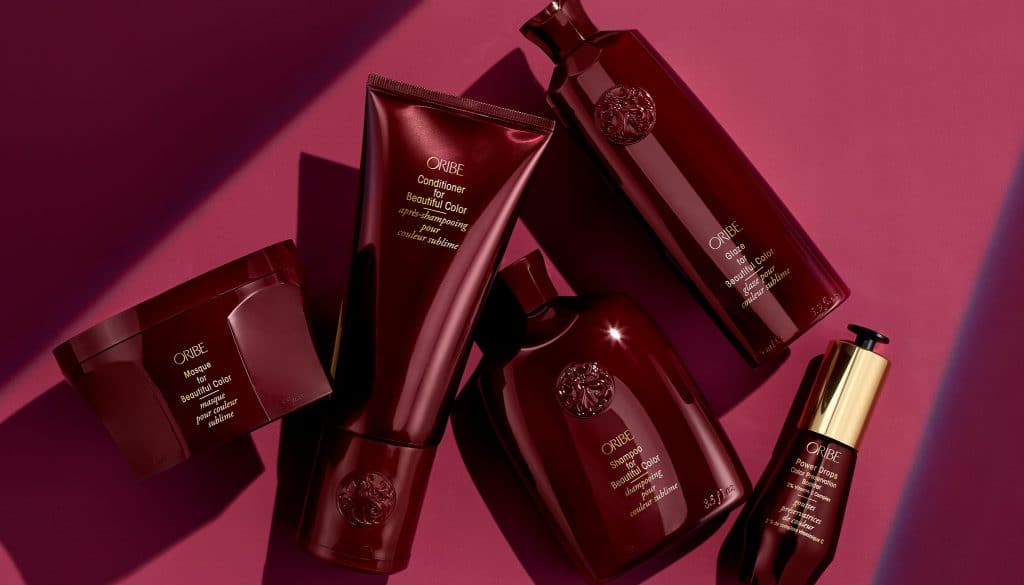 If you're looking for luxury hair products that will deliver amazing results, Oribe is the brand for you. Oribe was created in 2008 which means it's a fairly young brand, but don't let that fool you! The company was started by a few haircare experts, one being celebrity hairstylist Oribe Canales. The team saw a need for a luxury, professional haircare brand that would serve both stylists in the salon and clients at home. At the time, haircare products were either sold at salons or in mass retailers, but there was no middle ground. And that's where Oribe came in.
So, what makes Oribe products so special? Essentially, there are benefits all around—the main ones being performance, packaging, and scent. Oribe Canales, one of the masterminds behind the brand, knew that Oribe products had to push boundaries in terms of performance to really stand out from the rest. Oribe has and continues to work with top labs around the globe to create one-of-a-kind products that not only look luxurious but feel and work luxuriously as well. All Oribe products are paraben, gluten, cruelty, and sodium chloride free. They're also safe for color and keratin treated hair plus, they even feature UV protection to shield the hair from heat and sun. Oribe was the first haircare brand to use fine fragrances in their products. The brand even has a signature scent called Côte d'Azur that they collaborated with a legendary perfume house to create.
Best Sellers
Oribe has a large portfolio of products that can work for all hair types and textures but for color-treated hair, they have a few stand out products in their line. If you're looking to push off wash day a little longer (which will also help retain your color), you're going to love the Gold Lust Dry Shampoo. This dry shampoo is one of the best-selling dry shampoos in the world and for good reason! It's absorbs excess oils, product buildup, and impurities while delivering a super fresh scent to your hair all day long.
While all of Oribe's products are safe for colored hair, their Shampoo and Conditioner for Beautiful Color should be your top choice if you're looking to try out the brand. This cleanser and conditioner duo are extremely gentle for color-treated hair and are formulated to extend the life of your color and protect it from external factors. While Oribe may be on the pricier side, it's totally worth it to deliver results with a luxury twist.
3. Kérastase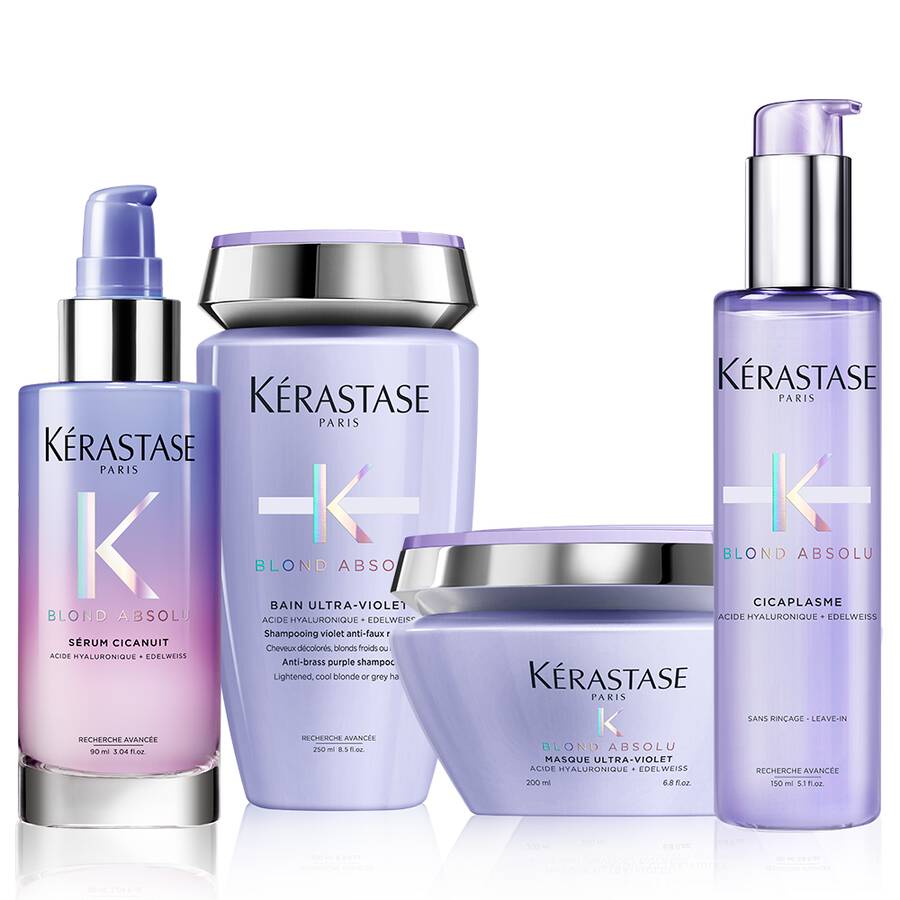 Kérastase was founded back in 1964 in France under the L'Oréal umbrella. The brand has been wildly popular among professionals for many years and it's no secret why. Kérastase prides itself on blending science and craftsmanship to create products that work for any type of hair texture, length, and health. In fact, they focus on creating innovative, bespoke products because they know how scalp health as well as internal and external factors, can affect the overall health of the hair. And while some brands create products to work for everyone, Kérastase recognized that your haircare routine needs to be customized to you, and no one else.
Supported by L'Oréal, Kérastase was one of the first brands to work closely with hair stylists to formulate new products. They continue to do this by working with stylists in Paris, Tokyo, New York, and Rio de Janeiro to test new products in different environments and on many different hair types. Kérastase also works within L'Oréal's testing facility which tests new products on over 8,000 volunteers and experts per year!
Best Sellers
While all of Kérastase's products can work for color-treated hair, they have some products that are super unique to the brand. One of their top-selling products is the Initialiste Scalp & Hair Serum. After coloring your hair, you may notice that it looks dull and dry. This is where the Initialiste Scalp & Hair Serum comes in. It's formulated with green tea extract and ceramides to reduce breakage, smooth hair, and condition the scalp and hair strands. Not only is this serum great for dry hair, it's also an amazing product to have on hand for people who suffer from dry, flaky scalp.
If you have blonde hair, you're going to love the best-selling Blond Absolu Hydrating Illuminating Shampoo and Blond Absolu Strengthening Conditioner. This shampoo and conditioner duo works for all hair types to strengthen weakened hair, protect from future breakage, and more. The Blond Absolu collection even includes a purple shampoo to fight brassiness that colored blondes typically deal with. While Kérastase's product portfolio can be a bit overwhelming (they do have over 10 collections of products, after all), don't let that scare you away. The brand has some amazing products to help strengthen, repair, and maintain colored hair.
4. Alterna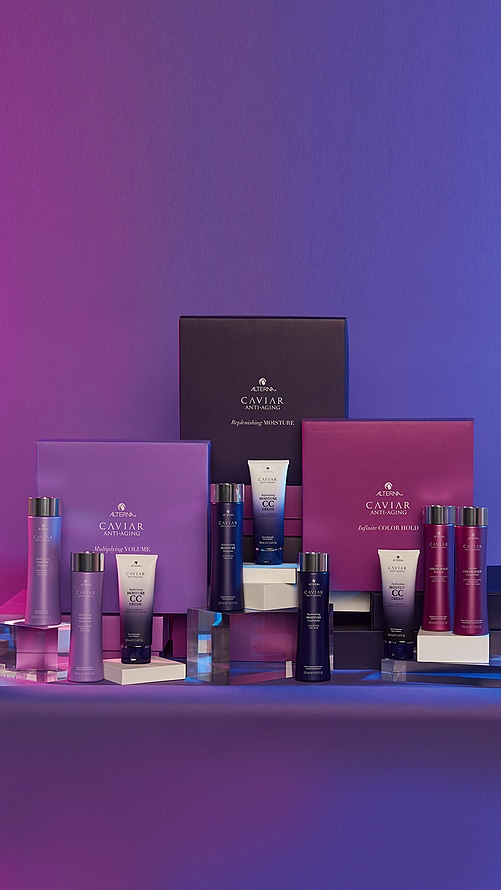 Alterna was started in 1997 as an "alterna-tive" to typical professional haircare brands at the time. When the company was founded, they believed that there was no other haircare brand that blended clean ingredients with clinically proven formulas and salon-tested results. Alterna prides themselves on being a brand that formulates their products with clean ingredients and they even note that their formulas are inspired by skincare science. And that's what makes Alterna so special.
Healthy hair starts at the scalp, which is why Alterna knew it was so important to pull findings from skincare science to incorporate into their products. This is totally revolutionary for a haircare company to do because not many hair brands focus on scalp and skin health. On top of this, they recognize how important it is to work with professional hairstylists to create a new product that will work both in the salon and at home. Since their inception, Alterna has developed products without SLS/SLES sulfates, parabens, synthetic colors, and other harsh chemicals and additives. They even offer product lines that are 100% vegan and feature packaging made out of post-consumer recycled plastics. Their clean formulations and products that don't contain harsh ingredients such as sulfates is what makes the brand so great for color-treated hair.
Best Sellers
Because all of Alterna's products are created without chemicals that are bad for colored hair, really anything from their line is an awesome option but their top selling products are within their Caviar Anti-Aging line. Alterna's best-selling product is the Caviar Anti-Aging Smoothing Anti-Frizz Multi-Styling Air-Dry Balm.  Now you may be thinking to yourself, "how can hair products be anti-aging?" When we age, our hair becomes brittle, dry, and dull looking which is what the Caviar line targets to fix. It's a one-of-a-kind line of products that feature caviar extract to help protect the hair from external and internal factors that cause our hair to look and feel older. The Smoothing Anti-Frizz Multi-Styling Air-Dry Balm enhances your natural texture for a defined, frizz-free style. It also adds shine and reduces drying time by up to 25% which is a huge deal for people with colored hair.
Within the Caviar line, Alterna has another product called Infinite Color Hold Topcoat Spray. This revolutionary product actually preserves your hair color while providing shine to dull locks. It's super lightweight and can be used on any hair texture. To really up your color care, try using the Infinite Color Hold Topcoat Spray in tandem with the Infinite Color Hold Dual-Use Serum. This serum rejuvenates your color and gives your hair shine. You can even mix the serum in with your conditioner to create a color revitalizing treatment mask! If you're looking for super innovative products that feature clean ingredients, Alterna is definitely the brand for you.
5. Pureology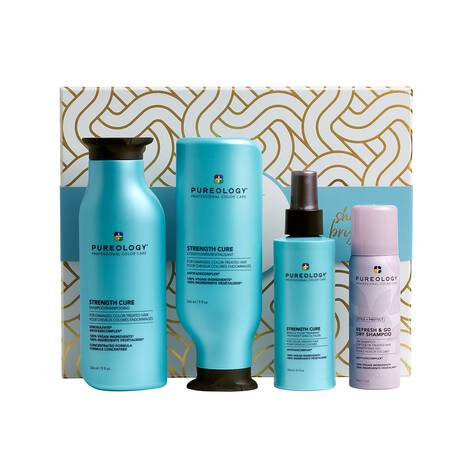 Like Color Wow, Pureology is dedicated to taking care of color-treated hair. The brand was founded in California in 2001 to create professional haircare products for colored hair. Their mission is to create products that care for color-treated hair without compromising any of the benefits that our hair craves. They call themselves the pioneer of professional vegan hair color care and zero sulfate formulas. Pureology also focuses on caring for our planet and doesn't use mineral oils which can be harmful for our environment. Their products also never include sulfates and parabens.
What's so unique about Pureology is that all of their products are dual benefit so while they're formulated to preserve your color, they also help address other concerns such as moisture, shine, split ends, breakage, volume, and more. Their website even breaks out all of these concerns and recommends products for each one so it's super easy to find what product will work best for you. All of Pureology's products are made with an antifade complex which is a blend of ingredients that protects color vibrancy and fight off external environmental factors, such as UV light, that can fade color. On top of this, Pureology notes that their formulas are concentrated which means you can get 70+ uses out of one bottle of shampoo.
Best Sellers
One of Pureology's top selling products is the Hydrate Shampoo and Conditioner Duo. When you color your hair, it's common to deal with some dryness afterwards. The Hydrate Shampoo and Conditioner Duo is made to hydrate the hair and fight off frizz. It also promotes shine and hydration without weighing the hair down. Pureology also sells the Color Fanatic Multi-Tasking Leave-In Spray which is a do it all product, literally. This leave-in treatment boasts 21 benefits in total! Yep, you read that right. This best seller preserves color vibrancy, detangles, moisturizes, primes the hair for styling, prevents split ends, controls frizz, protects against heat damage, and much more.
If you're someone who doesn't like to use a ton of styling products, the Color Fanatic Multi-Tasking Leave-In Spray will definitely become your holy grail. Many stylists use this product in the salon after a coloring service to prime the hair for styling and preserve that color. Pureology has a ton of products (they are the #1 professional color care brand in the US after all) and because they're made for colored hair, you truly can't go wrong with anything in their line!
6. Shu Uemura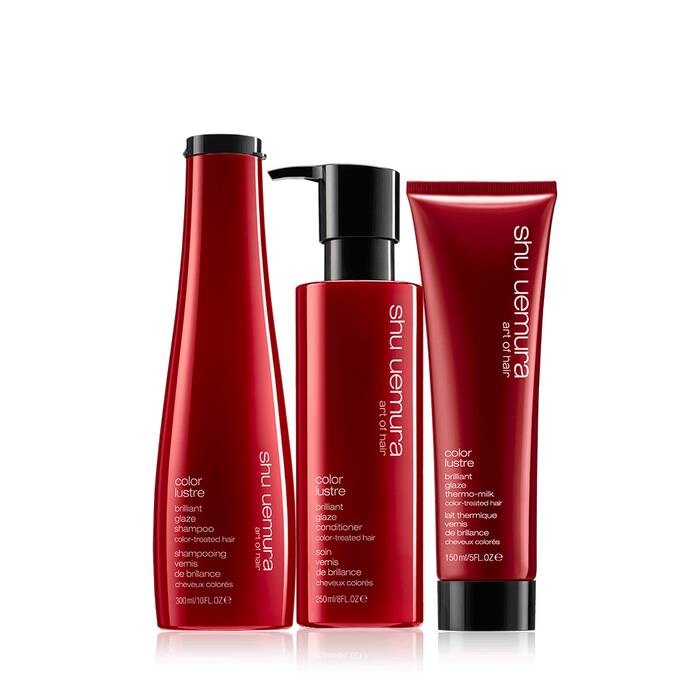 You may recognize Shu Uemura because of their iconic eyelash curler but did you know that they also sell amazing hair products?! The brand was created by iconic Japanese makeup artist, Shu Uemura back in the 60's. His first product was a skin cleansing oil which still remains one of the brands top selling products today.
Shu Uemura believed that beauty should be holistic meaning that hair, makeup, and skincare are all interrelated. When he sold the brand to L'Oréal in 2004, they expanded the Shu Uemura line to include haircare, perfume, and lifestyle products. Today, the company prides itself on combining natural ingredients, science, and professional hairstylist expertise to create luxury products. What sets Shu Uemura apart from other haircare brands is that they actually use ingredients that are popular in Japanese beauty and haircare products. Even today Japanese culture is a huge source of inspiration for the brand and it really shows throughout the product collection.
Best Sellers
You can really see the connection between product lines within Shu Uemura's brand. While their top selling skincare product is the cleansing oil, their best-selling haircare product is the Essence Absolue Nourishing Protective Hair Oil. This multi-benefit oil is formulated to re-balance the moisture levels within the hair, tame frizz, and provide UV protection which is key for keeping colored hair vibrant. Don't believe us? The product has won countless beauty awards including an Allure Best of Beauty award and a Harper's Bazaar hair award.
Along with the hair oil, the Color Lustre Hair Mask is another top seller that was made with color-treated hair in mind. This deep conditioning mask restores the hair's protective layer to preserve hair color and hydrate strands. It also prevents color from fading and leaves the hair feeling soft and looking shiny. To go along with the hair mask, Shu Uemura offers the Color Lustre Shampoo and Conditioner Duo to gently cleanse and condition colored hair without any sulfates. If you're interested in Shu Uemura products to use on your color-treated hair, just make sure to take a look at the ingredients. While all of their products are great, some do contain sulfates which may dry out and strip the color in your hair. Try sticking to their Art of Color line when shopping the brand!
7. OLAPLEX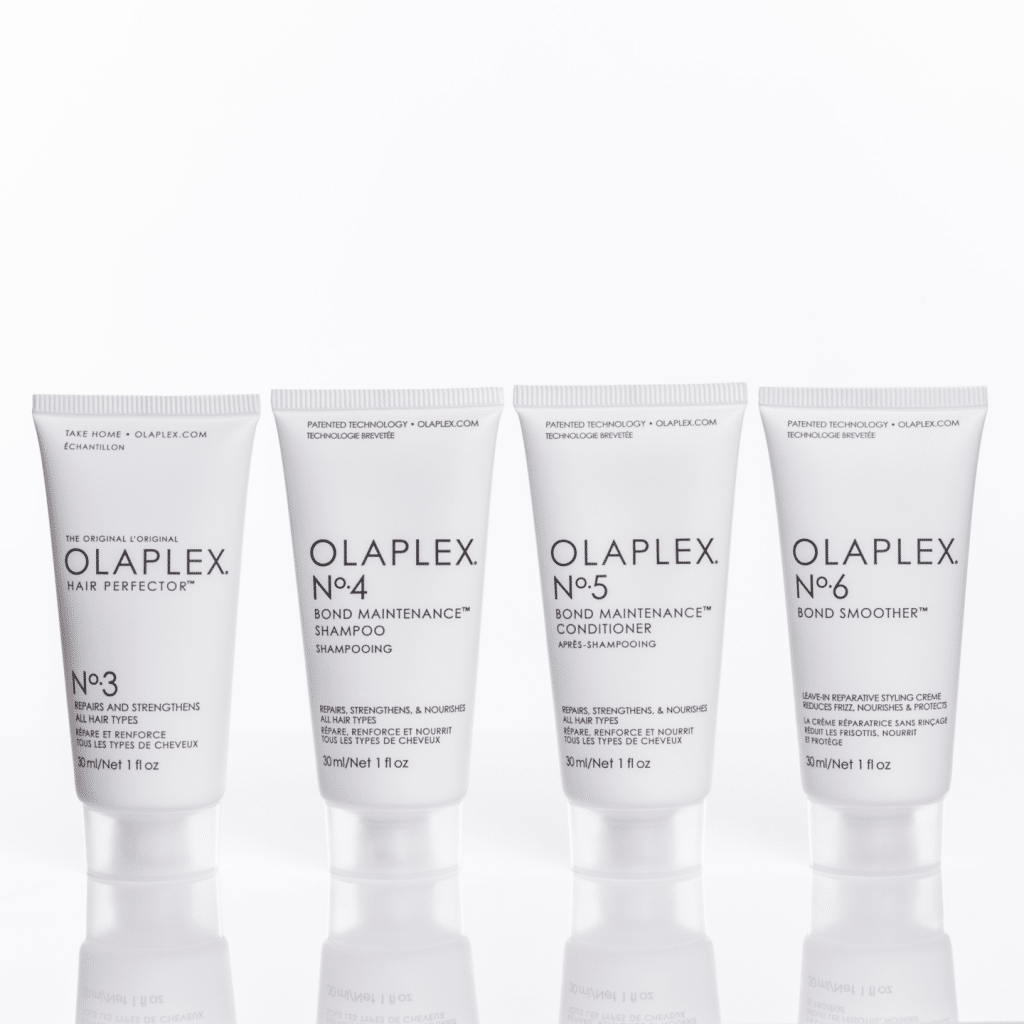 If you've been on the internet recently (specifically on TikTok), chances are you've probably heard about OLAPLEX. While the brand has been popular among professionals for years now, they're starting to gain major momentum among consumers as well. The brand started in 2014 in California and has expanded to serve millions of stylists and clients worldwide. Today, OLAPLEX is one of the largest independent haircare companies with over 100 worldwide patents on their products, formulas, and ingredients.
The brand has a ton of celebrity stylist ambassadors such as Guy Tang, Tracey Cunningham, Chad Kenyon, and more. OLAPLEX is known for creating a totally new segment of the haircare market called "bond-building." What this means is that they're all about repairing extremely damaged hair. Their formulas work to repair damage caused by heat styling, color and chemical treatments, hair brushing, and environmental factors such as the cold weather and sun. OLAPLEX products are different than your average strengthening products because they work at the molecular level to improve hair strength from within. Their products are pH balanced, vegan, and free of gluten, parabens, and sulfates. The products are also made for all hair types and textures and work great for colored hair.
Best Sellers
Currently, OLAPLEX only offers six different products for consumers to use at home for consumers, while they offer a few professional-only products. OLAPLEX's number 1 best-selling product is their No. 3 Hair Perfector. This product is an at-home treatment that visibly reduces breakage and strengthens the hair. Along with No.3, their No.4 and No.5 Bond Maintenance Shampoo and Conditioner are great options for colored (specifically bleached) hair that is suffering from damage. The shampoo and conditioner target split ends, frizz, and damaged strands by re-linking broken bonds within the hair shaft.
While OLAPLEX products are amazing at repairing damaged hair, they work best if used together in a system. What this means is if you're looking to try their products, you'll want to purchase the shampoo and conditioner as well as other treatment products as needed. OLAPLEX has some great kits to test out all of their products which is perfect for someone who recently colored their hair!
8. Living Proof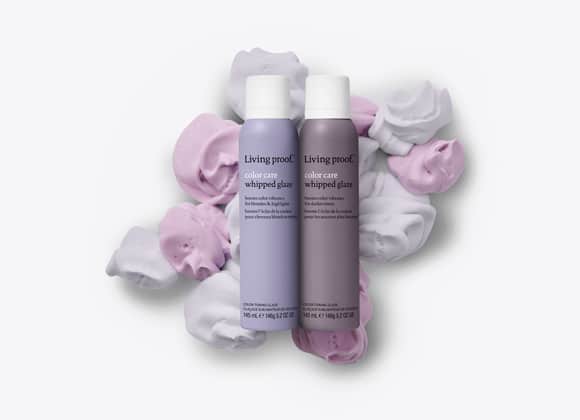 Living Proof is a haircare brand that roots themselves in innovation. The company was founded in 2005 by a group of hairstylists and biotech scientists. Their patented products actually originated from MIT and today, they boast over 20 patents across 50 products. The brand has also won over 150 beauty awards for their top performing, innovative products.
Today, Living Proof is known for their ingredient philosophy which prioritizes top notch, cruelty-free ingredients and innovations. They don't formulate their products with silicones and have a "no list" which includes ingredients they stay away from such as parabens, SLS and SLES sulfates, formaldehyde, and phthalates. Living Proof prides themselves specifically on using no silicones because they note how silicones weigh down the hair which causes more frequent washing and can lead to breakage. Instead, they formulated a replacement for silicone which they call their "Healthy Hair Molecule." It's their one-of-a-kind ingredient that does everything silicones do (smooths hair and tames frizz) while also repelling dirt without any damage.
For color-treated hair, their ingredient philosophy is amazing because they don't use SLS or SLES sulfates which can strip the hair or silicones which can lead to damage. They also note that all of their products are safe for color and chemically treated hair.  
Best Sellers
Like we mentioned, Living Proof has a large product portfolio, but they do have a few stand out products that you may even have in your arsenal at home! The brand's number one selling product is their Perfect hair Day Dry Shampoo. What makes this dry shampoo so special? It actually cleans the hair by eliminating oil, sweat, and odor instead of just masking it. It also delivers a fresh scent to the hair throughout the day and not just when you apply it. The Perfect hair Dry Shampoo has won countless beauty awards such as a CEW Beauty Insider Award and an Elle Beauty Genius Award.
If you love big hair, you're going to love the Living Proof Full Dry Volume Blast. It's a super lightweight product that is formulated to use on dry hair to deliver mega volume. It can be used on all hair types and transforms flat hair without any stiffness. If you deal with frizz after a color service, the frizz Instant De-Frizzer is the perfect product for you. It tames up to 92% of frizz by replenishing hair's natural oils to add shine and softness. It's perfect for refreshing hair between wash days. Because Living Proof's products are all color-safe, you really can't go wrong with any of the products. If you can't decide which products are best for you, take their hair care quiz on their website to narrow it down!
9. Amika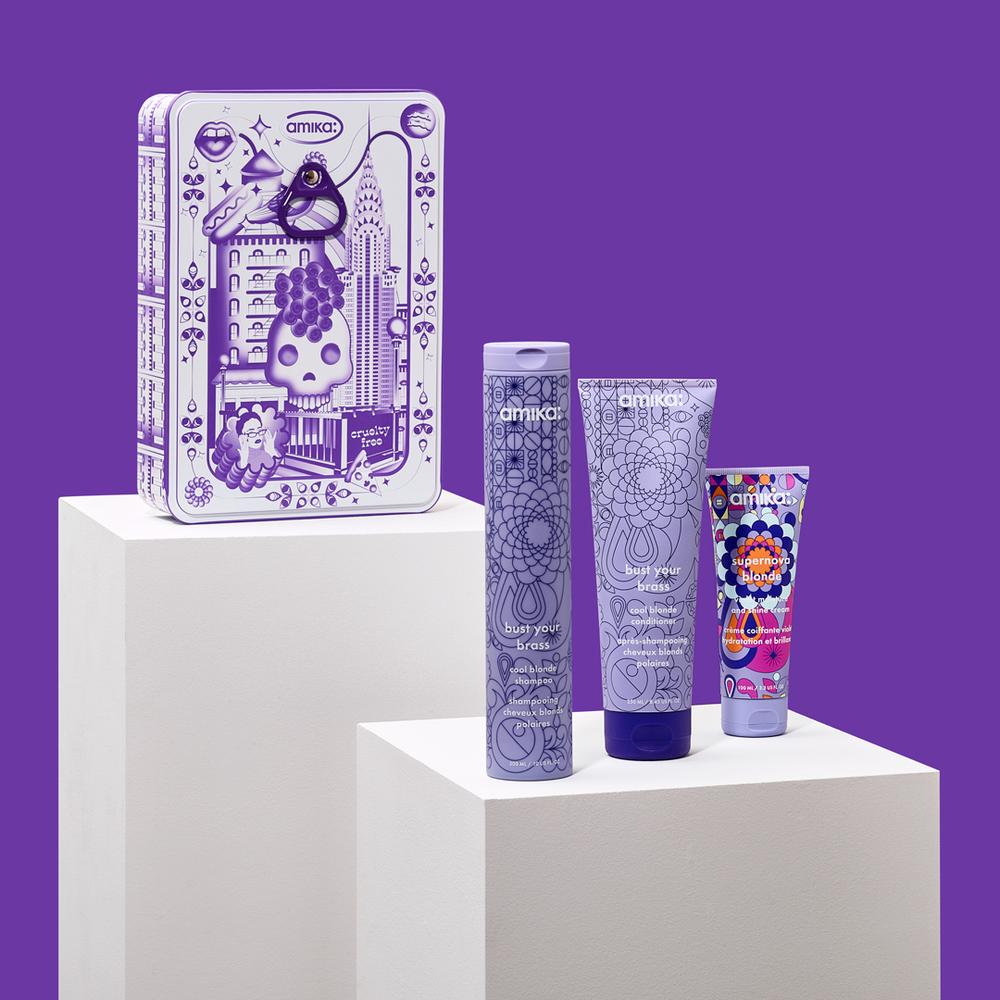 Amika is like the younger, cooler sister of the haircare industry but don't let their cute packaging and super bright colors fool you—they have some amazing products for colored hair. The brand was created in Brooklyn by a collective of hairstylists, chemists, creatives, and product junkies. The name Amika actually means friend in the language Esperanto which is totally a fitting name for the brand as they're all about community and inclusivity. The brand actually got it's start by hunting down sea buckhorn berry which is superfruit that helps speed up collagen production. They took this ingredient and incorporated it into their formulas to help the scalp and hair.
Amika stands for four pillars: all hair is welcome, always being cruelty-free, going green, and clean ingredients. The brand has 10 collections for all hair concerns and types. Their entire line doesn't test on animals and they're committed to reducing waste and make all of their packaging out of 90% post-consumer recycled plastics. Amika formulates their products without sulfates, parabens, aluminum starch, DEA, and phthalates. Not only does Amika sell products, but they also create some amazing hair styling tools like their much-loved straightening brush.
Best Sellers
Amika has ten product collections that pretty much cover all of your hair concerns including scalp care, heat protection, style extend, hold + finish, repair, curl care, frizz control, hydration, and of course, color care. One of their newer, but super popular products is the Flash Instant Shine Mask and it's like nothing you've ever used before. This shine mask is formulated to take dull locks and seal the hair cuticle to reveal super shiny, silky hair in just 60 seconds. Not only does it deliver major shine, but it also features amino acids and UV filters to keep colored hair vibrant. If you color your hair blonde,
Amika's Bust Your Brass Cool Blonde Shampoo is going to be your new BFF. It's formulated with wild cherry bark extract, keratin, and avocado oil to restore moisture, bring out color, and keep hair silky all while removing those pesky brassy tones from your hair. Also, their Soulfood Nourishing Mask is an absolute must-have for anyone with color or chemical treated hair. It's a super-rich mask that provides mega moisture without weighing your hair down. They like to describe it as a "cool drink of water for your hair." Amika's collection of products have pretty much everything you'll need to take care of your colored hair, from cleansers and masks to blow dryers and brushes.
10. Verb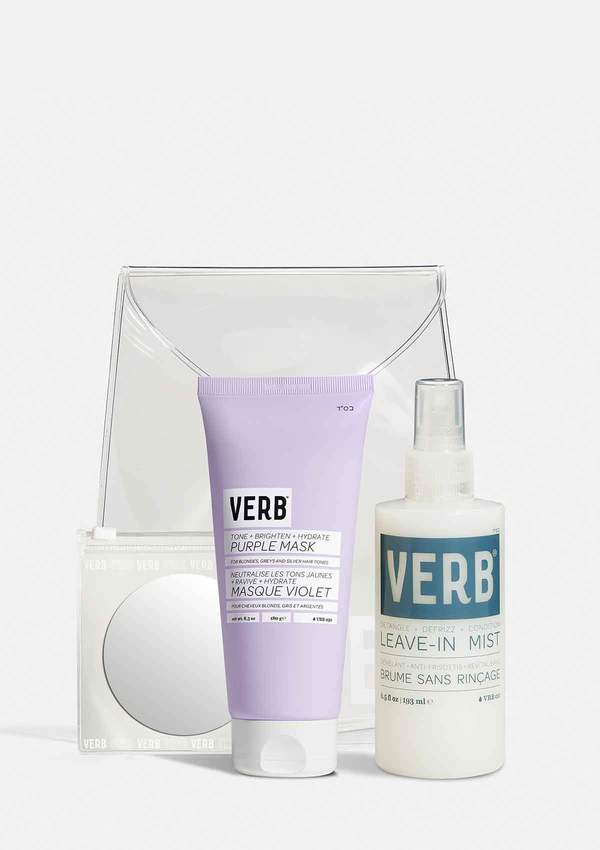 Verb has a really cool story as being one of the first professional haircare companies to really bridge the gap between luxury products at an affordable price point. At the time, you could either get a drugstore shampoo for $3 or a high-end shampoo for $30 and there was really no in between which is where Verb came in. Now, the brand sells all of their products for $18 but don't let that worry you, the quality of their products is still totally there.
The company was actually started behind the chair in Austin, Texas by hairstylists and product lovers. The clients at the salon started to love the products being used on their hair and the rest was history. Now, the brand is sold at well over 6,000 salons all over the country and it's not hard to understand why. Verb is also one of the only brands that never retouches their ads to show real people and real hair which is pretty revolutionary for the industry. They never use parabens, gluten, or harmful sulfates in their products which make them great for color-treated hair. All of Verb's products are also vegan and never tested on animals.
Best Sellers
While Verb is a fairly new brand, they already have some awesome products that are loved by both stylists and clients alike. One of their newest launches, the Purple Mask, works wonders for blonde hair that is showing brassy, yellow tones. The Purple Mask is made to reduce brass while also brightening your color and hydrating the hair.
Verb's Ghost Oil is a cult favorite of the brand which is formulated to revive strands by enriching the hair with essential nutrients. It helps to knock out frizz, soften the hair, and promote shine. The best part? It's super lightweight and won't make your hair feel greasy like other hair oils. This product is amazing for colored hair that tends to look dull from time to time. If you have curly hair that's color-treated, you're going to love the Curl Leave-In Conditioner. After showering, you apply this leave-in on your damp curls to help with detangling, prevent breakage, and moisturize for super hydrated and healthy curls. It also provides UV protection to guard against color fading. While Verb doesn't have a huge assortment of products yet, everything in their line works great for colored hair and with a price of $18 per product, you really can't go wrong!
To conclude:
If you're still having a tough time deciding what products to buy to take care of your colored hair, grabbing a shampoo, conditioner, and deep conditioning mask from any of these brands are a good place to start. While styling products are important, the base of your hair and color health start in the shower before you style your hair. With that being said, everyone's hair is different and requires a different routine of products to thrive. Make sure to chat with your hairstylist about what products you should be using that will solve your hair concerns. Once you find the perfect routine with the best products for you, your hair (and stylist!) will be happy.