If you've been keeping up with the world of haircare, then you've probably heard about Olaplex. This brand has taken hair industry by storm, and for good reason - their products are impressive! Olaplex is a haircare line that focuses on repairing broken bonds damaged and compromised hair. Even though it's a household name for the most part, yet remains something of a mystery. Their products are made with unique ingredients that help to rebuild broken bonds in the hair shaft and reverse many types of hair damage. If your hair is frizzy, brittle, or bleach damaged then Olaplex is definitely worth taking a look at!
In this article, we're going to look more closely at the Olaplex patented system hair treatment, and also explore whether it is worth using on your hair or not.
What Is Olaplex?
Olaplex is a haircare brand that shot to fame a few years ago with their innovative Olaplex system hair treatment. This unique product contains ingredients that work to rebuild damaged and broken bonds in the hair shaft, repairing damage and restoring lifeless hair health. The Olaplex system has been used by professional hairstylists all over the world for many years now, and it's quickly become known as the #1 hair treatment.
The reason why so many people are raving about Olaplex is because it really does deliver on its promises and visibly strengthens hair. If your hair is damaged, frizzy, or brittle then this treatment can help to restore it to its former glory. It won't make your hair miraculously healthy overnight, but with consistent use you will see a noticeable improvement in your hair strength.
Olaplex is available as both a system hair treatment and a range of haircare products. The treatment is designed to be used in salons, while the products can be used at home by anyone.
What Does Olaplex Do?
The Olaplex system contains three active ingredients - bis-Aminopropyl Diglycol Dimaleate, Phenoxyethanol, and sodium benzoate. These work together to form a bond between broken strands of hair, repairing damage and restoring strength and shine.
In addition to rebuilding bonds, Olaplex also helps to prevent future damage from occurring. By strengthening the hair shaft it becomes less susceptible to breakage, meaning your hair will be healthier and less likely to fall out or break.
OLAPLEX bond-building technology is a system that provides hair-bonding for all hair types that get damaged due to chemical, mechanical, thermal, or environmental factors. Used most by colorists, it started as a treatment process which began in the salon, and ended with minimal maintenance at home. The common factor in each treatment step was the primary active ingredient, bis-aminopropyl diglycol dimaleate that helps to treat damaged hair or broken disulfide hair bonds.
Currently, Olaplex has evolved into eight steps, which is likely what causes most of the confusion and mystery around it. Here's we're going to run through every step to clear your mind and actually see what Olaplex does at every level.
Olaplex No. 0 Intensive Bond Building Hair Treatment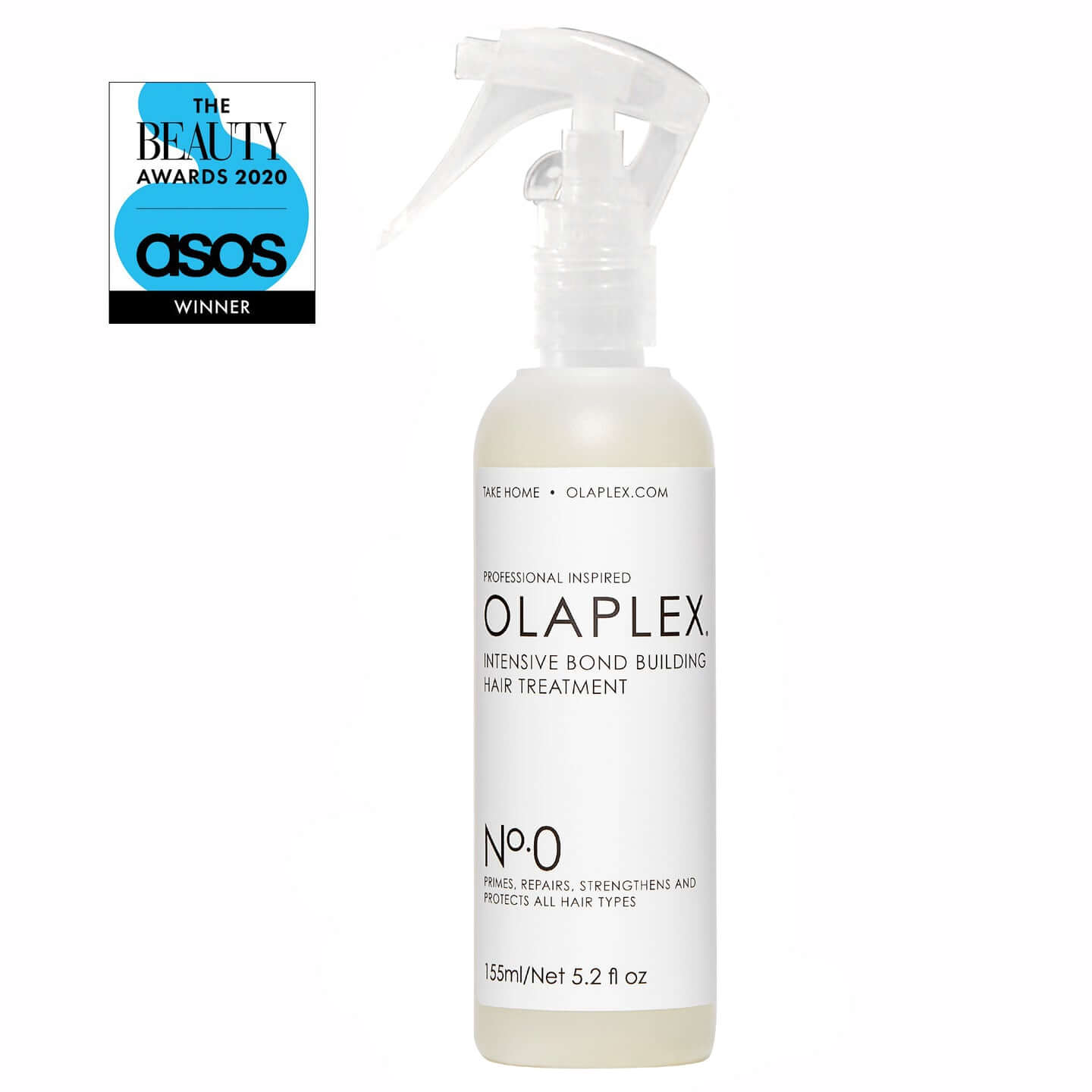 Olaplex No. 0 is a primer for deeper hair repair and holds the highest dosage of Olaplex technology from all the available take-home products. The recommended use for No. 0 is as the first step for a two-part system, with the second step being the No. 3 Hair Perfector.
The power of No.0 has been scientifically proven to provide up 68% more repair and 3x stronger hair strands when used together with the No.3 Hair Perfector.
💄
Apply this product to your dry hair, saturating it with the solution. This should be done once or twice a week. This product will work on all types of hair, particularly damaged hair.
Olaplex No.1 and No.2 Bond Perfector and Bond Multiplier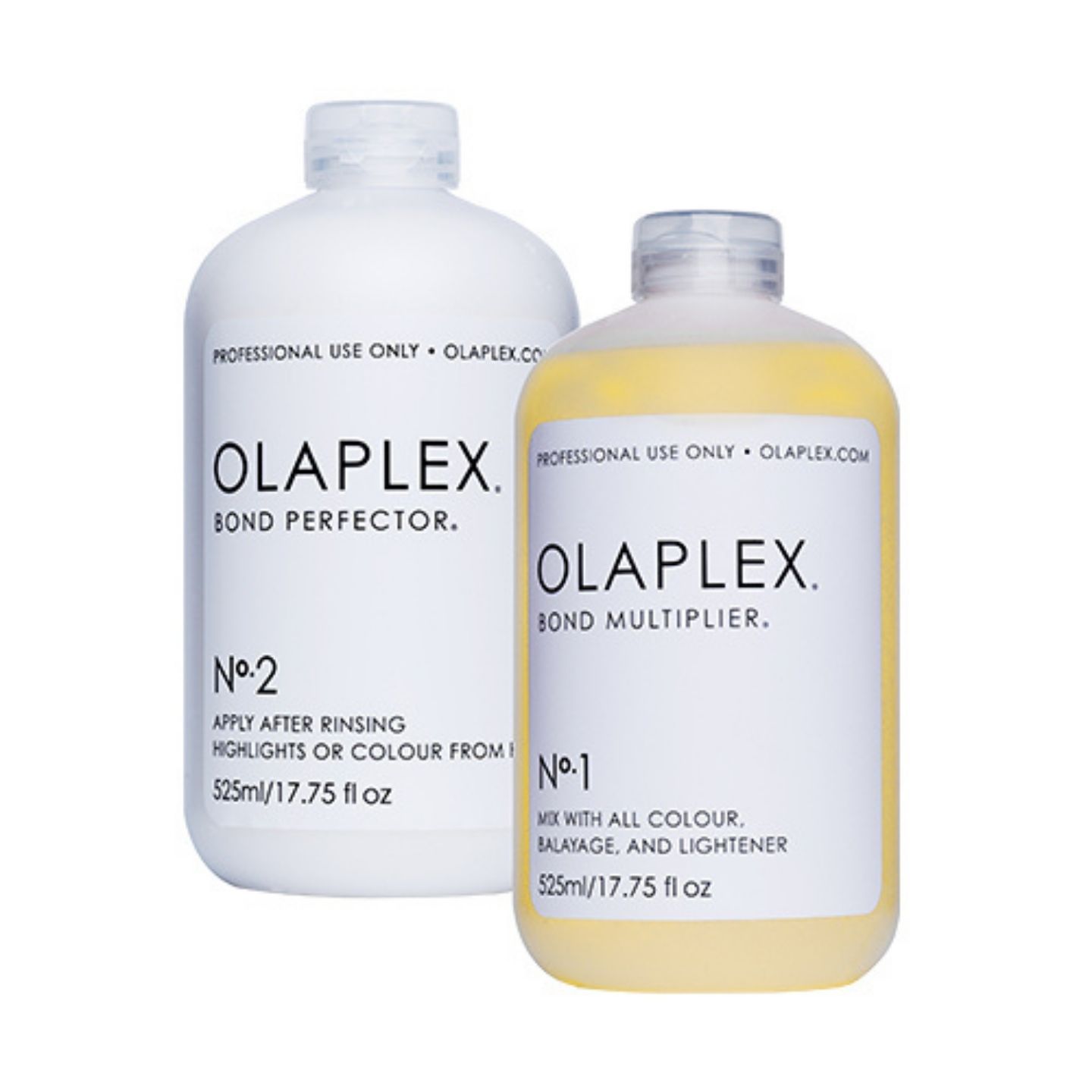 The first two steps of Olaplex are exclusively salon treatments and are done by professionals. They can be a stand-alone experience or part of the professional services used during a color treatment.
Olaplex No. 1 is step one of the overall treatment, and is usually included in the coloring process and works to immediately rebuild all broken disulfide bonds. It also prevents hair damage during the coloring process.
Olaplex No. 2 is the second salon treatment and is used as a post-color process, but before shampooing out the color. It also rebuilds and restores damaged hair, adds more shine, smoothness, and strengthens color-treated hair.
💄
Tip: No. 1 and 2 are not only used during color treatments. The stand-alone part is usually opted for when hair is severely damaged and/or broken and requires immediate care.
Olaplex No.3 Hair Perfector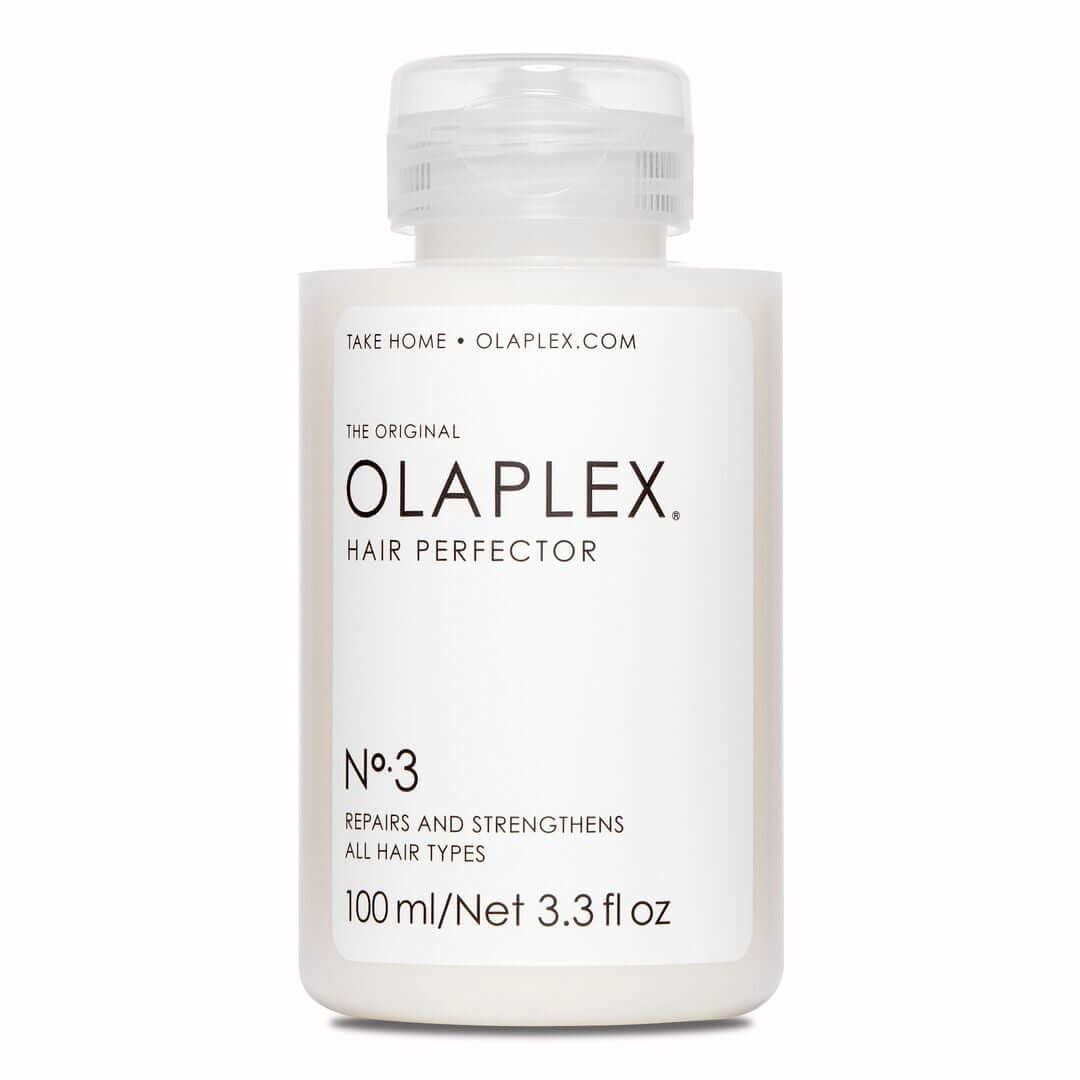 This is step three and a home maintenance treatment, with a recommended use of once every week.
Olaplex Hair Perfector works to replenish hair bonds between styling and salon visits. The product needs to be applied and left in for about ten minutes before you wash your hair.
Olaplex No.3 Hair Perfector repairs broken bonds on a molecular level and rejuvenates damaged hair, resulting in increased tensile strength and restored elasticity. Olaplex also protects the hair follicles from further breakage, making your hair healthier, shinier, and more manageable.
💄
Apply on damp hair all over from roots to end 2-3 times per week. This product is suitable and safe to use for all hair types.
Olaplex No.4 Bond Maintenance Shampoo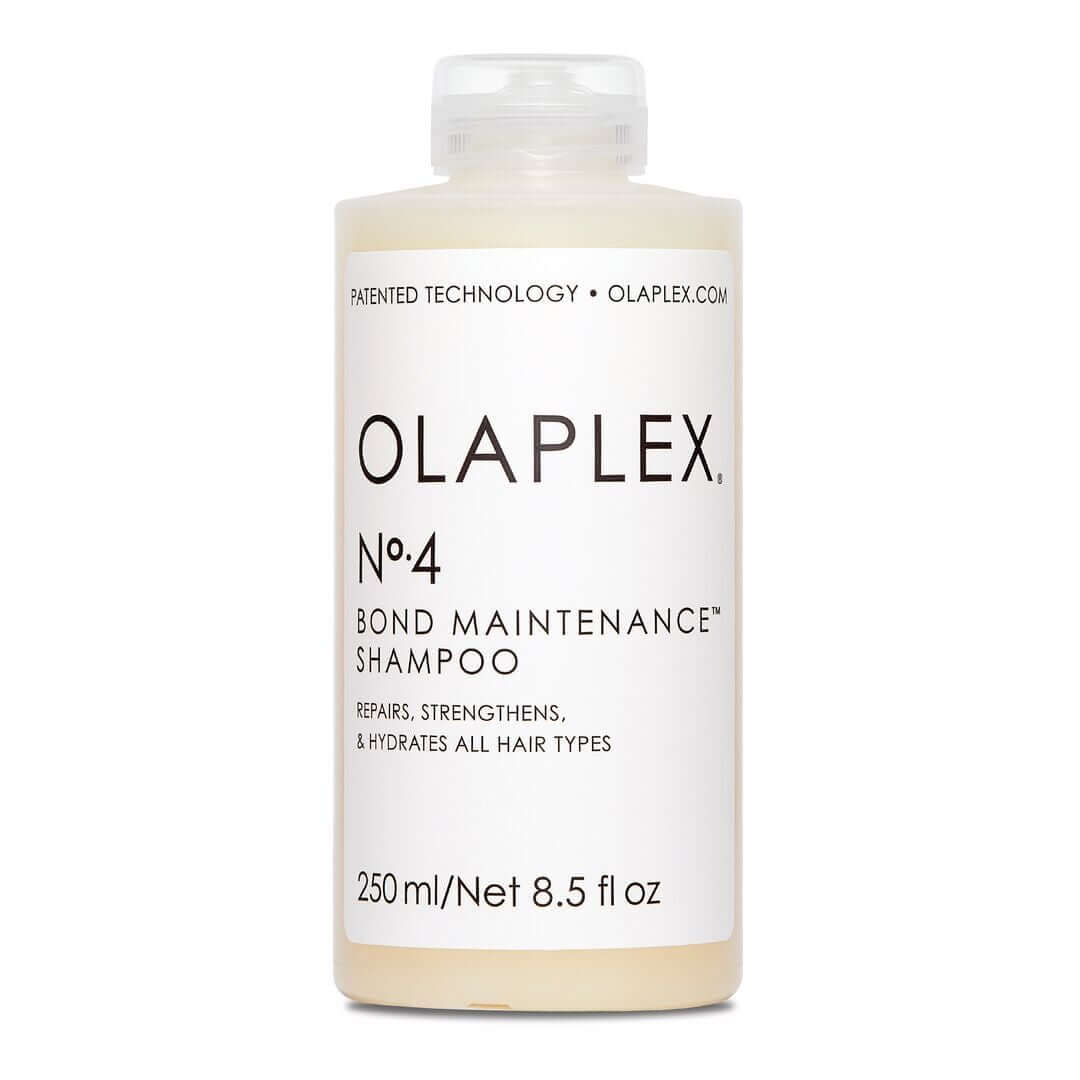 Olaplex No.4 Bond Maintenance Shampoo repairs and protects hair from everyday stresses, including damaged hair, split ends, and frizz. It re-links broken bonds, leaving your hair easier to manage, shinier, and healthier with each use. Plus, it's color-safe and proven to reduce breakage and strengthen all types of hair. This pH-balanced shampoo is free of DEA, Aldehydes, and Formaldehyde, so it won't strip your hair of its natural oils, damage your hair color or leave it feeling dry and brittle. Plus, its Active Bond Complex rebuilds damaged bonds to promote healthy hair growth.
Olaplex No.5 Bond Maintenance Conditioner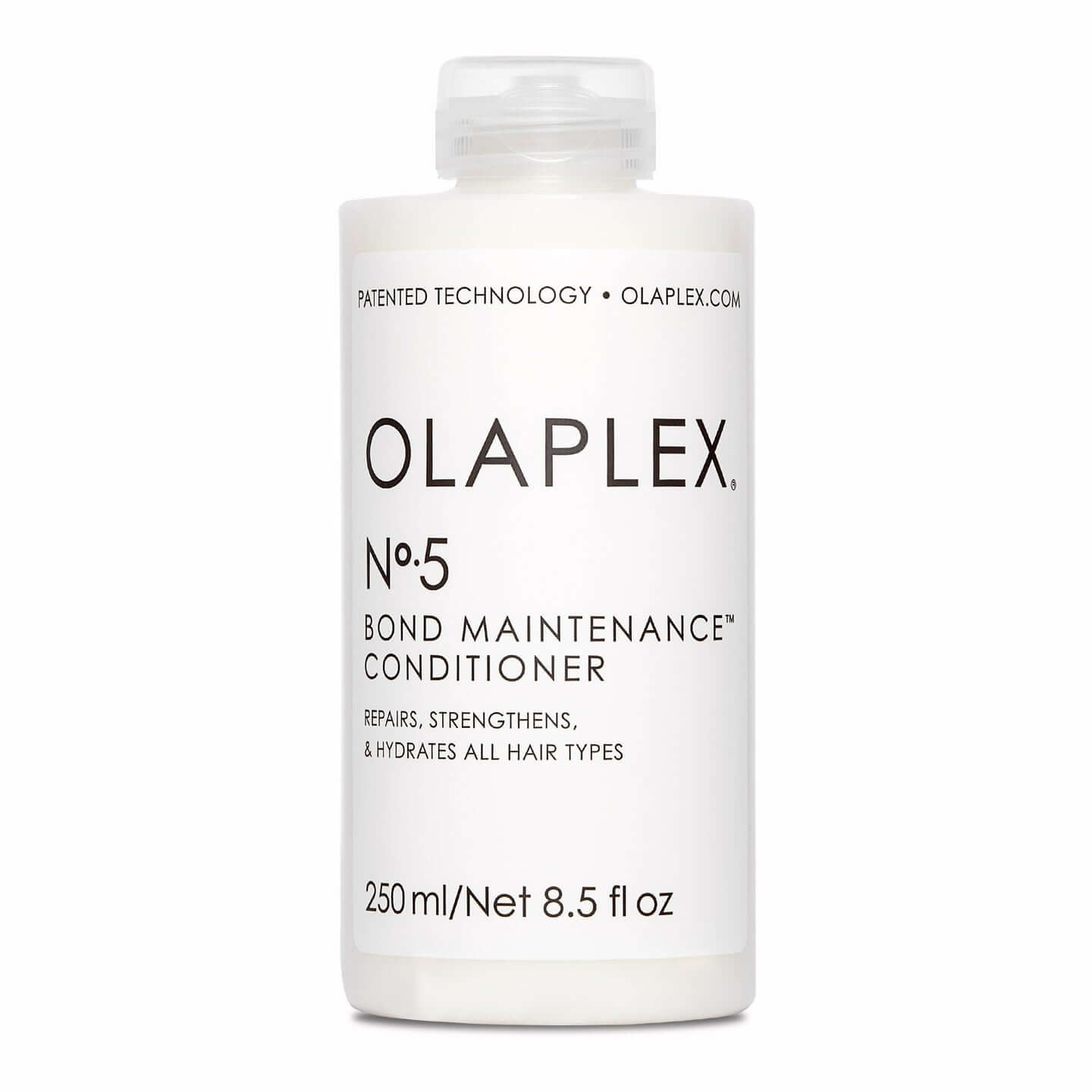 Olaplex No.5 Bond Maintenance Conditioner is a hydrating conditioner that restores and repairs your hair, while eliminating frizz and adding shine without any excess weight or build-up.
A highly moisturizing, reparative conditioner for all hair types, it leaves hair easier to manage, shinier, and healthier with each use. It protects and repairs damaged hair, split ends, and frizz by re-linking broken bonds.
Olaplex No. 6 Bond Smoother Reparative Styling Creme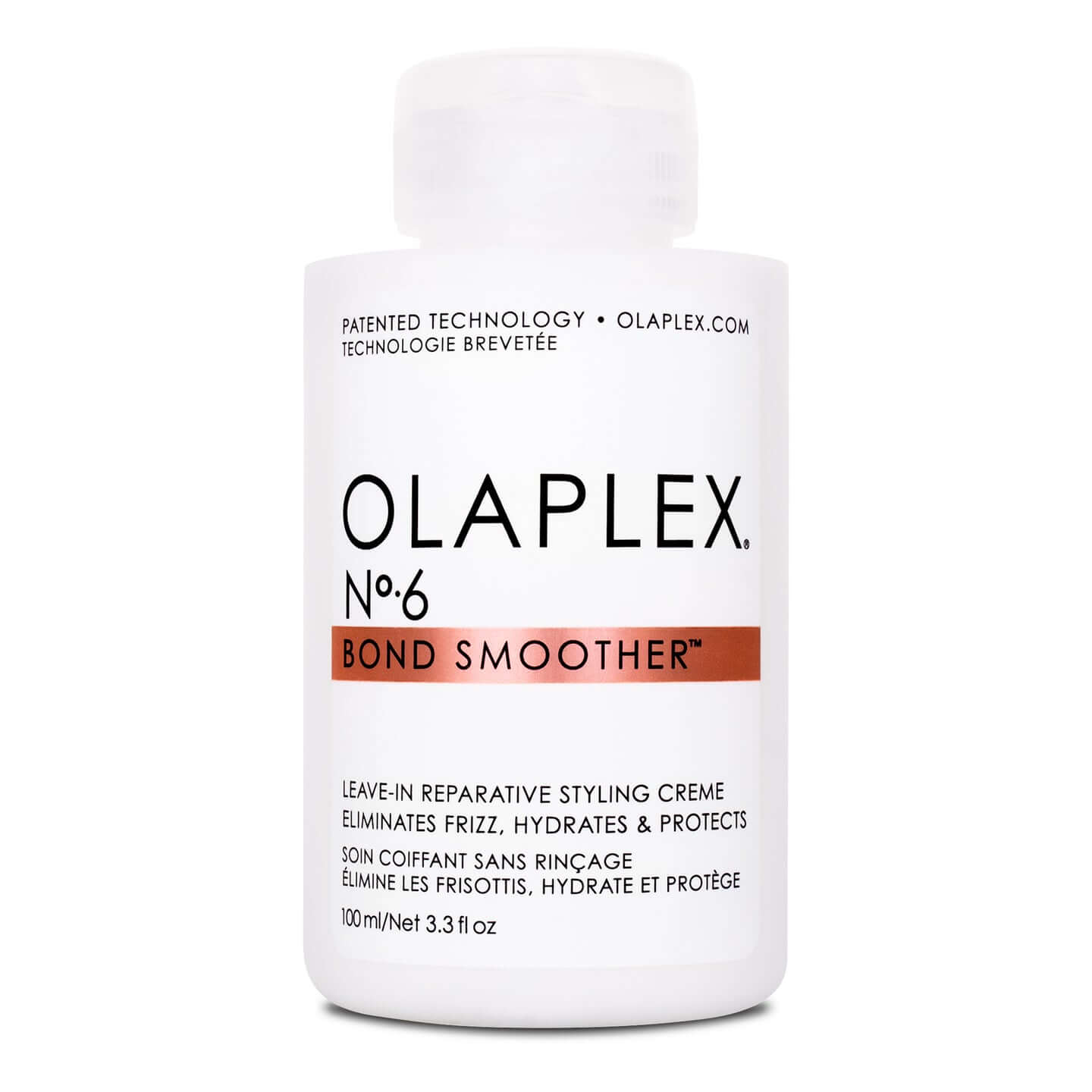 Ever dealt with flyaways,  dryness, or frizzy hair? Olaplex can help. This reparative styler strengthens, moisturizes, and eliminates unwanted texture for up to 72 hours. It's perfect for all hair types, including bleached or color-treated hair. Apply it after each wash on wet hair or as needed for styling: from the mid-lengths to the ends of your hair. To style use a hair dryer or other air-dry styling tools.
Olaplex No. 7 Bonding Oil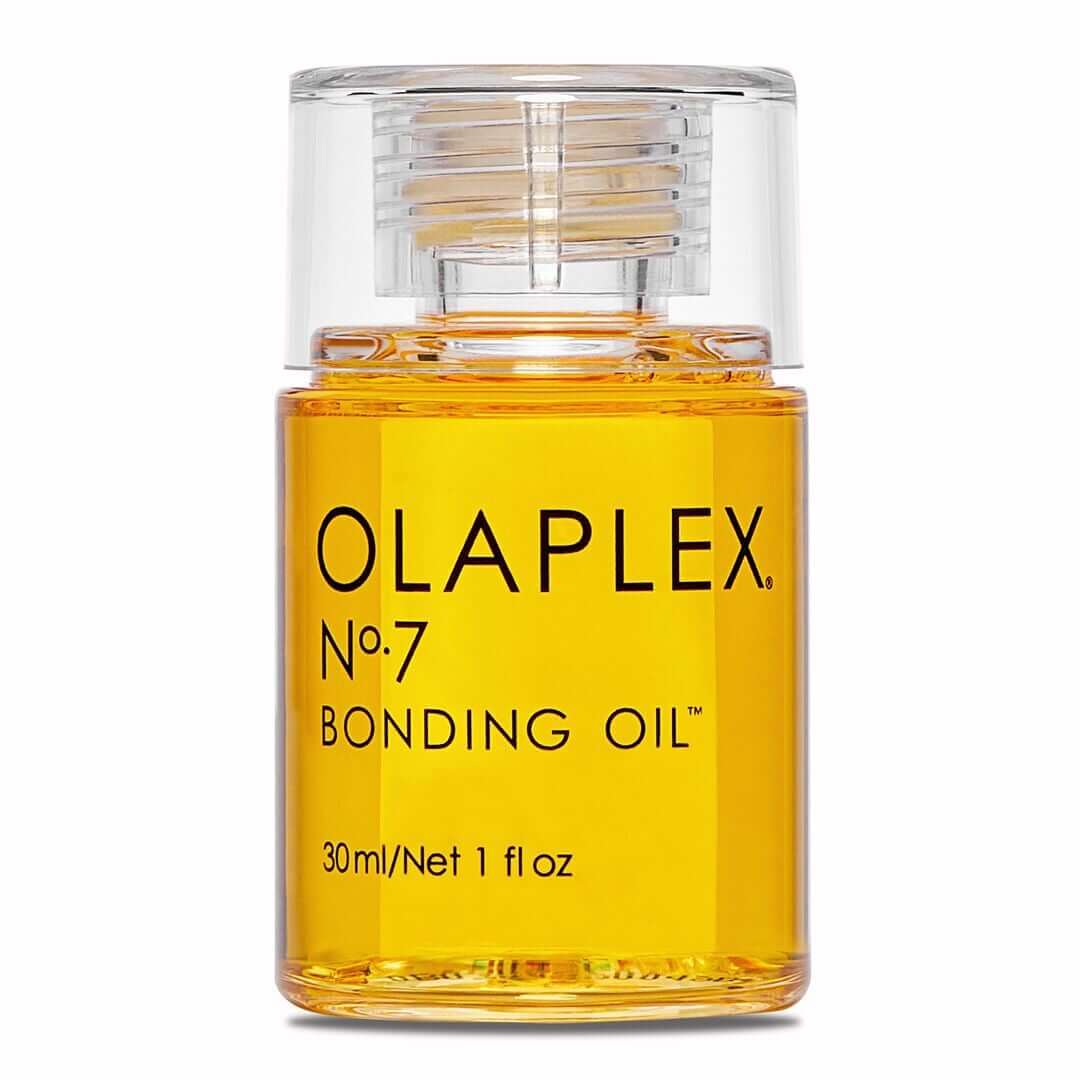 Olaplex Nº.7 Bonding Oil is a highly-concentrated, weightless reparative styling oil and a heat protectant. Just a few drops restores hair appearance and texture, minimizing flyaways and frizz while protecting hair integrity. Suitable for all hair types including curly hair – especially those who use heat  styling tools daily – this oil provides up to 450°F/232°C of UV/heat protection.
Olaplex No. 8 Bond Intense Moisture Mask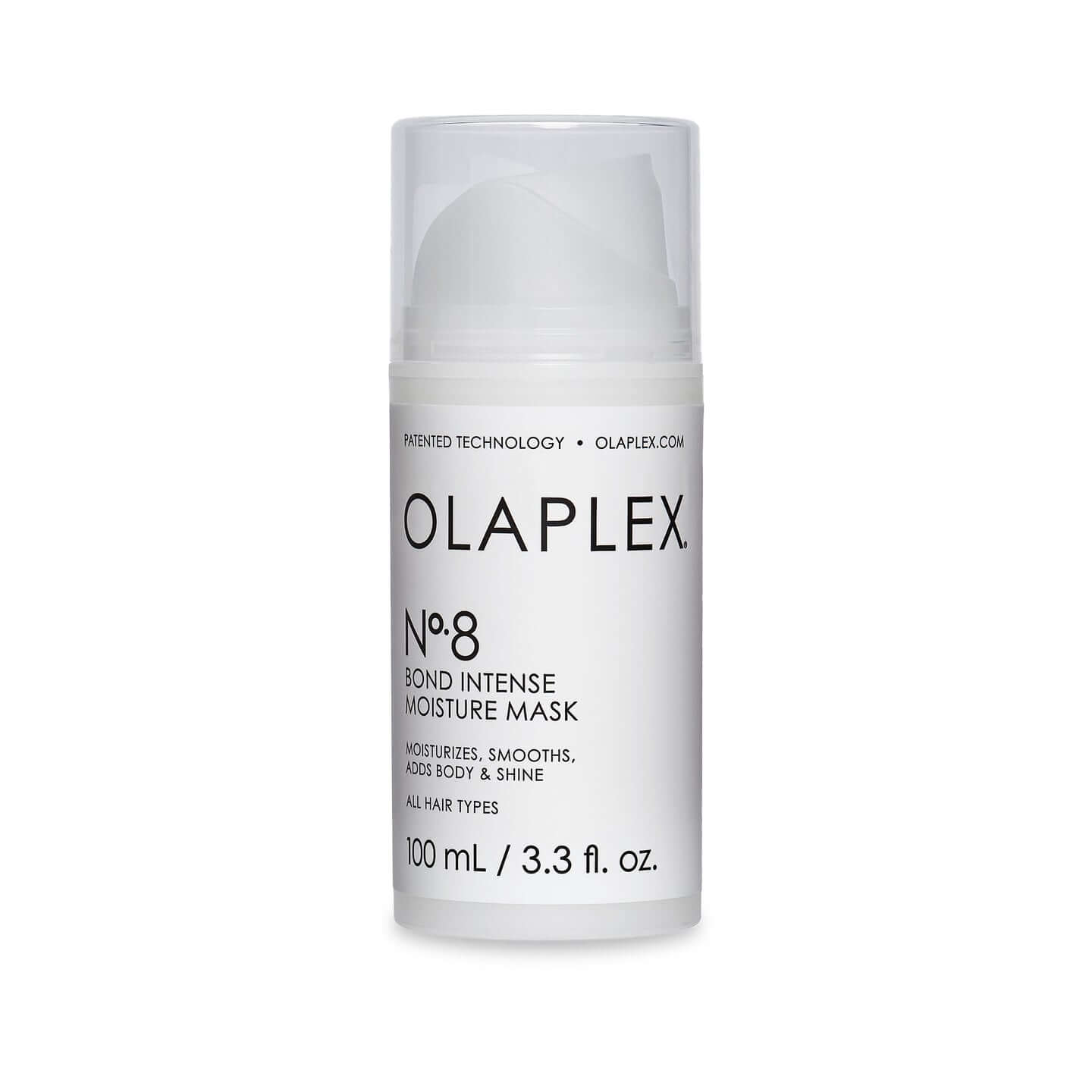 Nº8 Bond Intense Moisture Mask is  Olaplexe's brand-new hair treatment is infused with patented OLAPLEX Bond Building technology and can provide shine, smoothness, and body while moisturizing your locks. Suitable for all hair types, this mask is especially good at treating visible damage creating stronger hair as the result. Plus, it's been shown to provide 2x shine*, 4x moisture*, 6x smoothness*, and 94% saw that masks adds more body to hair after use. Apply it to clean, towel dried hair and work through with fingers for best results.
Is this Brand the Only Hair Bonder on the Market?
Now that we know what Olaplex actually does through each step, it is time to look into whether it's the only treatment available to us. There are quite a few other bonding products out there, including Smartbond by Loreal, Brazilian Bond Builder aka B3, and BondPro+ by Goldwell. Olaplex however, remains the original and game-changing hair bonding system on the market and is preferred by many colorists, if not all.
Olaplex Before and After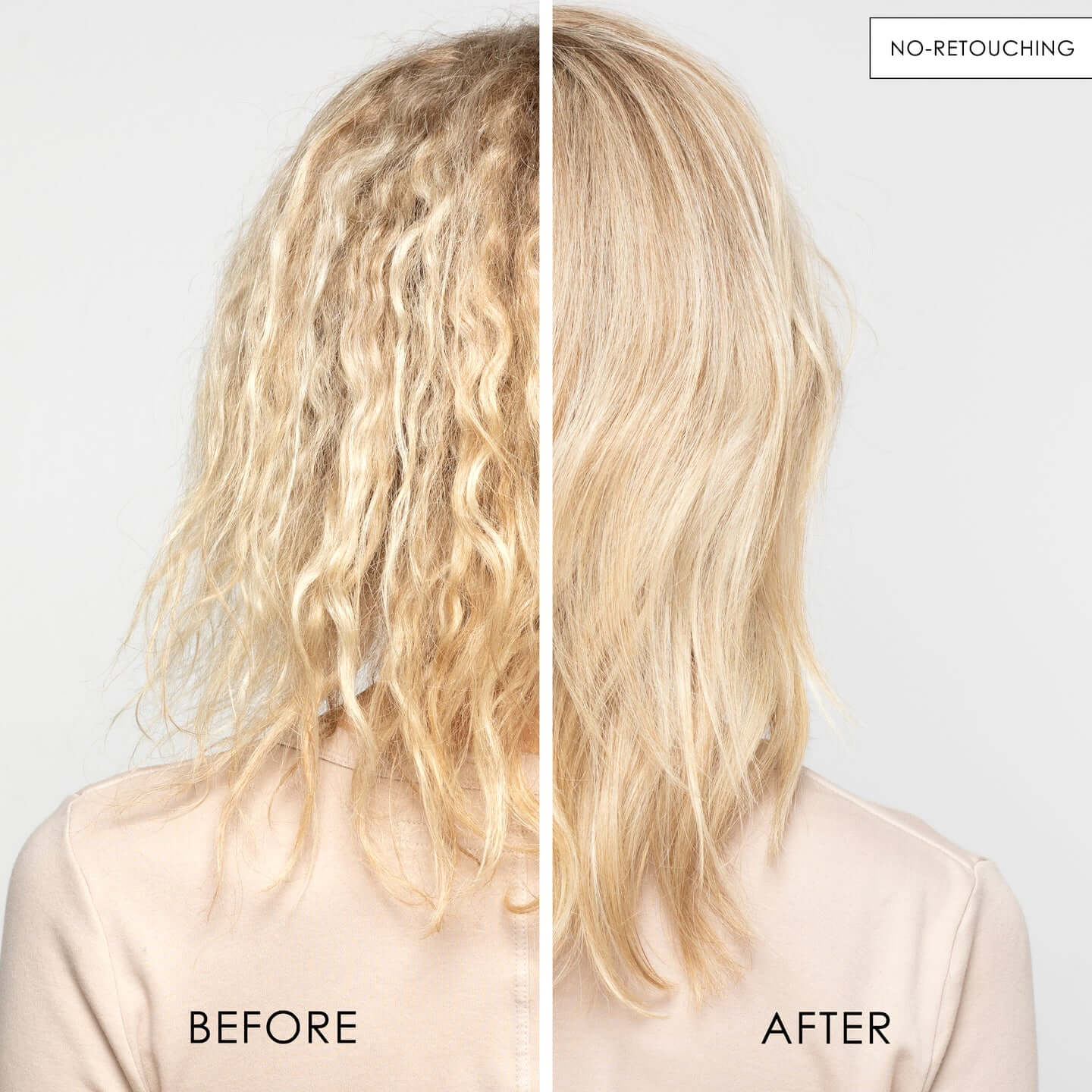 Reviews on the Treatments
While not all colorists agree that these treatments work during the coloring process, and could according to them actually slow down the process itself, there are also positive reviews one can go by before deciding on using Olaplex.
And, in the end, there is also the recommendation from Martine Robertson, director of education at Olaplex who says "Olaplex is for everyone, literally. All hair goes through the stress that can lead to breakage. Imagine that Olaplex is like a gym routine for your hair the more you use it the stronger, healthier, and shinier it will be."
What to Do If You Want to give it a Go
Keeping in mind that step 1 & 2 of the Olaplex treatment needs to be professionally done, you can find certified hair pros who use the Olaplex system here On the other hand, if you would like to experiment with a mini treatment on your own, it is, according to Martine Robertson, okay to do that by skipping steps one and two and going straight for step three. Robertson says "Think of No.3 as the ultimate mini treatment," she says. "Many people ask if No.3 will repair hair if you haven't used the first two, and the answer is yes! It doesn't replace the in-salon system, but it's a great way to test the waters if you're curious." So, there you have it. Everything we could find out about Olaplex and its uses, so you can make an informed choice before deciding on a treatment. Remember, there's no rush to decide on treatments till you're sure you have all the information you need. Whether you're going for color or just to do something about your damaged hair, the Olaplex patented system remains an available option and ever-growing.
Is Olaplex Worth It?
The answer to this question really depends on your individual needs and hair type. If you have severely damaged hair then Olaplex is definitely worth a try - it can work wonders in repairing the damage. However, if your hair is only moderately damaged then using the whole system treatment may not be necessary. You could simply use one of the Olaplex haircare products instead, which will help to keep your hair healthy and hydrated.
Overall, I think that Olaplex is an excellent haircare brand with some truly amazing products. If you're looking for a way to restore health and shine to your damaged hair then they are definitely worth checking out!