In the skincare world, there are so many different oils to choose from. If you're the average consumer, it can be difficult to figure out which one is right for you! You may have tried oils like coconut or tea tree and left with results that you weren't happy with. But one oil that has dominated the market recently is rosehip oil.
If you don't know anything about rosehip oil, look no further! We've gathered everything you need to know about this miracle oil, including the best products you can find it in.
What is Rosehip Oil?
In case you were wondering, rosehip oil is actually made from harvesting and cold-pressing the seeds from rosehip bushes. This plant is packed with vitamins, antioxidants, and essential fatty acids that do amazing things for your skin. No wonder so many brands have been including it in their products!
The hype around rosehip oil first began when Victoria's Secret model Miranda Kerr shared with the world her favorite beauty secret. She said that she uses rosehip oil on the regular to keep her skin soft, smooth, and supple. So naturally, if a Victoria's Secret model is using it, the rest of the world is gonna hop on the bandwagon too!
But you may be wondering what the actual benefits of rosehip oil are, and we are here to tell you! What can you expect if you include it in your skincare routine? Keep reading to find out!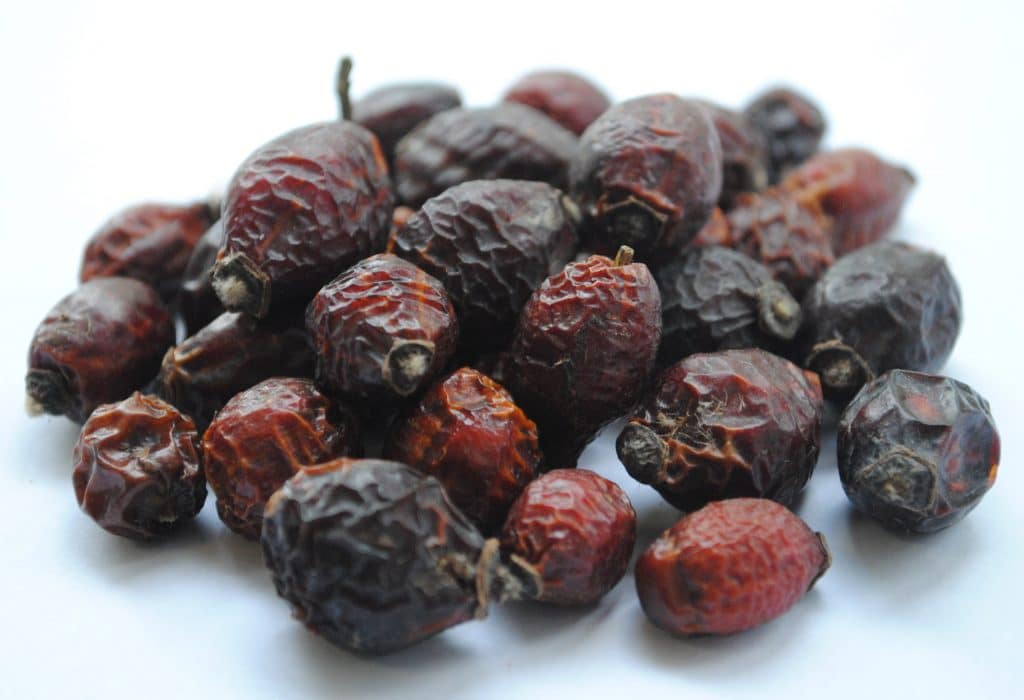 It's Ultra Moisturizing
Because of the essential fatty acids, rosehip oil is a great alternative or addition to your daily moisturizer. The Ordinary's 100% Organic Rosehip oil is a great affordable option if you're looking for the purest and basic form. The best thing about The Ordinary is that just because it's affordable, doesn't mean it's low quality! This product is marketed for all skin types and is a formulation that can be used on a daily basis.
It's Anti-Aging
The vitamin A and C that naturally occurs in rosehip oil makes it a great anti-aging product, especially for wrinkles! If staying youthful is your main concern, try out the Biossance Squalane + Vitamin C Rose Oil. Of course, pure rosehip oil is effective, but many of us want to simplify our routine and use the least amount of products as possible. That's where this oil comes in handy! You can kill two birds with one stone and get multiple anti-aging ingredients in one product, making it a super convenient option.
Rosehip oil Evens Out Your Skin Tone
If you're dealing with hyperpigmentation from acne or sun damage, rosehip oil will be your best friend. Unlike many other ingredients, rosehip oil is naturally gentle and non-irritating to the skin, while still being nourishing! The Kora Organics Noni Glow Face Oil is a facial serum that's known for evening out your skin tone and hydrating the skin at the same time. And guess what? Kora Organics is Miranda Kerr's very own skincare line! This serum contains rosehip, pomegranate, and sea buckthorn oil to ensure your skin will stay glowy and hydrated all day long.
It's Brightening
Because of rosehip oil's astringent properties, you will see it's amazing brightening effects once you start using it. If your skin is looking a little dull and lifeless, pick up a bottle of the Suki Suki Naturals Brightening Facial Oil! Mix in a few drops into your moisturizer in the AM and PM and watch your skin transform. Rosehip oil also contains antioxidants that fight free-radicals, which will also help prevent dull and uneven skin.
It's Exfoliating
Looking to get rid of all those dead skin cells? Rosehip oil has you covered! Mix it with baking soda to exfoliate your face once or twice a week. If you're wanting to exfoliate your whole body, try mixing it with coffee grounds and hopping in the shower! Rosehip oil is a natural, non-irritating exfoliant that is perfect for those of you with sensitive skin.
Our Favorite Rosehip Oil Products
There are so many more products out there that contain rosehip oil, but we wanted to give you a few more of our faves!